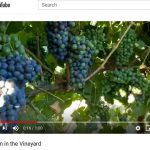 It's that time of year again!
Our grapes are going through veraison in California.
Veraison occurs when the berry transitions into the ripening stage. From now forward the berry will increase in sugar concentration until it is harvested at the desired brix level. Grapes for sparkling wine or champagne are harvested around 17 brix and grapes for still wine are harvested around 25 brix. The brix level will determine the alcohol level in the wine. For example, a grape picked around 25 brix should create a 12.5% alch by volume wine.
Check out our video with Grower – Jeff Bitter as he walks us through his vineyard, verasion, and what he has been working on in the vineyard thus far.
Veraison in the Vineyard with Jeff Bitter for Musto Wine Grape Co. LLC.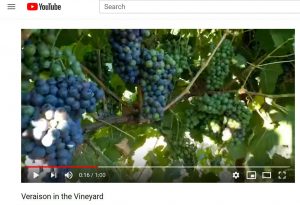 Email Sales@Juicegrape.com or call 877-812.1137 for more details
about the 2019 Harvest!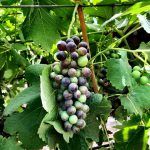 Currently our grapes are going through veraison in California. Veraison occurs when the berry transitions into the ripening stage. From now forward the berry will increase in sugar concentration until it is harvested at the desired brix level. Grapes for sparkling wine or champagne are harvested around 17 brix and grapes for still wine are harvested around 25 brix. The brix level will determine the alcohol level in the wine. For example, a grape picked around 25 brix should create a 12.5% alch by volume wine.
Harvest will be here before we know it! It's to time start getting organized. Click HERE to see our upcoming events and classes that will help you get ready for harvest.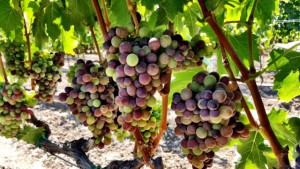 Grapes going through verasion at our vineyards in California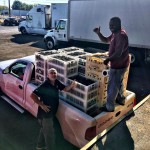 Ever wonder how we prep for harvest?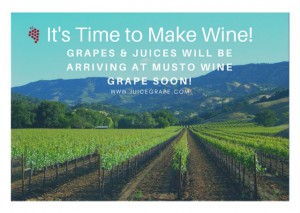 Frank Musto: "I always pick up two new pairs of work shoes in August, make sure I break them in before season. I usually burn through two pairs each season….Food of choice is McDonalds, nothing takes the pressure of a hard day like a Big Mac, large fries, and a diet coke…After Labor day, I kiss my wife good bye, pet the dog behind the ears, and tell them ill see them in late October."
Christina Musto: "I'm usually pestering all of the growers for photos of the vineyards.  Then I get my house into "harvest mode" stocking up on beer, cider, frozen meals, and chocolate. Finally, I treat myself to purchasing a special bottle of Schramsberg Brut Rose as an "in case of emergency" bottle.
Patrick Milio: "I bid farewell to friends and family, stock up on Beer, Bourbon, and Bubbles to enjoy after long days at the shop, and pre-emptively apologize to my digestive system for the terrible nightly takeout meals that are to come."
Colin Mulryan: "I go through all of my old clothes to wear for the season, because it all gets thrown out at the end. And stock the fridge with beer."
Ken Milio:  Our Harvest tradition starts the week before as its time to clean and sanitize last year's Crusher / Destemmer, Fermenting tubs, Must Plungers and other small items. You can tell how much wine was consumed last year by the cleanliness of the equipment this year. On crush day, our tradition is that all involved toast the new season with a shot of " Honey Grappa ". After the crush, we again clean and sanitize the equipment then the drinking and eating begins.
Maureen Macdonald: "Driving to VT to stock up on beer, because nothing is better after a day of processing grapes, than a cold beer. And updating my Peapod account, as who has time for groceries?"
Frank Renaldi: "The first thing I do to prepare for harvest is to think of another way to trick my wife into thinking I am not making a lot of wine. Last year I told her she miscounted the number of cases of grapes on the truck. The year before I told her each case of grapes weighed 10 pounds.
Then I get down to business and take inventory of my supplies and order what I need by July. I also decide on the grapes I want to work with and reserve my order. Then I check all my equipment to make sure it is ready for the big day. I talk to all my wine making friends and we get excited like little kids getting ready for their first day of school – well it does happen at the same time of the year. I think this year I will tell my wife, I had to buy more because the grapes were smaller this year."
Barry St. Pierre:  "First thing is to make and freeze a big pot of chili…for friends who stop by to help or for ourselves when we are too tired to make anything else. Full tanks have to be bottled or moved to free up space for new grapes and wine. Of course we pre-clean all of our equipment, especially our feet…need to be sure to remove all toe jam. By now all supplies are ordered, especially grapes from Musto…I seem to always get yelled at for not ordering early enough. Then sit back, open a bottle of wine, and wait for the grapes to ripen and arrive."
Robert Herold:  "As the harvest/crush/press day approaches, I start fortifying myself with wine several days in advance. For the actual activity day, nothing works as well as beer to make the task go smoothly. To quote a very good winemaker friend of mine, 'it takes a lot of good beer to make a good wine'."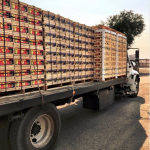 Juices In Stock as of 9/1/17 and Grape Arrivals
JUICES:
Labels Available California Select: 
Variety
Barbera
Cabernet Sauvignon
Merlot
Mixed Black
Pinot Noir
Ruby Cabernet
Sangiovese
Zinfandel
Chardonnay
French Colombard
Malvasia Bianca
Muscat
Pinot Grigio
Riesling
Sauvignon Blanc
Thompson Seedless
On the Road…. Safe to say all of this should be in by the Friday September 8th!
GRAPES:
| | |
| --- | --- |
| Variety | Label |
| Merlot | Smiling Baby |
| Zinfandel | Valley Beauty |
| Seedless | Smiling Baby |
| Grenache | Smiling Baby |
| Zinfandel | Valley Beauty |
| Albarino | Cry Baby |
| Alicante | O'Caprio |
| Petite Sirah | Cry Baby |
| Syrah | Cry Baby |
| Ruby Cab | Uva di California |
| Old Vine Barbera | Lucerene |
| Old Vine Barbera | Lugano |
| Pinotage | Costmagna |
| Merlot | Smiling Baby |
| Pinot Noir | |
| Albarino | Lodi Gold |
| Chardonnay | Lodi Gold |
| Pinot Grigio | Lodi Gold |
| Viognier | Lodi Gold |
| Zinfandel | Valley Beauty |
| Grenache | Smiling Baby |
| Zinfandel | Lucerene |
| Chardonnay | Lodi Gold |
| Seedless | Lucerene |
| Seedless | Loidi Gold |
| Black Muscat | Cry Baby |
| Symphony | Cry Baby |
| Seedless | Cry Baby |
| Tempranillo | Cry Baby |
| Alicante | O'Caprio |
| Seedless | Miss Seedless |
| Old Vine Barbera | Lugano |
JUICES:
Labels Available: California Select, Cry Baby, Colina
Variety
Barbera
Burgundy
Cabernet Franc
Cabernet Sauvignon
Carignane
Chianti
Grenache
Malbec
Merlot
Mixed Black
Old Vine Zinfandel
Petite Syrah
Pinot Noir
Ruby Cabernet
Sangiovese
Syrah
Zinfandel
Chablis
Chardonnay
French Colombard
Gewurztraminer
Malvasia Bianca
Muscat
Pinot Grigio
Riesling
Sauvignon Blanc
Thompson Seedless
Viognier
White Zinfandel Blush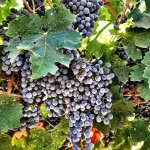 Good Morning from Madera! Our Clone 337 Cabernet is looking GORGEOUS and coming in at 21/22 Brix. We will work to harvest these around 24-25 Brix. According to the weather we will see a heat spike in the coming days. Central Valley harvest may be here before we know it! Seeing grapes as early as September 6th!
Clone 337 is best known as one of the premier French clones. It is similar to the Dijon clones and gives good yield, small intense berries, and very fruit forward flavors. These wines create a lush mouthfeel, have deep color, and intense dark fruit, chocolate, and intense tannins. Age in French or Hungarian Oak for an extra shot of intensity and depth.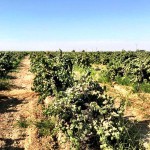 Morning views of the 70 year old head trained Alicante Bouchet. Head pruned by hand and small bunches full of flavor and color. Old vine is an understatement…..
Alicante is a variety that was cultivated in 1866. Its deep red color makes it great for blending with lighter red wines such as Zinfandel and Pinot Noir. A popular grape during prohibition, the old school Italian blend consists of 18 boxes of Zinfandel, 2 boxes of Alicante, and 1 box of Muscat or make it straight for a delicious light bodies red.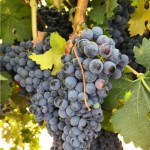 The King's River Vineyard is located in Sanger, CA – Southeast of Fresno, on the way to Squaw Valley, Tahoe and the Sierra Foothills.
The vineyard is made up of 40 acres of white ash & sandy loam soil. The vineyard has been in existence since 1954 and the family has grown everything from grapes for wine and raisins to peaches, plums, and apricots on this little piece of paradise. However, they ultimately decided to focus on what they love most – boutique style wines. The vineyard produces Cabernet Sauvignon (Clone 337), Petite Sirah, Alicante, Syrah, Barbera, Cabernet Franc, Tempranillo, Primitivo, Albariño, Muscat, and Chenin Blanc. Each block is meticulously managed. They thin leaves, drop fruit to secure intense flavors, and drip irrigate as to not over-water the vines. This family definitely produces grapes of distinction.
Their Wine Awards Include…
• 2014 Reserve Petite Sirah- Silver Medal
• 2014 Syrah- Bronze Medal
• 2014 Alicante Bouchet- Bronze Medal
• 2015 Reserve Albarino- Bronze Medal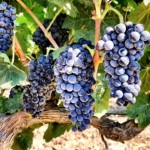 Suisun Valley Harvest Outlook
Everything is maturing along in Suisun Valley. We are seeing verasion come to end in varieties such as Merlot and Sangiovese. Petite Sirah, Cabernet 169, and later varieties are still going through the verasion process. Looking at the maturity level of the grapes harvest should start around September 4th in Suisun Valley – beginning with Sauvignon Blanc and Chardonnay. The next varieties to pick will most likely be Merlot around September 10th and, Sangiovese, and Malbec around September 16th. The later varieties such as Petite Sirah and Cabernet 169 should harvest around late September/early October.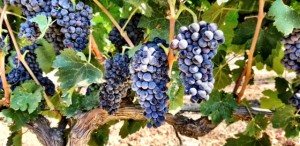 Interested in the weather in Suisun Valley? Click here to see what our weather stations are picking up on a daily basis!
Lodi Harvest Outlook
Overall the Lodi crop looks great. The rain helped strengthen the deep roots this winter, which allowed the vines to grow a vigorous canopy. The big canopies from the record rain fall has protected the grapes from the summer heat. Therefore, it should be an average to slightly below average crop this year. Most varieties look normal, however Cabernet and Zinfandel look to be low slightly lighter than last year. The Lodi appellation is made up of mostly sandy loam soil and unlike the Central Valley they get constant cooler temps in the evenings. This area experiences 40 degree swings in temps that help with coloring the grapes and the skins are thicker which produce a dark juice high in tannins. This is why the region is famous for its delicious Zinfandels and Italian grape varieties!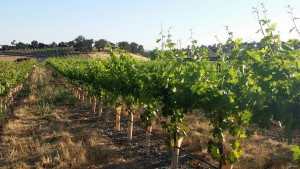 Central Valley Harvest Outlook
With the extra rain fall Central Valley is looking to be a great harvest. The crop looks to be about the same as last year and we should be harvesting about 4-6 days later than last year. We anticipate some of the Central Valley fruit to start shipping to the East Coast around August 28th. Get your crushers ready!!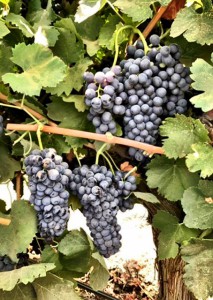 We should have an updated harvest report pertaining to Paso Robles, Napa/Sonoma, Contra Costa, and Washington State next week. Keep an eye out for our next email.
There is a lot going on at Musto Wine Grape Company and we are looking forward to seeing you on August 26th for Customer Appreciation Day.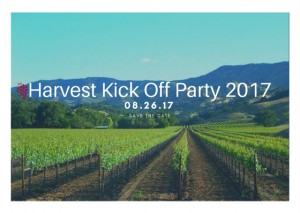 Cheers to making your favorite wine!!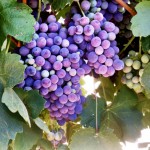 Lodi is becoming a force to be reckoned with, especially when it comes to sustainability….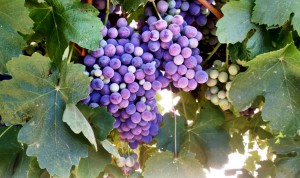 "Lodi Rules for Sustainable Winegrowing is California's original sustainable viticulture program. This program truly began from the ground up, with growers deciding it was important for the future of the Lodi region. Our certification process is rigorous, based in science, voluntary, and third-party audited. Lodi Rules certified growers make up an innovative community with a history and commitment to farming quality winegrapes through the implementation of viticulture practices that balance environmental, social, and economic goals. Lodi Rules was designed to communicate our commitment to sustainable agriculture to wineries and the general public.
Lodi Rules has two key components. First, Lodi Rules promotes winegrape grower adoption of over 100 sustainability practices, which are called "Standards". The Standards were collaboratively developed by a team of Lodi winegrape growers and viticulture professionals, and were first accredited by Protected Harvest in 2005. The Lodi Rules Standards are the backbone of the program, and are organized into six Chapters: 1) Business Management, 2) Human Resources Management, 3) Ecosystem Management, 4) Soil Management, 5) Water Management, and 6) Pest Management. Each Standard meets three criteria: first, it is measurable; second, it addresses at least one of the three aspects of sustainability (environmental health, social equity, and economic viability); and third, it is economically feasible to implement. We believe that the Lodi Rules Standards are the most thoroughly and rigorously vetted set of sustainability practices in California's viticulture industry. All Standards have been peer reviewed by world renowned third-party scientists, members of the academic community, and environmental organizations.
The second key component of Lodi Rules is the pesticide risk model, PEAS, which is unique to Lodi Rules. Pesticide Environmental Assessment System (PEAS) is a risk model used to quantify the environmental and human impact of all pesticides applied in a vineyard. The PEAS model generates an Environmental Impact Unit (EIU) for each pesticide, which is based on the pesticide's impact on 1) acute risk to farm workers, 2) dietary risks from acute and chronic exposure to people who consume the product, 3) acute risks to small aquatic invertebrates, 4) acute risk to birds, and 5) acute risk to bees and pests' natural enemies. Pesticide use by Lodi Rules certified growers must fall below 50 PEAS impact units for the season.
A vineyard qualifies for certification if it meets several criteria. First, growers accumulate points through implementing sustainability practices and must sum to at least 50% of the total points available in each Chapter. Growers must accumulate at least 70% of the total points available across all six Chapters. Implementation of some Standards is mandatory. Such Standards are those that the program designers believe are imperative for sustainability. Certification is awarded to an individual vineyard on an annual basis. Certified vineyards must pass an annual independent audit to verify the implementation of sustainability practices.
2013 marked a year of improvements to the Lodi Rules, the most significant of which was a content revision of the Standards. The Lodi Rules Committee began the revision process in 2011 with the explicit goal of increasing the scientific rigor of the Standards while also making the program more adaptable to a diversity of vineyard conditions and management goals. In January 2012, the Protected Harvest Board of Directors accredited the revised Standards. In 2017, the Standards were further edited for clarity and consistency, and two new Standards were added to give growers credit for sharing sustainable viticulture knowledge and for conducting on-site collaborative research. The current, accredited 2017 third edition Standards are available for download HERE."
So if you are interested in sustainably grown grapes Lodi is a top contender for this year's harvest!
Speak to a Musto Crush Crew Representative Today about your fall harvest order – 877.812.1137 / sales@juicegrape.com