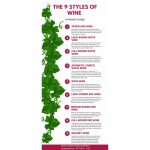 The world of wine is a big one. Whether you are a newbie winemaker or drinker, or one of the pro's that just needs a refresher.
We put together a printable pocket guide for identifying the 9 styles of wine.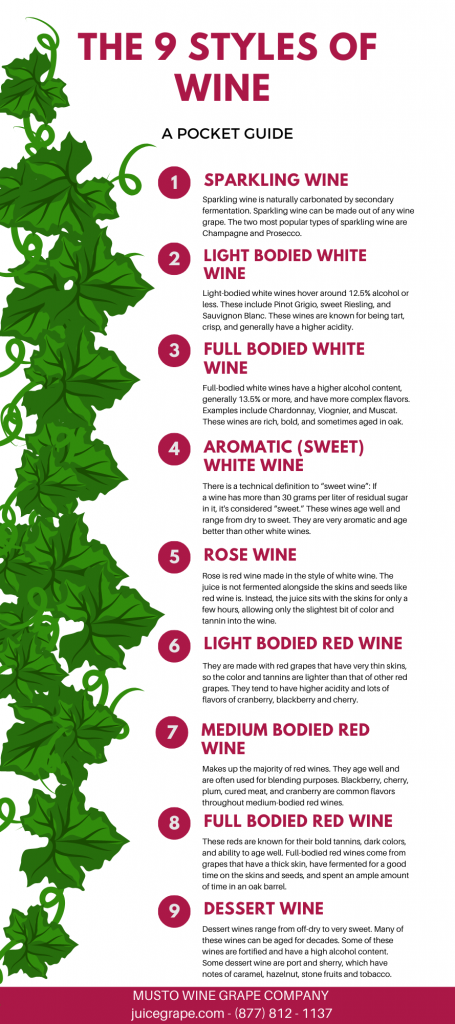 This printable pocket guide provides a simple overview of each of the 9 styles of wine and what characteristics to look for. Its a great idea to keep handy in your wine tasting notebook so as you write your tasting notes you can easily identify each wine!
Once you are able to taste the 9 styles of wine, it will give you a better understanding of wine as a whole. Once you have a good understanding for wine, you'll be able to fully understand tasting wine and even making it! Obviously wine tasting and winemaking can be complex but with dedication for learning, and having the support (us!) it can ensure your success.
Other types of reference guides that are good to keep handy are things like a wine tasting wheel and color chart that allows you to identify more colors, aromas and flavors!
Want to make your own wine? Musto Wine Grape Company is here to help. Give us a call at (877) 812-1137 to speak with one of our Crush Crew members to get you on track to making the wine of your dreams!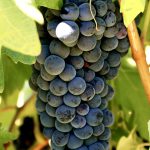 Malbec is a grape variety with a deep, inky color, producing dry red wines that boast robust tannins and a long, smooth finish.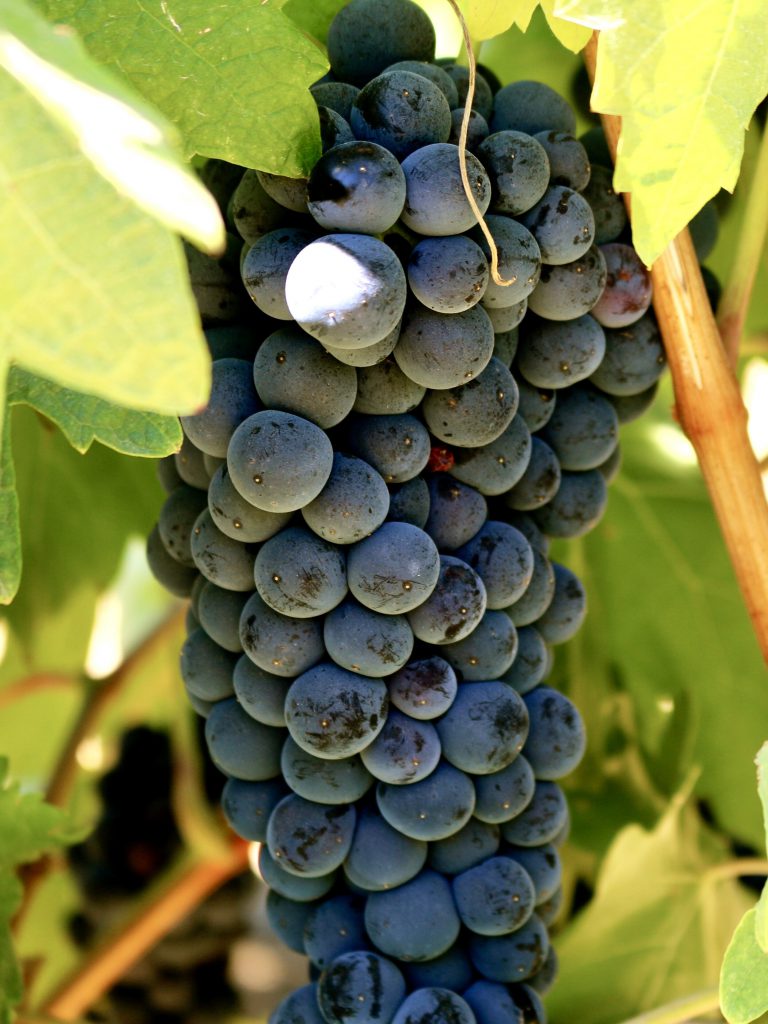 Where is Malbec from?
Malbec was almost exclusively grown in France, where it played a primary role as one of the main Bordeaux grapes. The climate and pests in France did not allow for Malbec to perform to its utmost potential. Struggling to thrive, growers saw it as weak, finicky, and susceptible to disease as well as rot. It is mainly associated with Argentina and Chile now because it thrives there. It took well to the climate, excelling in the high elevation and heat, making it one of the most widely planted grapes. In the United States, you can find the majority of wine grape plantings in California, yet Malbec only makes up for 0.5% of those plantings.
Malbec Characteristics
This grape can yield a wide range of fruit aromas that vary widely depending on the climate they are grown in. Cooler climates like France and Washington state yield black cherry, raspberry, and plum aromas. For warmer climates like Chile, you'll get more blackberry, blueberry, plum, and black cherry. They're juicy and jammy, with notes of vanilla, tobacco, dark chocolate, and oak. They have medium acid and moderate levels of tannins. Chilean Malbec's boast with red fruit flavors like cherry, raspberry and have floral and slight earthy notes.
Can I make my own?
Musto Wine Grape Company is here to help you make the wine of your dreams! The Spring Chilean winemaking season starts in late April, early May. Secure your Malbec and give us a call at (877) 812-1137 to speak with one of our Musto Crush Crew members. We can get you set up with everything you need and provide customer support along the way to ensure your success!