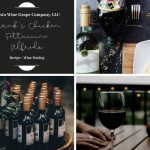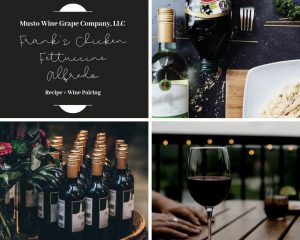 GRILLED CHICKEN FETTUCCINE ALFREDO
For the chicken marinade
¼ cup extra virgin olive oil
2 tablespoons white balsamic vinegar or fresh lemon juice
2 table spoons fresh chopped herbs (basil, oregano, thyme, parsley)
1 large garlic clove, minced
¼ teaspoon salt
½ teaspoon fresh ground black pepper
¼ teaspoon crushed red pepper flakes
2 boneless, skinless chicken breasts
Vegetable oil for oiling the grill plate
For the fettuccine and Alfredo sauce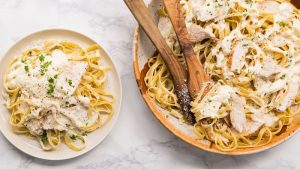 8 ounces fettuccine pasta
1 cup heavy cream
1 cup whole milk, or half and half
3 tablespoons unsalted butter
½ teaspoon salt
1 teaspoon fresh ground black pepper
1 cup fresh grated parmesan cheese
2 tablespoons fresh chopped parsley, for garnish
Instructions
To prepare the marinated chicken:
Mix all the marinade ingredients together (olive oil, vinegar, herbs, garlic, salt and pepper) in a gallon-size zipper-lock plastic bag. Add the chicken breasts and turn to coat. Refrigerate, turning a few times, for at least 3 hours up to 24 hours.
To grill the chicken (can be made ahead):
Preheat gas grill on high with the lid closed for 15 minutes or until very hot. Clean the grill grate with a brush. Using tongs and paper towels soaked in vegetable oil, wipe the grates with the oil to prevent sticking.
Turn the heat to medium and grill the chicken for about 6-8 minutes, then turn and continue cooking for another 5 minutes or until clear juices are visible and the chicken is cooked through.
Tent the chicken with foil and allow it to rest for 15 minutes. Slice and keep warm while preparing the Alfredo sauce. The chicken can also be made ahead of time and refrigerated until needed. If refrigerated, bring the chicken to room temperature for 30-minutes before adding to the sauce. There is no need to rewarm as it will be added to the hot noodles and sauce in the end.
To prepare the sauce:
Heat a large pot of water on the stove to cook the fettuccine while preparing the Alfredo sauce
Pour 1 cup of milk, ½ cup of heavy cream and the butter in a medium sauce pan. Cook over medium heat until the mixture simmers. Reduce the heat to medium –low and simmer gently until the mixture is reduce to about ¾ cup, about 20 minutes. Off heat, stir in the remaining ½ cup of cream, salt and pepper.
Meanwhile, add the pasta to the boiling water and cook until done (according to package instructions.) Reserve ¼ cup of the pasta cooking water then drain the pasta. Return the fettuccine back to the large pot and add 2 tablespoons of the reserved pasta water. Toss to coat and cover to keep warm.
Return the cream mixture to simmer over medium-high heat, and then reduce to low and add the parmesan cheese. Cook over low heat until the parmesan is melted, about 2 minutes. Add the remaining 2 tablespoons of pasta water to the Alfredo sauce and pour over the cooked fettuccine. Toss the pasta and Alfredo sauce using tongs to mix. The sauce may seem a little thin but will thicken as it cools.
Divide the fettuccine between 4 warm bowls and top with ½ a sliced chicken breast on each serving. Serve immediately garnished with chopped parsley leaves, fresh ground pepper and more parmesan if desired.
Notes
Alfredo sauce does not heat well in the microwave. If reheating Alfredo sauce on its own, allow for it to come to room temperature and then add hot pasta or vegetables to the sauce. That should warm it enough. If necessary, you can reheat in the microwave on low power. Do not overheat.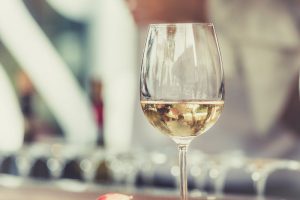 Wines that pair well with Chicken Alfredo
What you eat impacts the flavor of the wine you are drinking with it, and some wines might even overpower the food you are eating. When pairing your wine with your food, it's important to balance the flavors of each. Chicken Alfredo is a heavy, creamy and cheesy dish, so you'll want a heavy, full bodied wine to match.
Pinot Grigio
Pinot grigio from Italy's Friuli region tends to be acidic and crisp with a pronounced minerality, which pairs well with the creamy, buttery Alfredo sauce. Lanza Pinot Grigio from Suisun Valley California is light and refreshing, with notes of floral, fresh lemon and pear. Its great mouth feel makes it food friendly, and since pinot grigio has a decent amount of acid, it can stand up to the savory personality of the Alfredo sauce without it losing its refreshing flavor.
Barbera
There is no rule book that states you have to pair a white wine with your creamy chicken Alfredo. Red wine definitely has its place next to this dish, and an Italian Barbera is the perfect wine to step outside the box. Since parmesan cheese is prominent in the Alfredo sauce, it can be rather strong on the pallet and Barbera has the high acid content to compliment this savory, cheesy dish.
Chardonnay
As long as it hasn't been aged in oak, Chardonnay will pair nicely with Chicken Alfredo. Creamy pasta dishes and oaked wine just do not mix. A chardonnay with more restraint is a much better choice. Most Chardonnays have a buttery characteristic which goes perfectly with the buttery flavor of the Alfredo sauce. A great choice would be an unoaked Chardonnay from the Burgundy region of France. For a tasty restrained Chardonnay, try some Mettler Ranch Chardonnay from Lodi or the Wooden Valley Winery Chardonnay from Suisun Valley.
Viognier
An appealing wine partner for chicken Alfredo is a dry Viognier. It tends to be bone dry and high in alcohol, which allows the wine to hold its own when paired with a strong Alfredo based dish. Violet, apricot and spice are a few characteristics of Viognier's flavors that give it its full body feel. California produces a delicious Viognier, but some of the best comes from the Northern Rhone region of France.
Making your own wine to pair with your homemade
Chicken Fettuccine Alfredo
Musto Wine Grape Company, LLC is New England's largest supplier of home winemaking products and services. Come visit us at 101 Reserve Road in Hartford, Connecticut to shop for all your wine grape, juice and equipment needs! Select your grapes from our fine variety, and we will help you every step of the way – from crush to bottle. Never made wine before? No problem! Sign up for our Winemaker's Bootcamp, where you can learn all the ins and outs to winemaking. Call us at (860) 278 – 7703 or email us at sales@juicegrape.com to get started. We look forward to hearing from you!