Pairing your Homemade Wines for Thanksgiving
Pairing your homemade wines with your Thanksgiving meal can be tricky. Check out some of our wine and food pairing suggestions to help you show off your delicious wine!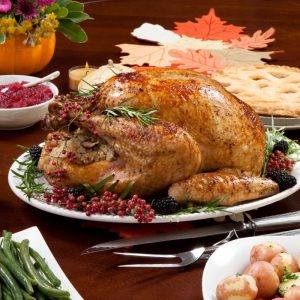 Turkey:
Light Reds, Medium Reds, and Rich White Wines pair well with Chicken and other White Meats like Thanksgiving Turkey. Your Pinot Noir, Gamay, Grenache, Chardonnay, or GSM Blend would be a great compliment to the meal.
Beef:
Beef, Cured Meats, and Smoked Meats pair best with Medium or Full Bodied Reds. Try your Zinfandel, Cabernet Sauvignon, Castel del Papa, or Italian Blend.
Fish:
Yes, red wine CAN be paired with fish! Try a Light Red or a Light Dry White such as your Gamay or Pinot Grigio.
Carbs:
Most Carbohydrates can pair with most wines. It really depends on the sauce. Try your Cabernet-Merlot Blend or Il Toscano to balance and enhance the flavors of a tomato sauce.
Vegetables:
A Light White or Med-Light Red will compliment most vegetables – whether they are roasted or dressed. Try your Viognier or Grenache.
We want to wish you and your family a very Happy Thanksgiving. We hope it is a wonderful day filled with family, friends, and great homemade wine!
Cheers Winemakers!