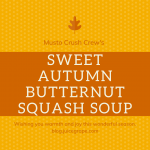 During harvest we need some tasty fuel to keep us going. This sweet autumn butternut squash soup is nourishing and fulfilling, sure to satisfy the whole family. As the temperatures drop, we wanted to share this recipe to help keep you warm!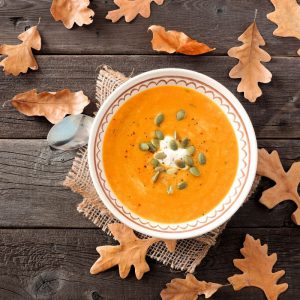 Ingredients
3 cups of diced butternut squash
1 unpeeled, diced apple
1 unpeeled, diced pear
2 tablespoons of extra-virgin olive oil
2 garlic gloves, minced
1 small onion, ½" diced
½ teaspoon of curry powder
¼ teaspoon of ground ginger
¼ teaspoon of ground cinnamon
4 cups of vegetable broth
Salt & black pepper
¼ cup chopped walnuts (toasted), 2 tablespoons roasted pumpkin seeds, chives and plain greek yogurt as optional toppings.

Instructions
Heat the oil in a large saucepan over medium heat and add the onion. Stir frequently until tender (for about 5 minutes) then stir in the garlic and continue to stir for another minute.
Add the squash, apple, pear, curry powder, cinnamon and ginger. Stir.
Stir in the broth, increase heat to high. Cover and bring to a boil.
Once boiling, reduce heat and maintain at a low boil, covered for 30 minutes.
Let cool for about 15 minutes and transfer to a blender (if you do not have an immersion blender). Puree until very smooth. Transfer back into the pot, reheat and season with salt and pepper to taste. Serve with optional toppings.
Pair with  a bottle of Gewurztraminer. This semi-sweet aromatic wine has notes of cinnamon, ginger and honey that compliment the silky and spicy characteristic of this soup.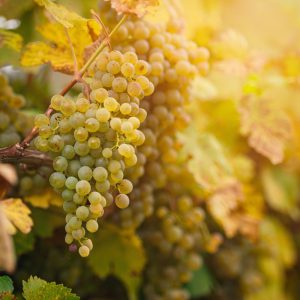 Gewurztraminer Recipe + Instructions
First choose if you want to make a sweet wine or a dry wine, as this will dictate a lot of your decisions when making your wine.
Secondly, feel confident in your pronunciation of this delicious variety, as you'll be telling all of your friends about the great wine you've made to be paired with the butternut squash soup. Let's say it together. Guh-VERTZ-truh-meen-er. That's right!
Decide if you are going to make wine from fruit, juice, or concentrate. This time of year you'll need to be making wine from juice or concentrate.
Add pectic enzyme to your juice. This will help with settling and clarifying down the road to ensure a clear and beautiful finished wine.
Pick the

yeast

of your choosing. Some great options for retaining the fruity, aromatic, perfume-like traits of Gewurztraminer include Alchemy I, Vin 13, QA23, and D47. Rehydrate your yeast using

Go-Ferm

for best results.
Time to ferment your wine! If you're using a kit, follow the directions they give you.
If fermenting fresh juice, add Booster Blanc and Opti-White to increase mouth feel and mid-palate intensity.
When you see the Brix drop by 2-3, add Fermaid O to your juice.
Continue checking the Brix each day. When you see a 1/3 drop in the starting number, add Fermaid K to ensure the fermentation remains strong and the yeast have the energy they need.
When alcoholic fermentation is over, rack off the gross lees. Add potassium metabisulfite. This is important, as this is a variety that stylistically does not benefit from malolactic fermentation.
If you want to back sweeten, you can do so. Gewurztraminer can make fantastic dry, semi-sweet, and sweet wines, so you can't go wrong with whatever you decide!
 For more information about making wine from juice click

HERE

!
Want to make your own wine for your next pairing? Musto Wine Grape Company is New England's largest supplier for home winemaking products and services. We'll get you set up with all of your juice, grape and equipment needs and have you on track to making your own perfect pairing. Visit juicegrape.com or give us a call at (877) 812 – 1137 to learn more. We look forward to hearing from you!