Happy Halloween from the Crush Crew!
Happy Halloween from the Crush Crew!
We put together some awesome wine pairings to go with all the Halloween candy you'll be getting- Uh, I mean your kids will be getting tonight!
We hope everyone has a safe and spooky Halloween.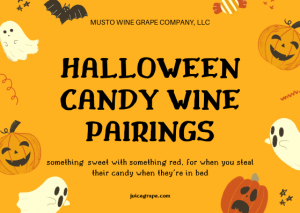 Peanut butter cups 
Ruby port. The sweet, rich flavors of ruby port will meld great with the chocolate and peanut butter combination. 
Twizzlers
Pinot Noir. Since Twizzlers are one of the less intense flavored Halloween candies you'll encounter, reach for a more delicately flavored. Bright cherry, raspberry, and earthy flavors will be a delicious compliment to Twizzlers.
Snickers
With so many flavors and textures in Snickers, you'll need a wine that can stand up to it – a high alcohol Syrah that already has aromas of chocolate, tobacco, spice, and stewed fruit is the go-to here.  
Starburst
Beaujolais Nouveau with its high acidity and low tannins, notes of bubblegum, strawberry, and banana, will pair great with the flavors of Starburst.
Skittles
Riesling. High acidity and sweetness will match perfectly with these sweet, fruity chewy candies. 
Butterfingers
Chardonnay. A luscious buttery Chardonnay will meet the rich and layered flavors of Butterfingers.