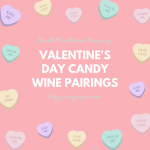 Cupid is just around the corner, and we've got the perfect candy and wine pairings for you and your valentine to try this Valentine's Day! (Or, for you to try the day after Valentine's Day when all the candy is 50% off.)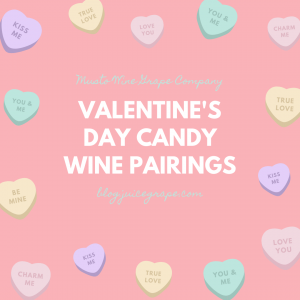 Candy Hearts and Sauvignon Blanc – A light, crisp Wooden Valley California Sauvignon Blanc won't over-power this lightly flavored, semi-sweet candy.
Chocolate Covered Marshmallows and Tawny Port – Tawny Port from Portugal is perfect with these heart shaped goodies, because a wine with too high of an acidity will curdle the chocolate which has milk in it and this port is low in acid.
Ferrero Rocher & Chardonnay – A bottle of Sonoma Cutrer Chardonnay would be the perfect pairing to this classic gifting chocolate. The hazelnut qualities of this Chardonnay will shine a spotlight on the nut, while the creamy quality of the wine will stand up to the chocolate.
Lindt White Chocolate Lindor Truffles and Rosé – A bottle of Empathy's Rosé would go great with these creamy little balls of heaven. The creaminess of the white chocolate allows the wine's fruity notes of watermelon and strawberries to pop.
Want to try this with your own Wine? Musto Wine Grape Company is here to help! We are New England's largest supplier for home winemaking products and services. We can get you set up with all of your juice, grape and equipment needs and have you on track to making your own perfect pairing for next fall! Visit juicegrape.com or give us a call at (877) 812 – 1137 to learn more. We look forward to hearing from you!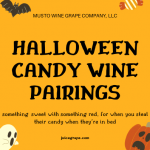 Happy Halloween from the Crush Crew!
We put together some awesome wine pairings to go with all the Halloween candy you'll be getting- Uh, I mean your kids will be getting tonight!
We hope everyone has a safe and spooky Halloween.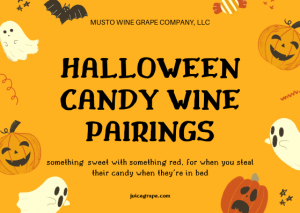 Peanut butter cups 
Ruby port. The sweet, rich flavors of ruby port will meld great with the chocolate and peanut butter combination. 
Twizzlers
Pinot Noir. Since Twizzlers are one of the less intense flavored Halloween candies you'll encounter, reach for a more delicately flavored. Bright cherry, raspberry, and earthy flavors will be a delicious compliment to Twizzlers.
Snickers
With so many flavors and textures in Snickers, you'll need a wine that can stand up to it – a high alcohol Syrah that already has aromas of chocolate, tobacco, spice, and stewed fruit is the go-to here.  
Starburst
Beaujolais Nouveau with its high acidity and low tannins, notes of bubblegum, strawberry, and banana, will pair great with the flavors of Starburst.
Skittles
Riesling. High acidity and sweetness will match perfectly with these sweet, fruity chewy candies. 
Butterfingers
Chardonnay. A luscious buttery Chardonnay will meet the rich and layered flavors of Butterfingers.