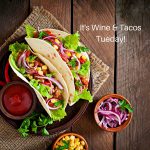 Happy Taco Tuesday! Today we've got a quick and easy taco dinner board recipe and wine pairing for you to share with your friends and family.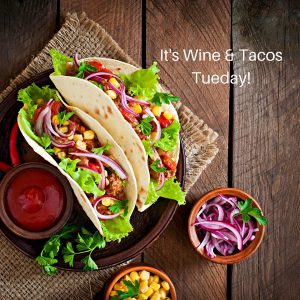 What you'll need:
Soft/Crunchy tortilla's (we love Old El Paso's Stand N Stuff tortillas for easy building and serving!)

Onions

Meat of choice

Taco seasoning

Cheese

Lettuce

Tomatoes

Salsa

Sour cream

Guacamole

Cilantro

Limes

Jalapeño peppers

Tortilla chips
Serving board, preferably one that is round with raised sides. This one is beautiful, durable and budget friendly!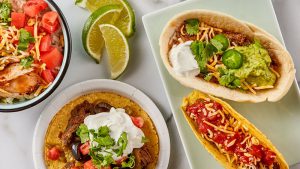 How you'll do it:
Start with your serving board – lay down some parchment paper and place a bowl with shredded lettuce and tomatoes in the center.
Place smaller bowls around the center bowl and fill them with salsa, guac, jalapeño's and sour cream. Make sure to leave room for your tortilla shells around the outside.
Take your taco meat of choice and cook with a medium onion and add your favorite seasoning. Fill the taco shells with meat and cheese and bake for 5 minutes.
Place your tacos around the outside of the board around the bowls placed in the center.
Place tortilla chips to fill in any empty spaces (and have an extra bowl to the side with more chips, because who only has a few?)
Last but certainly not least – serving some wine with your taco board. This will depend on the kind of meat you used for your tacos, so we came prepared with pairings for a few different kinds!
If you're doing fish tacos: citrusy whites tend to be best, but depending on the taco, you might be able to try a red. If you prefer wines with a touch more body and fruit, try some Sauvignon Blanc. It tends to have a mix of citrus and tropical flavors and a zippy herbal quality that's tasty with cilantro. If you're going for a grilled fish, like salmon, the red cherry fruit in lighter styles of California Pinot Noir works well. A hint if spicy oak can pair nicely with the char.
If you're doing pork tacos: try Zinfandel or a new world Pinot Noir. Spicy, seasoned pork screams for a fruit forward red to accompany the meat's robust flavors, yet one with enough acidity to cut through the taco's richness. The acidity of a new world Pinot Noir will give the pairing a lighter, more on-it's-feet feel, where as Zinfandel's signature spice and juicy mouthfeel create a lush, succulent pairing for the pork.
If you're doing steak tacos: Malbec! Malbec's rich, fruit-forward palate and robust tannins pair gorgeously with the fat and spice of grilled steak.
If you're doing ground beef tacos: Grab a bottle of Grenache for this one. The blend's spicy, dark fruit flavors and medium tannins are a perfect match for seasoned ground beef.
Interested in making your own wine? Give us a call at 877-812-1137 to discuss how to make your very own wine at home!