How much wine will a case of grapes make from Chile or South Africa?
Each case of wine grapes from Chile and South Africa is 18lbs. Depending on the grape variety, you should yield about 1.5-2 gallons of must per case.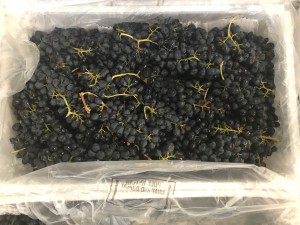 Certain wine grapes are "juicier" than others. For example, Syrah is considered a "juicer" grape than a Cabernet. If you look closely, you can see the difference in the shape of the berries. The Syrah grape has more of an "egg" shaped berry to it. The Cabernet is more of a circle shaped berry. The berry size, climate, soil, and vineyard practices will all help determine how much juice is produced in each berry, and the berry intensity.
Usually each case of 18lb wine grapes will yield about 1.25-1.50 gallons of finished wine.
That equates to about 7 bottles of wine.
Other factors that influence how much must and/or juice you yield per case:
How your rollers are positioned in your crusher destemmer

How much you press after fermentation is completed

How much wine you loose during racking

If you barrel age your wine

If drink a lot of wine during bottling 😉
Keep these topics in mind when you are deciding on how many cases of grapes you want purchase versus how much wine you want to make.
Interested in making wine from Chilean grapes? Check out this

POST
Interested in making wine from South African grapes? Check out this POST
We hope this information helps! If you have any questions please do not hesitate to reach out via sales@juicegrape.com or 877-812-1137. Cheers!