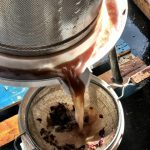 Working with a new grape for the first time can be a little scary. But having a recipe to use a jump off point can help ignite creativity and make the winemaking go a lot smoother. Check out Christina's Black Muscat Rosé Recipe for some Rosé winemaking inspiration.
Black Muscat Winemaking Recipe:
Crush the Black Muscat into vat
Add Potassium Meta to kill native yeast, let sit for 12 hours
Add Cinn Free, stir must, let sit for another 12 hours
Press juice after 24 hours on the skins
Add Booster Blanc and Opti White (dilute in spring water, mix like pancake mix, dump into must, mix up)
Pitch yeast after 24 hrs on skins, make sure juice is at 65 degrees. If not let it warm up. Use VIN13 yeast.
Next Day: Add Fermaid O
Monitor Brix levels daily
At 1/3 of a drop in Brix (10-8 Brix) add Fermaid K
Please Note:
The color might be light. It darkened up over time. And if it doesn't darken up enough to your liking I have some "pixie dust" that will help with the color during the aging process. Also, after fermentation I added Noblesse at my first racking. This is because I thought the acid was a little high and it helped soften the mouthfeel. Every year is different, so you might not need to do this. Taste it after fermentation and then decide.
Wine Tasting Notes:
On the nose there is passion fruit, guava, sweet strawberry, sweet cherry, and papaya. The aromatics continue through the palate with a touch of crisp acidity. As a dry wine this light bodied Rose is full of complexity and flavor. If you're more of a sweet winemaker, adding about 1-2% Residual sugar to this wine would make for a very aromatic and balanced sweet wine.
What's the Winemaker's Think Tank?
Every Thursday we will post about a few frequently asked questions that our winemaker has answered. If you have a winemaking question you would like to have answered, please email us at support@juicegrape.com and we will try to get into next week's post. Cheers! 🙂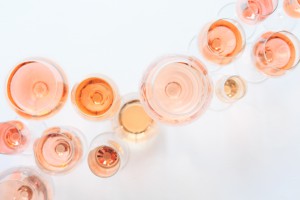 How do I make Rose?
There are a few different approaches to making rose wines. The most traditional way is to crush red grapes, leave the juice in contact with the skins for a limited amount of time, then press off the juice rather quickly (within a few hours) to yield a deep pink colored juice. Once this juice is fermented, it will yield a rose wine. The best grapes to use for this type of production would be any red varietal with a higher acidity. Early picked red grapes or a very fruit forward varietal tend to make the best roses. Some varietals that we have worked with successfully to make beautiful roses are Barbera, Grenache, Gamay, Chambourcin, and Pinot Noir.
Another approach would be to take a white wine and to add a small portion of red wine to it, predominantly for body and color. A very small amount of red wine will provide adequate color to change a white wine into a rose color. A small amount of prep work needs to be done before the blend is created. If the red wine was put through malolactic fermentation, the MLF must be complete before the wine is added into the white wine. If the red wine has not completed MLF, it cannot be used to blend as the bacteria will begin to metabolize the malic acid within the white wine. To prevent this, first make sure that the wine has completed MLF, then add Lysozyme to prevent the further proliferation of bacteria. It is always imperative to make sure that the wines have also been adequately sulfited prior to blending as well. It is very important to do bench trials of the blends before the addition of the red wine to ensure the desired results. A small amount (5-10%) of the red wine will add a nice touch of color and body to a white wine, creating a beautifully blended rose.
We hope this information helps with your winemaking. If you have any follow up questions or winemaking questions in general, please email us at support@juicegrape.com.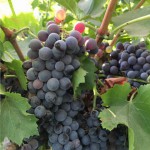 Rose´ has become an important part of the wine market. What originally started out as White Zinfandel has transformed into a large and growing wine category made from a lot of different wine grapes. One of the most important grapes used in the production of Rose´ is Grenache.
The Grenache grape is part of the original "Rhone Rangers" crew and one of the most widely planted red wine grape varieties in the world (over 500,000 acres planted so far..). It ripens late so it needs hot, dry conditions such as those found in Spain, where the grape most likely originated. Grenache flourishes in the AVA's such as Central Valley, Fresno County, Lodi, and other Mediterranean–style climates.
Usually a brilliant ruby pink hue with notes of ripe strawberry, orange, hibiscus and sometimes with a hint of ripe peach. You'll find Rose´of Grenache wines to have moderately high acidity, but most have quite a bit of color and body. Perfect pairing with this wine would be a summer evening and takeout Greek Gyros with dill tzatziki.
If you're interested in making a Rose´wine and need a little help, our Winemaker Maureen Macdonald has made many different styles of Rose´ and is a major fan of Rose´ herself. Tips ranging from how long to leave the grapes on the skins to the best wine yeast to bring out specific flavors….when it comes to Rose´ Maureen can help you make an award worthy pink wine. Dry, sweet, or off dry Maureen has the winemaking tips for you!

Below are some photos of our beautiful Grenache Noir from our newest vineyard- King's River. They will be arriving in early September. Make sure to put in your pre-order for this Rose´worthy grape!