Brasato al Barbera (Beef Braised in Barbera) Recipe
Brasato al Barbera (Beef Braised in Barbera)
A Piedmont style braised beef recipe cooked in red wine.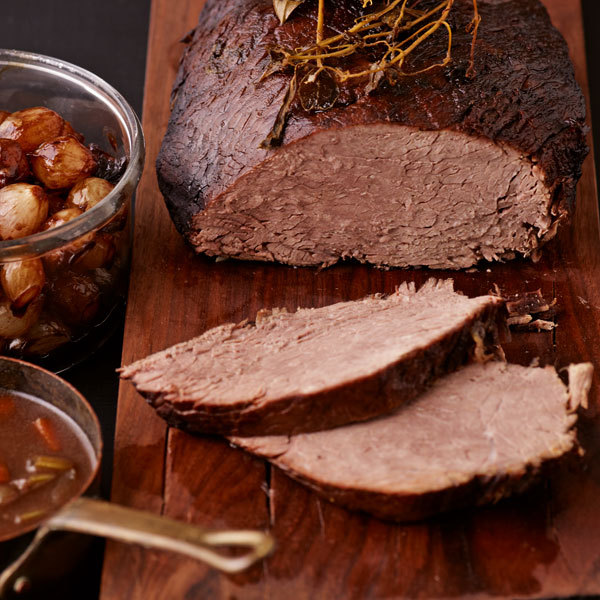 Known as "the people's wine", Barbera is an everyday drinking wine from the Piedmont region.
Barbera is a palate pleaser because it is easy to drink, well balanced and affordable.
Our 2017 Barbera has flavors of cherries, strawberries and raspberries, and intense aromas of blackberries. This Barbera is very low in mouth-drying tannins and high in acidity, which makes it the perfect wine to pair with rich foods like cheeses, meats and earthy mushrooms.
What you'll need:
1 Tbsp olive oil
1 (3-pound) boneless beef chuck roast, patted dry
Salt and freshly ground black pepper
3 ounces pancetta, diced
1 yellow onion, diced
4 medium carrots, diced
4 celery stalks, diced
5 cloves garlic, minced
1 1/2 bottles (4 1/2 cups) Barbera
2 cups chicken stock
2 sprigs rosemary
2 bay leaves
1 cinnamon stick
2 Tbsp cornstarch
1/4 cup chopped fresh parsley, for garnish
What to do:
Heat the oven to 325 degrees.
In a large Dutch oven, heat the oil over medium-high heat. Sprinkle the beef with salt and pepper.
Add the beef to the pot and cook, turning every 2-3 minutes, to brown on all sides.
Once browned, remove the beef from the pan, add the pancetta to the fat in the pan and cook until browned, about 3 minutes.
Add the onions, carrots, celery and a pinch of salt; cook until caramelized, about 15 minutes.
Add the garlic and cook until fragrant, about 30 seconds. Return the beef to the pan and add the wine, 2 cups of the stock, rosemary, bay leaves and cinnamon stick.
Bring the liquid to a simmer over medium-high heat, then cover tightly and transfer the pot to oven.
As it's cooking, turn the roast every 30 minutes until fully tender and a meat is starting to fall apart when poked with a fork (3 1/2-4 hours). Remove the meat from the pan and tent with foil to keep warm.
Remove the rosemary, bay leaves, and cinnamon stick, and place the pot over high heat. Cook about 10 minutes.
Ladle about 1/2 cup of the hot sauce into a small bowl, whisk the cornstarch into the hot sauce then add slurry back into the sauce in the pan and cook another 10 minutes until the sauce has thickened a bit.
Adjust the seasoning to taste and turn the heat off. Place meat onto a platter. If it has not completely fallen apart, thinly slice the beef across the grain into 1/4-inch thick slices. Serve the beef ladled with the sauce. Garnish with parsley and serve.
Want to make your own Barbera? Musto Wine Grape Company is New England's largest supplier for winemaking products and services. From home winemakers to wineries, we've got you covered! Give us a call at 877 – 812 – 1137 to speak with someone to get you started.