Caramel chocolate chip cookies are a treat definite to make you swoon. The best part? This can be a quick, easy recipe so you'll be enjoying these sweet treats in no time!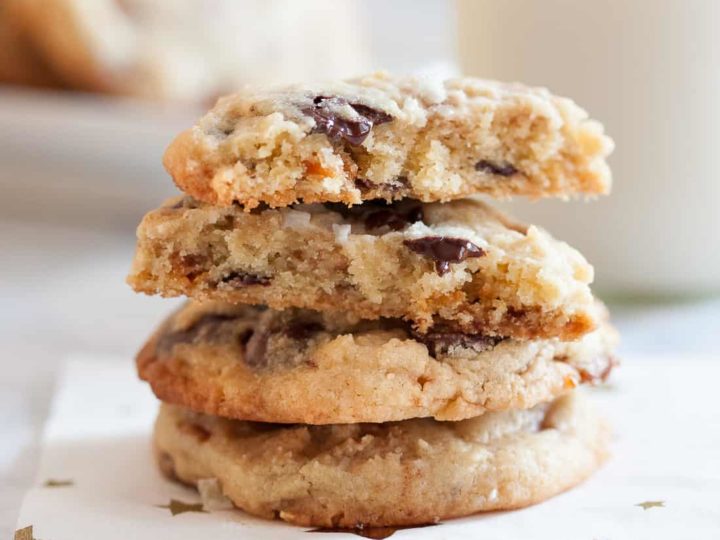 First, you'll need the ingredients!
2 cups of all-purpose flour
1 teaspoon of baking soda
1 teaspoon of cornstarch
1/2 teaspoon of salt
1/2 cup of butter
1/2 cup of brown sugar
1/2 cup of granulated sugar
2 large eggs
1 & 1/2 teaspoons of vanilla extract
1 cup of chocolate chips (I usually use milk chocolate, but you have the freedom to pick which chocolate you like more!)
1 cup of caramel chips
1-2 Tablespoons of sea salt (coarse)
Next, combine and bake!
Firstly, in a medium bowl, combine the flour, baking soda, cornstarch, and salt. Secondly, beat the butter and sugars together in a separate bowl. You can use a stand mixer with a paddle attachment or a handheld mixer on low speed until combined. Thirdly, Beat the eggs and vanilla in a small bowl until combined and then stir into the flour mixture until well blended. Fourthly, Add chocolate and caramel chips, preheat your oven to 350 degrees, and place cookie dough onto a baking sheet spaced two inches apart. You can use a tablespoon or small ice cream scoop to measure out the side of each cookie. Press sea salt on the tops of each cookie. Finally, bake for 10-12 minutes or until lightly browned and allow to cool.
Wait, nothing is complete without a glass of wine…
Have you ever made Port before? It pairs perfectly with these cookies! The rich textures, fresh fruit factors, hints of chocolate, and sweet profile of Ruby Port makes it a no-brainer for pairing with many kinds of caramel, milk, and dark chocolate choices.
How to Make Port Wine:
You can make port from existing wine by adding grain alcohol, everclear, or brandy. First, determine the alcohol level you want your port to be. Second, use Pearson's Square to determine how much brandy you need to add. Third, add that amount of brandy and sugar adjustment to the wine.
Want to dive deeper? Learn How to Make Port Wine Step by Step with this Video from MWG's online learning program WinemakingInstructions.com.