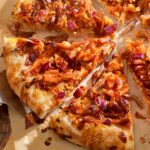 Red Hot Chicken Mini Pizzas & Riesling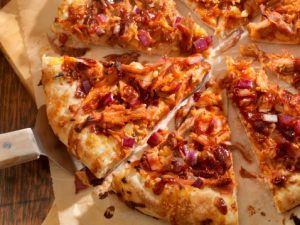 Heat things up with these Red Hot Chicken Mini Pizzas!
Whether you're munching on it while binge watching your favorite TV show, or serving at your next party – it's perfect for virtually any time and place!
Ingredients:
2 tablespoons Frank's original red hot sauce
2 8" pre-made pizza crusts
¼ lb Colby jack cheese (shredded or sliced)
2 tomatoes, diced
½ red onion, diced
¼ lb rotisserie chicken (pulled apart and marinated in Frank's hot sauce)
Blue cheese salad dressing
Celery and carrot sticks
Instructions:
Heat oven to 425 degrees
Spread 1 table spoon of Frank's hot sauce over each crust, leaving ½ for the edge.
Top with chicken, tomatoes, onion and cheese.
Place pizzas directly on an oven rack. Bake 8-10 minutes.
Cheese should be melted and crust should be golden brown.
Slice and serve, alongside blue cheese dressing and celery sticks.
Don't forget the Riesling! The combination of sweet and acidic is what makes Riesling a great match for spicier foods, taming the intense heat with a honeyed splash.
This gallery contains 3 photos.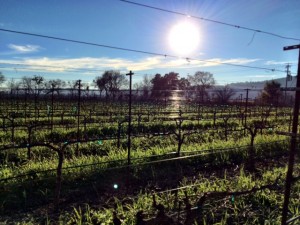 Right now the vines are dormat and enjoying a little sleep. If you drive through the vineyard areas you will see different types of grass and flowers growing in between the rows. These plants are not randomly growing in the rows. They were planted there for a reason (and no it's not just because they look pretty). These plants are called cover crops.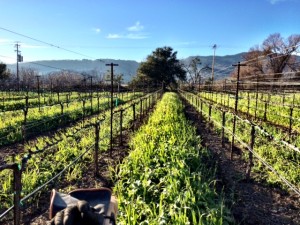 Cover crops help protect and enrich the soil in a variety of ways. They help regulate vine growth, protect soil from erosion, improve soil fertility, draw away the abundant moisture, help with air quality, and introduce beneficial insects to the soil and vine.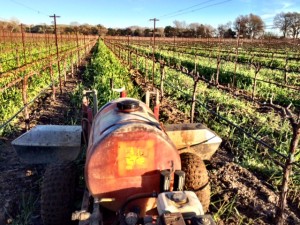 The photos you see above are from Lanza-Musto Vineyards. At Lanza-Musto Vineyards we planted three peas, crimson clover, mustard, and oat throughout the rows. These are all full of nitrogen and other nutrients. Some rows have more crops planted than others. For example, the younger vines have the three peas mix because the younger vines need more nutrients. Where as an older vineyard might have a mustard mix.It is important to remember that vineyard maintenance does not start and end at harvest time. There are many things that need to be done in the vineyard throughout the year to ensure the vines produce quality fruit.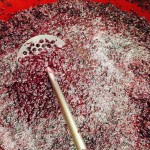 This gallery contains 1 photo.
So 11/6 was a sad day. When we went to punch down the wine, there was an off odor. To be specific it smelled like rotten eggs. This means my yeast is "stressed". UGH!!! I'll admit I panicked a little. Why does this happen?  Well there are multiple reasons. One is in the Vineyard. Sometimes the grapes are sprayed too close to the time of harvest and the copper or sulfur compounds will stay on the grape. Another, is the yeast can get stressed if there aren't  enough nutrients for them. Sometimes the grapes don't have enough nutrients, and as winemakers we fail to properly introduce enough supplemental nutrients for the yeast to complete fermentation.
Thankfully, there are multiple ways to treat this issue.
You can aerate or "rack and splash" the must in order to "blow off" the smell. This will only work if the issue is lack of oxygen.
You can add DAP. DAP stands for Diammonium Phosphate. It is a source of nitrogen (aka food for the yeast). Therefore, when you introduce DAP the yeast has more food to eat and the odor disappears.
After fermentation, you can run the wine over copper. The copper will absorb the sulfite and help eliminate the odor.  However, it will strip the wine of some flavors.
You can add Reduless after fermentation. Reduless will not strip the wine like copper and it will remove the smell if it is a h2s issue.
We chose option 2 and it worked! We introduced 100 grams of DAP to the wine and in 2 days the off odor was gone.
Once we were able to get rid of the odor we added a 1/2lb of French oak dust. This addition helps protect against oxidation and increase color stability. The next time we will introduce oak to our wine will be during the aging process.
Thanks again for stopping by. Next time we will discuss Maloactic Fermentation.
Cheers ~ CM