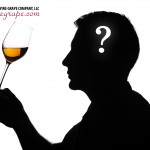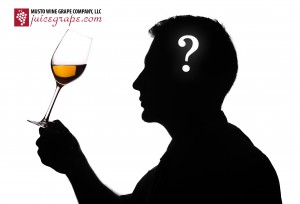 What's the Winemaker's Think Tank?
Every Thursday we will post about a few frequently asked questions that our winemaker has answered. If you have a winemaking question you would like to have answered, please email us at support@juicegrape.com and we will try to get into next week's post. Cheers!

In this week's Winemaker's Think Tank we outline the difference between flaws, faults, and how to identify them.
Flaws

 Flaws are a mistake made in the winemaking process that leads to a property in the wine that is not characteristic of the varietal
 Stylistic Choice vs. Flaw
 Imbalance Flaw

Acid vs Sugar, Oak Levels, Alcohol Level

Visual Flaws

Haze, Sediment, Effervescence, TA Crystals, Floaters, Lack of Color Saturation

Aroma/Bouquet Flaws

Lack of Aroma, Non-varietal aroma, Over-oaking

Faults

Faults are often a microbial or chemical reaction within the wine in some part of its life that significantly alters a wine, eventually leading to the point of spoilage.

Oxidation Faults

Acetaldehyde – oxidation of Ethyl Alcohol smells like sherry, or old apples, browning

Causes: headspace, low sulfites, poor corks, bacterial contamination

Acetic Acid – Vinegar

Causes: Acetaldehyde, Acetobacter bacteria react with ethanol, Fruit Flie

Ethyl Acetate – Nail Polish Smell

Oxidation of Acetaldehyde and Acetic Acid
Causes: headspace and bacterial contamination

Sulfur Faults

Hydrogen Sulfide – Rotten Eggs Smell
Causes: lack of yeast nutrients, yeast stress, sulfur sprays, yeast bi-product, high temps
Sulfur Dioxide – Burnt Match Smell
Causes: over sulfating, wild yeast
Complex Sulfur Faults- Mercaptans, DMS, DES, DMDS, DEDS
Causes: Hydrogen Sulfide reacting with Ethyl Alcohol

Microbial Faults

Brettanomyces – Barnyard, Horse Saddle, Antiseptic Ointment, Band-Aids, Bacon, Clove

Causes: spoilage yeast cells that are incredibly dangerous and difficult to eliminate. Most often found in contaminated barrels, winery cleanliness, resistant to acid and SO2

Geranium Taint – Fresh cut geranium leaves

Causes: Reaction of potassium sorbate with Lactic Acid Bacteria in the presence of Ethyl Alcohol

Refermentation – Fizzy wine, popped corks

Causes: Yeast or microbial fermentation of residual sugar

Other Faults

Cork Taint – Wet basement, wet old newspaper, mildew

Causes: strain of trichloanisole on cork (cork taint); mold that contacts chlorine and wood

Heat Damage – Cooked fruit smell, brick red color, similar to oxidation

Causes: leaving wine in a hot car, in the sun, etc.
We hope this information helps with your winemaking. If you have any follow up questions or winemaking questions in general, please email us at support@juicegrape.com.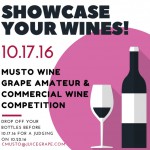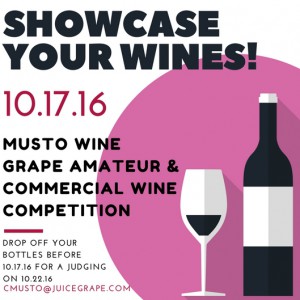 SHOWCASE YOUR WINES!
musto-wine-grape-co-2016-finished-wine-competition-entry-form
musto-wine-grape-co-2016-wine-competition-announcement
musto-wine-grape-co-2016-wine-competition-wine-category-code-numbers
musto-wine-grape-co-2016-wine-competition-wine-competition-rules
Show Off You Winemaking Skills at the Musto Wine Grape Company, LLC.'s Winemaker Amateur & Commercial Winemaking Competition!
The Annual Musto Wine Grape Company Amateur & Commercial Wine Competition will be held October 22, 2016. Your wines will be judged by some of the best wine judges in New England. Each entry will have detailed feedback to help further improve your winemaking skills.
Amateur or commercial wine entries will compete for, gold, silver & bronze medals. Best of Show medal will also be awarded. Amateur entries will compete against amateur entries and the same holds through for commercial entries. Each wine will be judged on its own merit. Medal awards will be decided by a group on competent wine judges selected by management of the Musto Wine Grape Company. All entrants will receive judging notes for each wine entered. Entry information can be downloaded at www.juicegrape.com.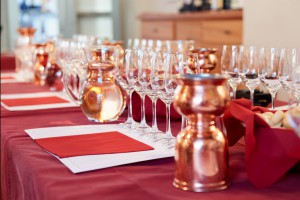 Important Dates:

October 17th, 2016 NLT 4:00PM Wine Entry deadline arrival
Send or deliver entries

Musto Wine Grape Company, LLC 101 Reserve Rd, Hartford, CT 06114 or (860-278-7703
Levy, Diamond Bello & Associates, LLC (LDB) 497 Bic Drive, Milford, CT 06461 (203-882-7940Judging: October 22nd, 2016

Judging Results: TBD and at the awards Dinner (TBA). Also, posted on, www.juicegrape.com
Entry Fee:

For a single wine the entry fee will be $10.00 and $8.00 each for 2 or more entries submitted at the same time.
There is no limit to the number of entries. Make checks payable to Musto Wine Grape Company and U.S. dollars only.

Wine Entry Qualifications and Conditions:

 This wine competition is open to any amateur winemaker, commercial winemaker or winery. Wine entry must have been made by a winemaker, not purchased and re-bottled and used as an amateur wine maker entry. Judge may not judge and wine they have submitted.
Wine entry(s) are to be delivered or shipped to the above stated location before the closing time.
 A wine entry is a still bottle of wine and submitted for entry in a 750ml wine bottle. Ice wines or late harvest wines may be submitted in a 375ml wine bottle. Sparkling wines must be submitted in a champagne style bottle with the proper closure.
All bottle entries must be free of any labeling or identifying markings. However, each must be marked with Category number, winemaker(s) name, wine ingredients and percentages & vintage.
All shipments are the entrant's responsibility therefore packaging must be able to withstand considerable handling and shipping costs are the entrant's responsibility. COD's or postage due will be rejected. If an entry bottle is received damaged, we will make every effort to contact the entrant and notify them of the damage. Check with your shipper as to requirements for shipping wine.
Wines entries made from grapes and juice based wines will be judged and awarded in their own category. Wine entries made from kits and fresh processed and concentrated juices will be judged and awarded in a kit category.
Judging of entry wines will be performed on a 20 point award system. Each wine will be judged on its own merits and not compared to any others in its category. Gold, Silver and Bronze medals will be awarded within each category and based on the 20 point system.
The Best of Show award(s) will be those wine entries that are superior within a given category. All award decisions made by the judges and/or sponsors, are final.
Awards will be given to the winners at the Award's Dinner at the above stated date and time.
All entrants will receive a copy of the judging worksheet and a copy of the winning results.
All entrants will receive a copy of the judging worksheet and a copy of the winning results.

 Entry Form and Fee(s):

Do not send wine with your entry form and fee(s)
When paying by check, attach the check (payable to Musto Wine Grape Company) to the entry form and mail to Musto Wine Grape 101 Reserve Rd, Hartford, CT 06114 or Winemaker Products 497 Bic Drive, Milford, CT 06461. The entry form and fee will be held until the wine(s) are received. Do not send cash with the entry forms. Please keep a copy of the completed entry forms for your records.

Sending Your Wines:

Do not send wine entry form and fee(s) with the wine(s). Forms must mailed separately.
Write on each box, SAMPLE MATERIALS, NOT FOR RESALE, GLASS ENCLOSED.
If sending more than one box, indicate that they are "Box 1 of 2 and Box 2 of 2, etc.
 If you're delivering you own entries, we can only accept them Monday to Friday, 10:00AM to 4:00PM. The Milford location is closed on Saturday and Sundays. The Hartford location will be open on Saturday and Sundays and must be dropped off before 2:00PM. Wine entries are not to be dropped off after closing hours. Musto Wine Grape Company nor Winemaker Products, LLC will not be responsible of missing packages housing wine entries.