How to Add Body without Ever Hitting the Gym, meet the Lagrein grape…..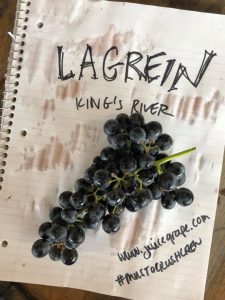 As winemakers, we have all had a red wine that feels a little thinner in the mouthfeel than we would care for. It may feel thin bodied and slightly flabby. How does a winemaker address this issue in their wine? Unlike people, we can't send the weak bodied wine to the gym to bulk up, but we can introduce the wine to Lagrein. Lagrein is a red wine grape that originates from the northern valleys of Italy. It has been used to create very aromatic rosés and incredibly full bodied red wines. It has a higher level of acidity and a lower pH factor than many red wines, making it an excellent blending wine. When vinified on its own, Lagrein has a lot of intense, chewy tannins and flavors of plum, tobacco, and an earthy minerality.
              When making a stand-alone Lagrein, (or to be used in a blend later), it is suggested that the winemaker may choose to have a limited maceration time for this grape variety. The important and prevalent grape tannins are hydrolysable and will be extracted into the must within the first few days of fermentation. The stronger, bitter seed tannins will be extracted in the accumulating ethanol later on in the fermentation, giving cause to the winemaker for an early pressing. BDX yeast strain will help to create a smoother and rounder mouthfeel, given its propensity for soft tannin extraction. Another excellent yeast for this varietal would be D80 as it will enhance palate volume, finer tannin sensation, and brings out the spicy flavors within the Lagrein grape. Fermentation aids such as Booster Rouge and Opti-Red will help to lock in the color and preserve the longer chain, smoother grape tannins with in the Lagrein grape. The winemaker can chose to add oak dust or fermentation tannins, but with the tannic intensity of the grape, it may not be as crucial as with other varietals. We always advise to use a complete nutrition program throughout fermentation, including the use of Go-Ferm, Fermaid O, and Fermaid K. This will help avoid any stuck fermentations and off aromas. 
              Due to its intense tannic structure, the Lagrein grape is an excellent grape to blend with other wines to help build up their tannin structure. The winemaker can chose to add in a small percentage at crush to naturally fortify their primary varietal with additional tannins or to ferment a batch of Lagrein separately and then blend into other wines, post fermentation to add to their structure or mouthfeel. With its bright acidic character and higher tannin content, it can greatly add the attributes to any red wine. Having a small amount of Lagrein wine in the winery, maybe the perfect finishing touch to some of your other wines. It can add such strong structure and body to a red wine blend, it can be a useful "secret ingredient" to fortify the body of red wines. Incorporating Lagrein, your wine will feel like it has "hit the gym" without ever having to leave the winery. If only it were that easy for the rest of us!