What does the Toast Level of a Wine Barrel really mean?
There are many arguments among barrel coopers and winemakers as to what species of oak is best for ageing wine.  While it is true that French/American/Hungarian oaks all impart unique characteristics in wine, perhaps the most important differences between barrels is not the origin of the wood, but rather its level of toast.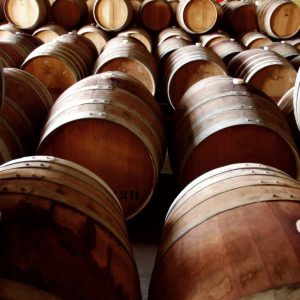 What does the Toast Level of a Barrel really mean?
The toast level refers to how long the barrel is toasted in order to impart certain flavors in your wine. The toast helps caramelize the sugars in the wood. There are 19 different toast levels, however, most winemakers work with Light, Medium, and Heavy toasted barrels.
How are Barrels Toasted?
The coopers use pieces of wood from the stave cutting process and place those into the oak wood fire. It is then set on fire when the barrel is positioned over it, and the toasting process begins. Coopers monitor the temperature closely to prevent any burns or blisters from forming inside of the barrel. The temperature is also key to getting the toast level correct. Then the master coopers will check for any imperfections and update the barrel accordingly.
What does Light Toast mean?
Lightly toasted oak barrels or oak chips usually impart sweet and creamy characteristics. Light toast usually works best with white wines such as Chardonnay, Sauvignon Blanc, Semillon, and Chenin Blanc.
Sweet Characteristics:
Brown Sugar
Bourbon
Cotton Candy
Chocolate
Maple Syrup
Butterscotch
Hot Fudge
Caramel
Molasses
Honey
Toffee
Soy
Creamy Characteristics:
Vanilla
Cream Soda
Marshmallow
Lactic
Butter
American Oak Light Toast Chips
What does Medium Toast mean?
Medium toasted barrels and other oak products impart more yeasty, nutty, and lightly roasted flavors. Medium toasted oak usually works best for red wines such as Red Blends, Cabernet Sauvignon, Cabernet Franc, Zinfandel, Carignane, Syrah, Pinot Noir, and Petite Sirah.
Yeasty:
Popcorn
Baked Bread
Bread Stick
Cookie Dough
Nutty:
Hazelnut
Walnut
Almond
Peanut Butter
Coconut
Roasted:
Cedar
Graham Cracker
Toasted Bread
Coffee
Mocha
Cereal
American Oak Medium Toast Chips
What does Heavy Toast mean?
Heavier toasted barrels and oak infusions usually impart more bold smoky and spicy characteristics. Heavily toasted oak is used for most fortified wines like Port, Sherry, Brandy, and Cognac. However, some winemakers are playing around with heavier toasts by leaving the wine in the barrel for short periods of time. This way they impart the flavors they desire without over oaking their wine.
Smoky:
Barbecue
Grilled Meat
Bacon
Sweet Smoke
Burnt Sugar
Spicy:
Nutmeg
Cinnamon
Clove
Licorice
Anise
American Oak Heavy Toast Chips
So not only can the oak impart flavors, but your toast levels do matter! Think of them as a part of your "Winemaker's Spice Cabinet". Just another touch that can bring in and impart more complex flavors.