Black Muscat: A Grape by Any Other Name

The oldest genetically traceable family of grapes is the Muscat family. Over the centuries, the grape has traveled around the world and transformed itself through many genetic mutations. One of the most well known genetic crosses of the original Muscat grape is the Black Muscat.  Black Muscat is a cross of the Schiava Grossa and the Muscat of Alexandria. The grape has very large, plump berries, with white flesh and black skin. The grape has intense, sweet floral and candy-like flavors.

              Black Muscat can be used for a very wide variety of wine making purposes. It can be pressed to produce a white juice, that has been used in famous dessert wine productions as well as left on the skins to produce a flavorful rose or red table wine. It is popularly used for table wine production in California, China, and Eastern Europe. Quady Winery in California has gained fame and many acclimations over their dessert wine, Elysium, produced from the Black Muscat grape. The intense florals and sweet fruit flavors that are found in the unprocessed grape, translate in the finished wine product. Big flavors of raspberry jam and candied citrus make the wine deliciously sweet with enough acidity to create a harmonious balance. Because the wine can be made in so many different styles, the winemaker has many choices to control the outcome of the final product. If creating a dessert style wine, beneficial yeast strains would be Vin 13 or R2 to promote the complex floral aromatics. If creating a rose or table wine, QA23 or 71B yeast strains will help to promote aromatics and to capture the ripe red fruit flavors. Skin contact time will be critical; a few hours on the skins will produce a flavorful rose and then full maceration/fermentation on the skins will create a fruit forward table wine.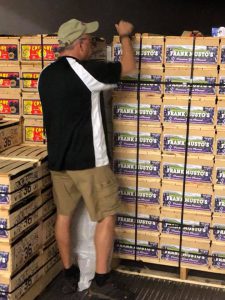 Musto Wine Grape has had such wonderful results with this grape, that Frank Musto has planted his own fields of this varietal. The vines are coming up on their 20th birthday, generating large but complex fruit and excellent yields. Frank Musto's Black Muscat has started being harvested and is arriving in Hartford currently. Brix levels are averaging in the mid 20's with smooth acidity. We are looking forward to making a fruit forward rose this year with some of the fruit. It is exciting to create a new style of wine with such an ancient, treasured strain of grape.
by the Winemakers at Musto Wine Grape