News from the field as of 3/3/2017…..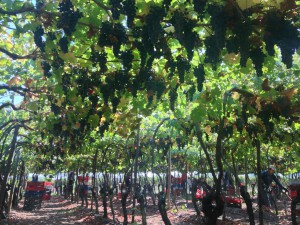 News from the field…
South African Pinotage: Harvested and in transit. The Pinotage should hit the port around March 28th.
South African Cabernet: Harvest is about 10 days out. It will most likely arrive sometime in mid-April.
Argentina Malbec: Also about 10 days out as of right now. We think the grapes should arrive sometime in mid to late April.
Chilean grapes: White grapes will start to harvest next week. The white grapes should arrive around last week in April and reds grapes should arrive around the first or second week in May.
Southern Hemisphere Juices: Arriving mid to late April.
The prices for the Spring products are here and we are taking Pre-Orders via email and over the phone. Please feel free to contact us at sales@juicegrape.com or 877.812.1137 to place your pre-order.
We are looking forward to working with you this Spring Harvest! Keep an eye on our Facebook Page and Harvest Tracker for more harvest information and upcoming wine classes.