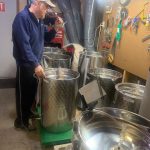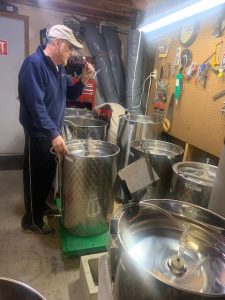 Clean out your winemaking cellar/area. As we all know, you can never be too clean in your wine making area. This may be the perfect time for a little spring cleaning. Sweep, mop, and disinfect the floor of your winemaking area. Never use bleach! You can use Mr. Clean cleaner, as it is bleach free and a good disinfectant. In a pinch, you can also mop with some B-Brite and then rinse it off very well (possibly even twice) to clear off any residue.
Clean out your winemaking "pantry". Go through all of your packages of additives such as nutrients, potassium metabisulfite, and tannins, and discard things that are over a year old. Many additives can absorb moisture and lose their effectiveness, so it is imperative to store them in sealed plastic bags, sealed plastic containers, or mason jars. Try to get rid of anything very old and make a list of items you have on hand for your next winemaking session. It will make buying new ingredients so much easier.
Rack….. When wines sit and age for a bit of time, acids and tannins can fall out in precipitate, forming a layer of sludge on the bottom of your vessel. Rack your wine off of this sludge to keep it clean and delicious.
Check sulfite levels and make additions. While racking the wine, it's the ideal time to check your sulfite level and

add some

. If you do not have the ability to test sulfites, drop off a 200ml sample at Musto Wine Grape, and we can test it for you and let you know how much to add. If you can't leave home, use the general rule of adding ¼ tsp of

Potassium Metabisulfite

per 5 gallons of wine, every 2 months. This will keep your wine fresh and tasty.
Bench Trials! There is room for improvement in every wine. With all of this extra time on our hands, it may be the ideal time to try some experimental bench trials with new products. Would your wine benefit from a fining agent such as

Noblesse

or Gelatin? Would a little

flashgum

or glycerin smooth out the finish? This is the time to see if any subtle additions to your wine may take it to the next level.
Taste Test! Now is a great time to give your wines a taste and think about them critically. Try to get as many opinions as possible. Got a wine loving neighbor or friend? Give them a small sample and ask their opinion. Their feedback may lead to you improving your wine in a new way. At the very least, you can have a nice time enjoying the fruits of your labor and deciding on how to improve it, or how much to make next vintage!
 Re-read old

Winemaker Magazines

or Winemaker Bootcamp Notes to get some winemaking inspiration and brush up on your winemaking skills. You never know what new tips and tricks you'll learn by re-reading your favorite winemaking materials.
For more information about how MWG is handling the COVID-19 pandemic, please click HERE. During these challenging times we hope you and your family stay safe and healthy!
Sincerely,
The Musto Wine Grape Company