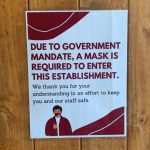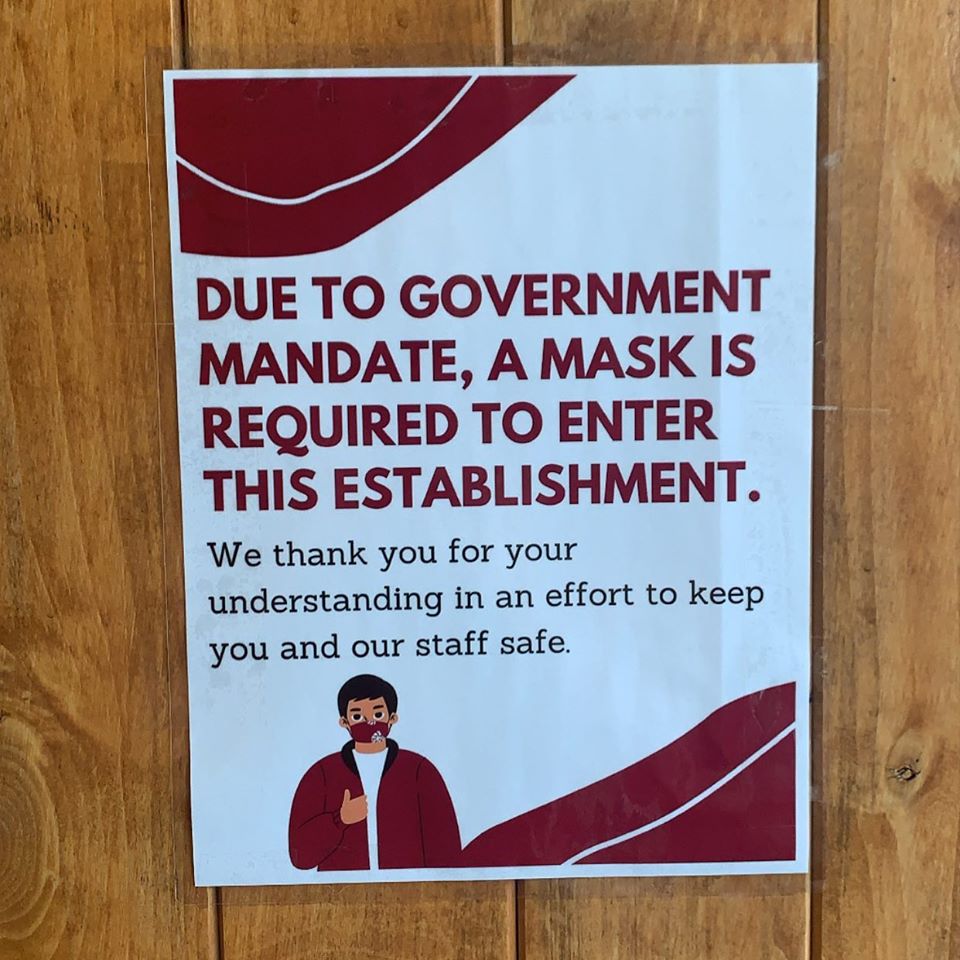 A note regarding Covid-19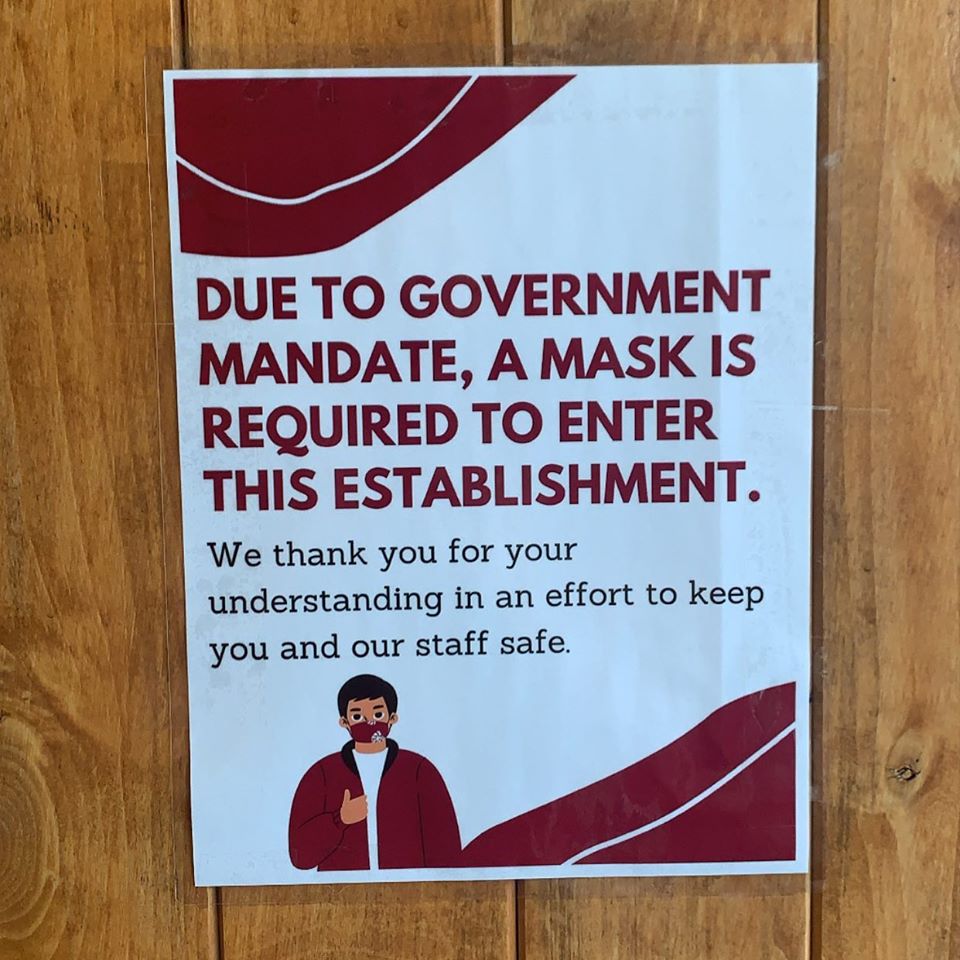 All of our growers and we at Musto Wine Grape continue to be vigilant when it comes to the safety of our employees and customers. To ensure that the grapes are harvested and shipped safely this year: some new protocols have been introduced.
In the Vineyard and Winery Facilities:
Temperature checks are taken everyday
Hand washing and sanitation stations have been set up among all work areas
Social distancing is required (employees are required to be 6ft apart)
Masks are required of all employees and customers
Anyone showing signs or symptoms of being sick is sent home
Ozone cleaning and sanitizing has been introduced, if was not utilized already
At Musto Wine Grape
Face coverings are being worn per Connecticut State requirements
Symptom checks done before shifts
OSHA/EPA employee training per state and county guidelines, including proper use of face coverings, cleaning procedures, symptom screenings, and correct self-assessment before reporting to work
Clean and sanitize all surfaces each morning prior to welcoming our first guests at 8:00am
Clean and sanitize between individuals coming in and out of the store and interacting on the dock
Consistent restroom cleanings
Proper use of EPA approved cleaning products
Dedicated sanitizing stations
Distanced purchasing (at least 6ft a part) in the store and on the dock
With regulations changing daily, we will keep you up to date with how we are doing our part to keep everyone safe, healthy, and making great wine this season!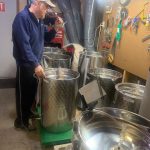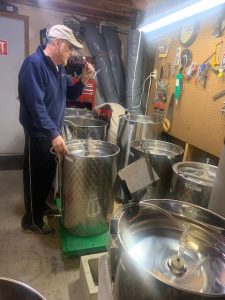 Clean out your winemaking cellar/area. As we all know, you can never be too clean in your wine making area. This may be the perfect time for a little spring cleaning. Sweep, mop, and disinfect the floor of your winemaking area. Never use bleach! You can use Mr. Clean cleaner, as it is bleach free and a good disinfectant. In a pinch, you can also mop with some B-Brite and then rinse it off very well (possibly even twice) to clear off any residue.
Clean out your winemaking "pantry". Go through all of your packages of additives such as nutrients, potassium metabisulfite, and tannins, and discard things that are over a year old. Many additives can absorb moisture and lose their effectiveness, so it is imperative to store them in sealed plastic bags, sealed plastic containers, or mason jars. Try to get rid of anything very old and make a list of items you have on hand for your next winemaking session. It will make buying new ingredients so much easier.
Rack….. When wines sit and age for a bit of time, acids and tannins can fall out in precipitate, forming a layer of sludge on the bottom of your vessel. Rack your wine off of this sludge to keep it clean and delicious.
Check sulfite levels and make additions. While racking the wine, it's the ideal time to check your sulfite level and

add some

. If you do not have the ability to test sulfites, drop off a 200ml sample at Musto Wine Grape, and we can test it for you and let you know how much to add. If you can't leave home, use the general rule of adding ¼ tsp of

Potassium Metabisulfite

per 5 gallons of wine, every 2 months. This will keep your wine fresh and tasty.
Bench Trials! There is room for improvement in every wine. With all of this extra time on our hands, it may be the ideal time to try some experimental bench trials with new products. Would your wine benefit from a fining agent such as

Noblesse

or Gelatin? Would a little

flashgum

or glycerin smooth out the finish? This is the time to see if any subtle additions to your wine may take it to the next level.
Taste Test! Now is a great time to give your wines a taste and think about them critically. Try to get as many opinions as possible. Got a wine loving neighbor or friend? Give them a small sample and ask their opinion. Their feedback may lead to you improving your wine in a new way. At the very least, you can have a nice time enjoying the fruits of your labor and deciding on how to improve it, or how much to make next vintage!
 Re-read old

Winemaker Magazines

or Winemaker Bootcamp Notes to get some winemaking inspiration and brush up on your winemaking skills. You never know what new tips and tricks you'll learn by re-reading your favorite winemaking materials.
For more information about how MWG is handling the COVID-19 pandemic, please click HERE. During these challenging times we hope you and your family stay safe and healthy!
Sincerely,
The Musto Wine Grape Company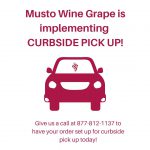 Dear Valued Winemakers and Customers,
Due to the most recent developments of the COVID-19 virus, the Connecticut State Governor has ordered that all non-essential businesses be closed. However, Musto Wine Grape will be implementing a curbside, pre-order pick up policy. This is being implemented in order to follow the current guidelines and protect the health and safety of our employees and customers.
If you would like to make an order, please follow the guidelines below.
Phone Sales and Assistance
For the time being the showroom is closed and there will be no entrance into the building. We will re-asses as things develop and once the grapes and juices arrive.
We will have staff available to take phone calls and emails at, 877-812-1137 and cmusto@juicegrape.com. If you can't get a hold of anyone on the office phone, feel free to call Christina's cell at 267-664-3076.
Bottles and equipment are available for purchase. Please view our retail catalog online or call us to get the updated inventory.
Please call our office to place an order. We will arrange for a curbside pickup or send via FedEx or Freight Carrier if possible.
Chilean and South African Wine Grapes & Juice
Chilean and South African grapes and juices are available for order.
We will have updates this week regarding arrival dates of the grapes and juices.
When your order is available, we will call you to coordinate a curbside pickup time.
If you require any yeast or additives, please email or call in your order so we can set it up ahead of time.
Equipment Discounts
Because of these circumstances we will be implementing a sale on certain items below. Also, keep an eye on our Facebook page for more discounts and free winemaking content.
Online & For Curbside Pick Up:

15% Off Wine Kits
15% Off Wine Corks

For Curbside Pick Up Only:

10% Off Wine Bottles
10% Off Glass Carboys
Thank you for being patient with us during this challenging time. These measures must be taken in order to ensure the safety of our customers and staff. Please do not hesitate to call or email with any questions or concerns.
We look forward to working with you and having a Happy & Healthy Spring Season. Thank you for supporting us through the years and let's try to work through this together.
Sincerely,
Musto Wine Grape Company