The Winemaker's Think Tank: Vol 9 – How long will my wine last?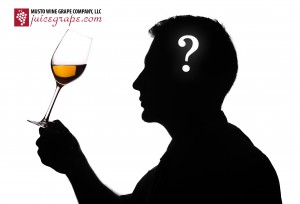 What's the Winemaker's Think Tank?
Every Thursday we will post about a few frequently asked questions that our winemaker has answered. If you have a winemaking question you would like to have answered, please email us at support@juicegrape.com and we will try to get into next week's post. Cheers! 🙂
How long will my wine last?
All wine ages differently. Certain varietals benefit from aging, others are meant to be consumed quickly. Generally, the more tannic the wine, more it will benefit from aging. Other factors influence a wine's potential to age as well. If the winemaker chooses not to add sulfites to the wine (not recommended), the wine will not age as well and should be consumed within a year. If the proper level of sulfites are added, the wine stored at an appropriate temperature (55-62 degrees Farenheit), and not exposed to light, it should be able to age for many years. Some varietals that benefit from aging are Chardonnay, Cabernet Sauvignon, and Malbec. Some varietals that do not necessarily benefit from aging are Gewurztraminer, Sauvignon Blanc, and Cayuga.
We hope this information helps with your winemaking. If you have any follow up questions or winemaking questions in general, please email us at support@juicegrape.com.