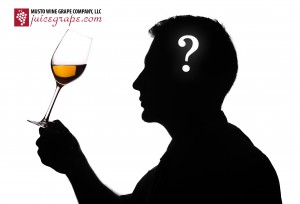 The Winemaker's Think Tank? 
Every Thursday we will post about a few frequently asked questions that our winemaker has answered. If you have a winemaking question you would like to have answered, please email us at support@juicegrape.com and we will try to get into next week's post. Cheers! 🙂
What's the procedure to use a French Oak Barrel?
Most wines will benefit from some form of bulk aging. Young wine tends to be a bit harsh, raw, and green and it needs some time to settle and round-out. Many wines, especially reds, will get better if aged in oak barrels. Oak barrels will impart unique flavors in wine and will also create subtle chemical changes over time. From vanilla and tobacco to tea and spice, different types of oak barrels will impart different flavors in the wine. However, all natural oak barrels will allow for micro-oxidation to take place – leading to reduced astringency, better color, structure, stability, and tannin integration, and a richer, more complex flavor and mouthfeel.
Yet as is true in most instances, better wine requires more work – and barrel care, maintenance, and ageing is no exception. Detailed instructions on how to inspect, swell, care for, and maintain an oak barrel can be found in our handy .pdf file here –> Barrel Care PDF. Once you have the basics down, we will go over some common questions about the aging process – starting with, "How long should I age my wine in a barrel and what styles are best for barrel ageing?"
The length of time a vintner ages their wine in a barrel depends on several factors. Is the barrel new or has it been used before? How large is the barrel? What style of wine is going into the barrel? New barrels will impart more flavors than used one will. A rule of thumb is that after a single use the oak extraction of a barrel will decrease by 50%. After the second use it will decrease by another 25%, and once the barrel has been used four times it is usually neutral – meaning it will not impart any oak characteristics into the wine.
Barrel size is also an important factor when determining how long to age your wine. Smaller barrels will impart oak flavors much more quickly than larger barrels. For example, while a 59 gallon barrel will hold nearly ten times the volume of wine as a 6 gal barrel, its surface area is only about twice as much. This means that the wine in smaller barrels has significantly more contact with the wood than wine stored in larger barrels and can be oaked five times more quickly.
Lastly, different varietals and styles of wine will require different aging times. A Cabernet Sauvignon or Bordeaux blend, for example, can usually be aged 1-3 years in oak. A New World-style Pinot Noir, however, probably shouldn't be in a barrel for longer than 10 months. A buttery, creamy Chardonnay needs to be checked often while the ultra-tannic Nebbiola can stay in oak for over four years. However, remember that not all wines will benefit from barrel aging. Most German whites such as Gewurztraminer and Riesling rarely receive the oak treatment. Also, Beaujelea nouveau and many cold-hearty hybrids made in this style are often aged in stainless steel tanks rather than oak barrels.
So finally we can address the question on how long to age your wine in an oak barrel. The answer is up to the winemaker. Remember that winemaking is an art – and each artist will have their own inspirations and palates. My advice is to taste and to taste often. If using smaller barrels (less than 30 gallons), I would be topping off and tasting every month until the oak profile is where I want it to be. Larger barrels will take much longer to impart oak flavors, but still have to be topped-off monthly, so why not take a taste while adding wine to the barrel? Please note that it is much easier to add oak flavor to a wine than it is to remove it, so I recommend erring on the side of caution.
What about the wine going into the barrel? Should it be racked or filtered beforehand? In most cases your wine should be racked and stabilized before going into a barrel for bulk aging. For reds this means making sure your primary and malolactic fermentations are finished, the wine has been racked off its lees (we advise at least 2 rackings – once after primary fermentation, and then again as it is being transferred to the barrel), and it has been properly sulfited. Filtering your wine before it goes into a barrel may be a bit of an overkill, but one of our winemakers uses a course filtration before bulk aging and his wines are exceptional. However, there are unique winemaking techniques used by different vintners for certain styles. For example, in sur lie aging white wine is aged on its fine lees for an extended period of time. Obviously you would not want to rack or filter wines made in this style before starting the bulk aging process. Yet in most instances a wine should be clean and stable before going into a barrel. Additionally, the winemaker should not have to rack wine once it is in oak– save that step for when the wine leaves the barrel.
While aging wine in a barrel can seem like a daunting process, in most cases it is worth the extra effort. Just remember to taste often to avoid over-oaking, make sure the barrels are topped-off monthly, properly manage your S02 levels, and be patient – it will be time well spent.
We hope this information helps with your winemaking. If you have any follow up questions or winemaking questions in general, please email us at support@juicegrape.com.