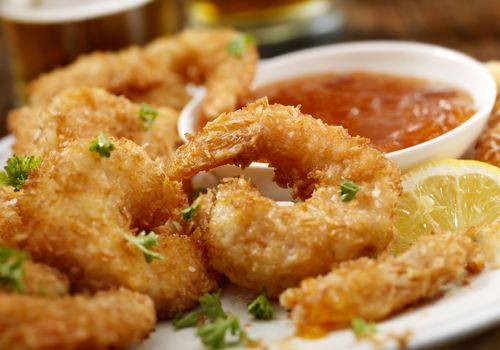 Calling all shrimp lovers! We've got a recipe ready to knock your tastebuds out of the park. Air Fryer Coconut Shrimp. Oh yeah – we went there. Pair with Pinot Grigio, Riesling, Sauvignon Blanc, or Pinot Noir.
How to make it:
If you don't have an air fryer then what are you doing? Go get one and hop on this recipe ASAP! Air frying allows you to have the experience of oh-so-good friend seafood without all the grease and deep frying. Shrimp can be delicate and you may be skeptical about using your air fryer to cook them, but we haven't had any issues with it cooking them to anything less than perfect.
We personally love crunchy shrimp, so this recipe will call for these to yield crunchy shrimp. You can reduce the amount of ingredients to your discretion if you prefer them less crunchy! We'll be using flour, eggs, panko breadcrumbs, and shredded coconut to bread the shrimp.
Firstly, preheat your air fryer to 390 degrees Fahrenheit and set up your ingredients in multiple bowls. You should have a bowl for your flour, beaten eggs, and panko flour mixed with shredded coconut.  We also use fresh, raw shrimp because there's no need to wait for defrosting and we also believe it cooks better than if you were using already cooked shrimp. Using already cooked shrimp could cause them to shrink and dehydrate.
Secondly, dip each piece of shrimp in your bowls in the following order: First the flour, then the egg, and then the panko and shredded coconut mixture.
Now, lightly spray the basket with non-stick cooking spray or line with parchment paper to prevent sticking. Line up your shrimp in the basket in a single layer, they will cook evenly this way opposed to on top of each other. Spray a small amount of oil on the shrimp and cook for 4 minutes. After 4 minutes, reopen the air fryer and flip the shrimp, spraying another small amount of oil on the flipped side of the shrimp to ensure even cooking. Close the air fryer and continue to cook for about 4-5 more minutes. Once finished, serve with sweet chili sauce for the ultimate flavorbomb! This Panda Express Chili Sauce you can find at Target is pretty good!
Interested in Making Your Own Wine? Give us a call (877-812-1137) or email us (sales@juicegrape.com) and we will help you get started!
This crunchy, refreshing apple broccoli salad is a perfect summer barbecue side. Not only does it go great with virtually any barbecue food, ranging from chicken to steak and even burgers – it's also healthy without compromising tasty! I know you can't wait for this one so let's get started!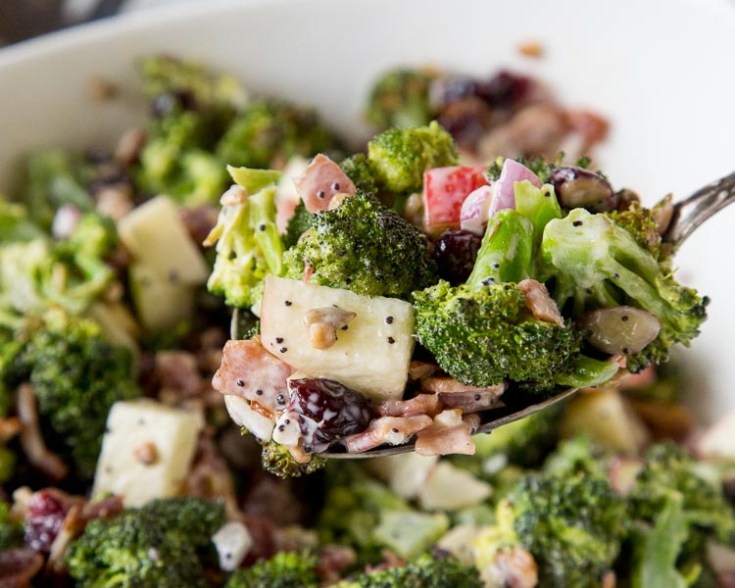 What you'll need:
2 medium heads of broccoli, chop into small florets
1/2 cup of shredded carrots
1/4 cup diced red onions
2 large apples, chopped into small pieces
1/3 cup nuts of choice. I love roasted almonds and sunflower seeds
1/3 cup dried cranberries. Ocean spray's pomegranate infused dried cranberries are delicious!
1 cup of plain greek yogurt
2 tablespoons apple cider vinegar
1 tablespoon sweetener of choice, I personally love using honey.
1/4 teaspoon salt
1/8 teaspoon pepper
What you need to do:
Combine broccoli, carrots, red onions, apples, nuts of choice, and dried cranberries in a bowl.
In a separate small bowl, combine greek yogurt, apple cider vinegar, honey, sale and pepper and whisk together.
Coat salad in dressing and toss, then serve chilled!
Wait, what about some wine to go with it?
You didn't think we'd leave you hanging on that, did you? We would never! In general, crisp white wines are a go-to when serving raw vegetables, so try a zesty Pinot Grigio with this salad. The smooth flavors and crisp acidity allows this kind of wine to be served with lighter dishes without being too overwhelming, perfect for this salad!
Happy National Donut Day! What better way to celebrate than pairing those tasty round treats with some wines that allow you to unlock a whole new world of flavors?! Let's get to it.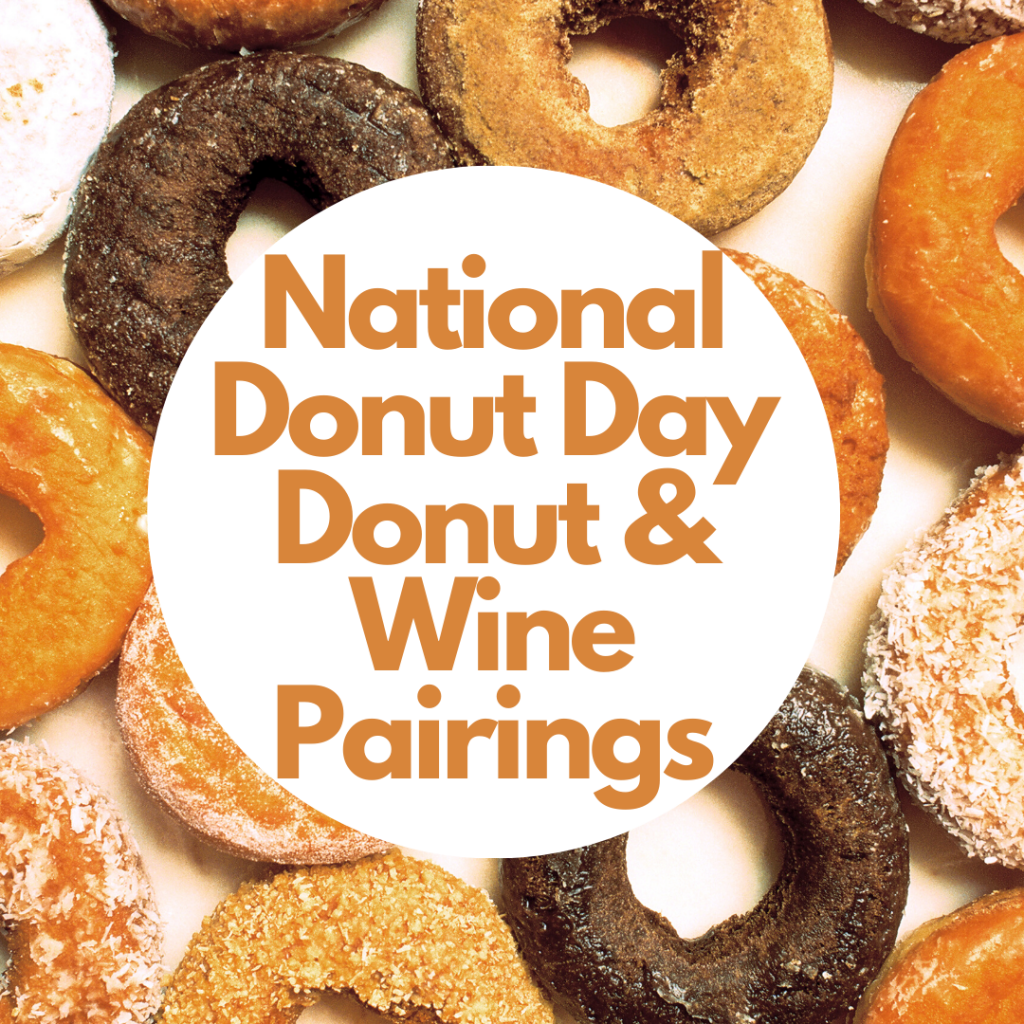 First we'll start with a classic, the chocolate frosted donut with sprinkles!
Prosseco is the perfect pairing for this donut. The airiness of the donut lounging underneath the decadent frosting is a match made in heaven with this bubble-filled wine. The sugary frosting brings out the sweetness of the Prosecco. For Connecticut residents, try Donut Crazy's Chocolate Frosted Sprinkle Donut! They have multiple locations in CT ranging from West Hartford to Branford.
Next, how about a jelly donut? Yes please.
Rosé and a jelly donut, specifically one with raspberry jelly filling, compliment each other extremely well. The bitterness of Rosé softens when you pair these two together, giving the raspberry flavors the center stage. At the same time, the wine mutes the sugary sweetness of the donut's sugar coating, making it one elegant bite! We recommend once again Donut Crazy's Powdered Jelly Donut, because they're just that good!
Now the plain jane glazed donut, an underdog in the donut world. Simple yet total donut perfection.
Grab some Chardonnay for this one – the underlying hints of vanilla and toffee in the donut go perfectly with the same flavors in the wine. Chardonnay manages to bring out these flavors in this donut rather than mask them. Despite the sweetness of the donut the Chardonnay remains smooth! Grab your glazed donut from Neil's Donuts in Wallingford, a donut goldmine in CT!
Last but certainly not least, the double chocolate glazed donut. A chocolate lover's saving grace.
Finding the right wine to go with Chocolate can have you standing in the wine isles for a while pondering of which one will go best, but we'll make it easy for you: Syrah. The bold double chocolate between the cake and the frosting of this donut pairs perfectly with the dark, jammy, fruit-forward flavors of Syrah. This pairing will give you a boozy chocolate covered strawberry vibe, how can you resist?! Pick up some Krispy Kreme Glazed Chocolate Cake Donuts for this pairing, yes we said donuts as in multiple donuts, get a whole dozen because one will not be enough. We speak from experience.
We wish everyone a happy and yummy national donut day!