This crunchy, refreshing apple broccoli salad is a perfect summer barbecue side. Not only does it go great with virtually any barbecue food, ranging from chicken to steak and even burgers – it's also healthy without compromising tasty! I know you can't wait for this one so let's get started!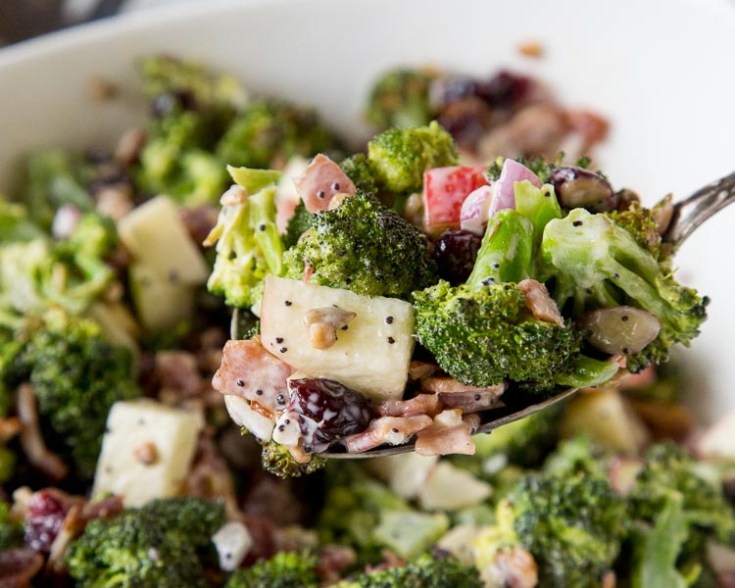 What you'll need:
2 medium heads of broccoli, chop into small florets
1/2 cup of shredded carrots
1/4 cup diced red onions
2 large apples, chopped into small pieces
1/3 cup nuts of choice. I love roasted almonds and sunflower seeds
1/3 cup dried cranberries. Ocean spray's pomegranate infused dried cranberries are delicious!
1 cup of plain greek yogurt
2 tablespoons apple cider vinegar
1 tablespoon sweetener of choice, I personally love using honey.
1/4 teaspoon salt
1/8 teaspoon pepper
What you need to do:
Combine broccoli, carrots, red onions, apples, nuts of choice, and dried cranberries in a bowl.
In a separate small bowl, combine greek yogurt, apple cider vinegar, honey, sale and pepper and whisk together.
Coat salad in dressing and toss, then serve chilled!
Wait, what about some wine to go with it?
You didn't think we'd leave you hanging on that, did you? We would never! In general, crisp white wines are a go-to when serving raw vegetables, so try a zesty Pinot Grigio with this salad. The smooth flavors and crisp acidity allows this kind of wine to be served with lighter dishes without being too overwhelming, perfect for this salad!
As summer comes to an end and the fall harvest begins we wanted to share some fun Sangria recipes for the weekend. Happy Friday!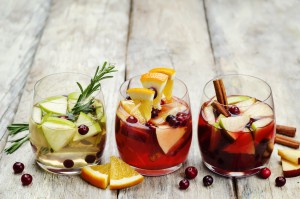 Pink Lemonade Sangria
Makes about 1 gallon
2 750ml bottles of Pinot Grigio
1 can frozen pink lemonade concentrate
1 quart tub of frozen strawberries (sugar added is fine) (frozen fruit breaks down better and leaks out more flavors as it defrosts plus it keeps it cold)
1 2 Liter of Sprite or Club Soda (depending on how sweet you want it)
*If you want to make it stronger, you can add strawberry schnapps however this will make it much sweeter so use club soda
Peach Mango Sangria
Makes about 1 gallon
2 750ml bottles of Pinot Grigio 
1 cup of Peachtree schnapps
1/3 cup lime juice
1 bag frozen peaches
1 16oz can Goya Mango nectar
1 quart of Ocean Spray White Cranberry Peach Juice
1 liter of lime seltzer
Mixed Berry Malbec Sangria
Makes about 1 gallon
2 750 ml bottles Malbec
1 cup of Chambourd Raspberry Liquor
1/3 cup lime juice
1 quart of cran raspberry juice
1 liter of raspberry seltzer
1 bag of frozen mixed berries
Blackberry Pomegranate Cabernet Sangria
Makes about 1 gallon
2 750 ml bottles of Cabernet
1 cup black berry brandy
1 quart pomegranate juice
1 quart cranberry juice
1 small container of pomegranate seeds
1 small container of fresh blackberries
.5 quart raspberry or pomegranate seltzer