Malolactic Fermentation, also known as Secondary Fermentation or "Malo", is the process in which Malic Acid in the wine converts to Lactic Acid.
What is Malolactic Fermentation?
As stated above, it is the process in which Malic Acid in the wine converts to Lactic Acid. The primary role of Malolactic Fermentation is to deacidify the wine which affects the sensory aspects of wine, making the mouthfeel smoother and it adds complexity to the flavor and aroma of the wine. The deacidification of the wine happens by converting the harsh diprotic malic acid into the softer monoprotic lactic acid. Nearly all red wines go through Malo while only a few whites, like Chardonnay and Viognier, do. One way to recognize if a wine has gone through Malo is if it has a creamy, buttery mid-palate texture. The buttery flavor comes from diacetyl, a by-product of the reaction.
What is Diacetyl?
Diacetyl is a flavor metabolite produced by lactic acid bacteria known as Oenococcus Oeni. Oenococcus Oeni is the main bacteria responsible for conducting Malo, due to its ability to survive the harsh conditions of wine. It is responsible for the production of the sensory aspects noted above. Malo can happen naturally, though often inoculated with the bacteria culture to jumpstart the process.
When does Malo take place?
Malolactic Fermentation can happen in two different ways, during primary fermentation or after. Amid fermentation, it is Co-Inoculation. After fermentation, it is Post-Fermentation Inoculation. Inoculation that takes place after alcoholic fermentation is the most common practice. When you add bacteria cultures like MBR31 after fermentation is complete, it jumpstarts the Malo process. Co-inoculation takes place at the start of alcoholic fermentation, which allows winemakers to focus on other things such as the improvement of flavor development.
What are the signs that Malo is in progress, and how do I know if it is finished?
The best way to identify malo in progress is bubbles! The malolactic activity can be detected by the presence of tiny carbon-dioxide bubbles. When the bubbles stop, Malolactic Fermentation is complete. This can take anywhere between one and three months.
What are the benefits of each method?
Firstly, the benefits of post-fermentation inoculation include better control of the start time duration of Malo. Lessened biogenic amine production leaves the wine unprotected by sulfite for a limited amount of time. This allows less potential for spoilage by other organisms. It reduces the incidence of excessive volatile acidity and enhances flavor profiles and complexity. The benefits of co-inoculation include lower levels of the inhibitory alcohol that are present at the start of Malo, and no need to apply external heating to the ferment due to the heat generated by the yeast fermentation. This results in faster completion of Malo. This means the wine can have sulfite added earlier and reduces the potential for the growth of spoilage organisms. Finally, a bonus is that bacteria added at the start of the yeast fermentation encounter a nutrient-rich environment.
Need assistance with your winemaking process?
Musto Wine Grape Company is here to help. We offer a wide variety of products and services to help you at any stage in your winemaking journey. Email winemaker@juicegrape.com or call us at (877) 812-1137 to speak with someone who can assist you.
If you've ever found yourself wondering…
How do I get accurate numbers on my wine samples?
Can I trust the readings I'm getting?
How do I even do this test?!
…fear not! Musto Wine Grape Company can happily assist you with all of your wine analysis needs.
What analyses do we offer?
Brix, pH, TA
Free and/or total SO2
Alcohol
MLF
YAN
Sensory analysis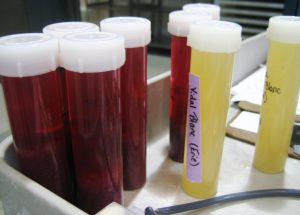 Why is analysis important?
Knowing the Brix, pH, and TA of your juice sample is the most important first step pre-fermentation. Depending on these numbers you may need to acidulate (add acid) or ameliorate (add water) to your must or juice before initiating fermentation.
SO2 levels will indicate how well protected your wine is. You may need to add more or less depending upon the reading.
Alcohol % (ABV) is an important number to confirm, especially if looking to confirm the final number for a wine label.
The presence of malolactic bacteria will indicate whether or not MLF has completed in your wine.
YAN numbers will tell you the amount of yeast assimilable nitrogen levels will help you decide how much nitrogen/nutrients you may want to add throughout the alcoholic fermentation.
Sensory analysis entails our highly knowledgeable and skilled staff conducting a taste test on your samples. This is especially helpful if you are looking to see how to improve upon your current wine, or how to sharpen your winemaking skills for future vintages.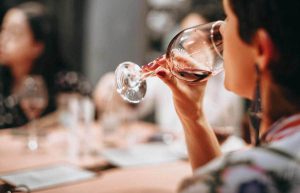 Interested in getting your wines analyzed at our lab?
Great! There's one of two ways to get your samples to us:
Drop by to say hello and give them to us directly. You can fill out a

lab analysis form

 from

our website

to bring in with you.
Send them in with the above lab analysis form. Be sure to include all of your contact information!
Any other questions? Give us a call at 860-278-7703. We're always happy to help you make your wine the best it can be!