Wine Wednesday: South African Cabernet Sauvignon
As the Spring Wine Grape Harvest Approaches, we thought we would check out some of the wines that South Africa has to offer.
Today we tasted a Cabernet Sauvignon. #HappyWineWednesday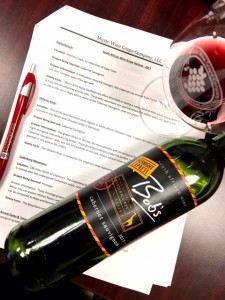 WINE: Bob's 2013 Overnight Express South African Cabernet Sauvignon
TASTING NOTES: On the nose are notes of raspberry, berry, flint, and oak. The palate is filled with flavor, yet soft supple tannins round out the mouthfeel nicely. A great wine to enjoy with grilled meats or a meaty pasta dish.
VITUCULTURE: The soil where these grapes were grown is considered "Clovelly, Stony Glenrosa soils". Clovelly is a component derived from granite, usually red to yellow colored. It contains acidic compounds. It is found on mountain foothill slopes and on ranges of hills, with good physical and water retention properties. Glenrosa soils are typically compact, stony, and clean cut.
WINE REGION: Western Cape, 31 miles East of Cape Town
GEEKY THINGS: Wines from the Western Cape are where some of our Cabernet Sauvignon will be arriving from. Wines from these locations are often described as having a subtle mineral note which many believe is from the decomposed granite soils. The Granite Mountains are approximately 600 million years old, over 3 times as old as the soil in Napa where many of the Cabernet Sauvignon vines are grown.
Click to Download Tasting Notes
More information about our South African Grapes are on our blog. Check out the most recent "2017 South Africa Harvest" by clicking HERE.
Cheers!
The Musto Wine Grape Staff