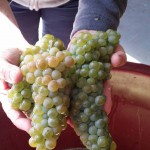 Notes from our Winemaker Frank Renaldi about the Chilean Sauvignon Blanc
"Good day, Grapes looked really good. No mold, clean, juicy. Let set with enzyme for 5 hours. Good press. Tomorrow will measure, adjust and add goodies and pitch yeast." – We are sold out of the white grapes but still have some reds grapes and white & red juices available Give us a call at the office to secure your order!
Don't forget to sign up for the Spring Bootcamp with winemaker Frank Renadli! Learn how to make great wine at home in just 5 weeks!