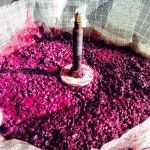 And we are ready to go! First, we need to sanitize the press. We don't want any gross microbes to get into our fabulous wine. Second, we shrink wrap the press to make sure the juice doesn't squirt out at us. Third, we transfer the must into the press and let the press do it's thing. Finally, we transfer the juice from the press to the stainless steel tank where we will be aging the wine until we decide to barrel age or add more oak additives.
You can see all the tubes attached to the press above. This is because we decided to use a bladder press. Bladder press's are easy to use and don't press the must too much. If you press too hard you run the risk of breaking the seeds and releasing astringent flavors. The bladder press has a happy medium of extracting optimal juice while maintaining the quality of the juice.
And now we wait… Thanks again for stopping by. Next time we will rack our wine. Stay tuned!
Side Note: Don't Press in November, It's Cold!!!!