Available for pick up this week (9/18-9/24)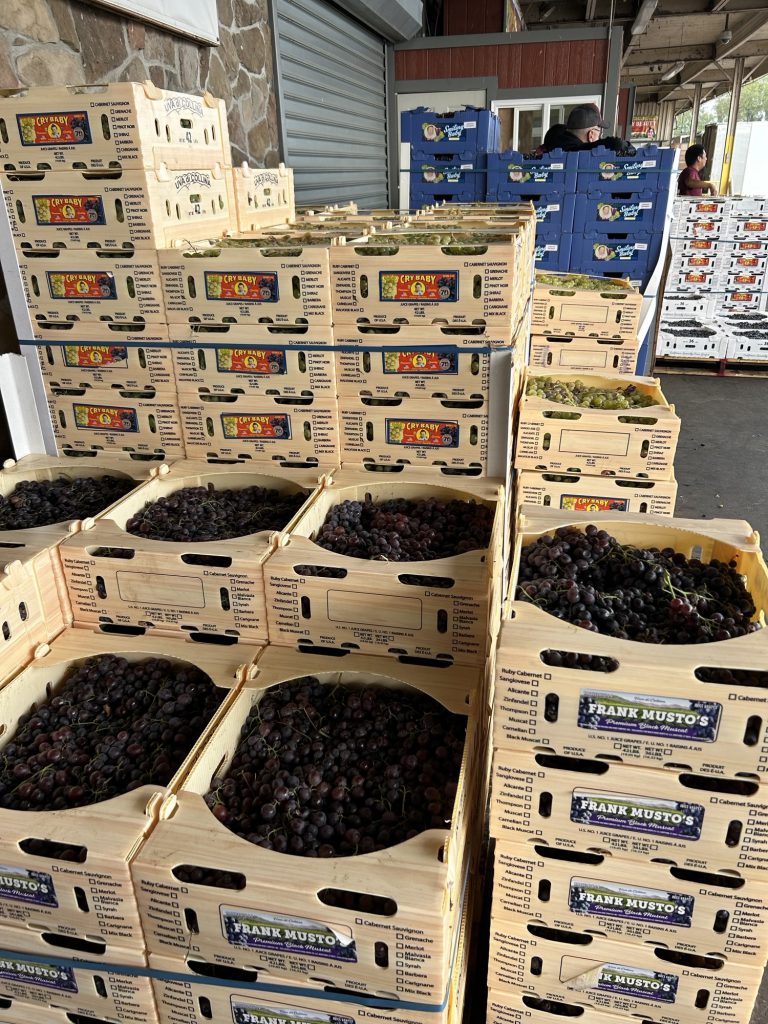 Hello Winemakers,
I hope this message finds you well. We are thrilled to share some exciting news from our vineyard as we kick off this year's grape harvest season.
The conditions this year have been wonderful, resulting in a crop of the finest grapes we've seen in a long time. We wanted to give you a sneak peek into what's happening here at Musto Wine Grape this week.
Grape Varieties: Our vineyards boasts a variety of grape types, each with its unique characteristics. This year, we have seen exceptional growth and quality across the board. From the bold and robust reds to the crisp and refreshing whites, our grapes are thriving.
Alicante, Cabernet, Chardonnay, Barbera, Black Muscat, Grenache, Merlot, Malvasia Bianca, Muscat, Old Vine Zinfandel, Petite Sirah, Petite Verdot, Pinot Noir, Sangiovese, Symphony, Syrah, Thompson Seedless, Touriga Nacional, Zinfandel, and Zinderella
Wine Juices: We have a great selection of wine juices with fresh pails arriving daily. We are fully stocked with our California juice pails. The Italian juices will start to arrive in the first week in October, along with the pre-order Fresco juices.
Alicante, Barbera, Cabernet Sauvignon, Chianti, Grenache, Merlot, Mixed Black, Old Vine Zinfandel, Pinot Noir, Red Blend, Sangiovese, Zinfandel, Black Muscat (Rosé), Chardonnay, French Colombard, Pinot Grigio, and White Zinfandel (Rosé), and more!!
Reminder: Fresco juices must be ordered by 9/25!
Harvest Updates: Everything is ripening beautifully, promising an outstanding flavor profile.
Suisun Valley will not start harvesting until the end of this week. We should start to see their grapes arrive in late September / early October. *A late addition* to the harvest menu – we will have Pinot Noir from Suisun Valley!! There are only a few boxes available. Give us a call to secure your PN today!
Washington State Pinot Noir is harvesting this week. We might see it as early as 9/25. The Washington Cabernet, Merlot, and Cabernet Franc should start harvest in the next 2 weeks.
Produce: Every year Stevie works hard to bring you seasonally delish produce. This week we will have more Olives, Figs, and Plums available for purchase. Please call ahead if you have your heart set on anything. We will have limited quantities.
Olives arriving 9/21
Figs arriving 9/22
Plums here
Winemaker In Your Pocket: Musto Wine Grape and Frank Renladi put together online courses you can access from anywhere! Check out our online classes via our sister site WinemakingInstructions.com.
Our team is hard at work, carefully monitoring the grapes' progress. We can't wait to start turning these exceptional grapes into the finest wines! Stay tuned for more updates as the harvest progresses. We'll be sharing behind-the-scenes glimpses, tasting notes, and more exciting news in the weeks to come.
Thank you for being a part of our journey at Musto Wine Grape. We look forward to sharing the fruits of this year's labor with you and raising a glass together to celebrate the extraordinary flavors of our grapes.
Cheers to a bountiful harvest!
Christina & The Musto Crush Crew
Musto Wine Grape Co. / WinemakingInstructions.com
www.juicegrape.com / 877-812-1137 / cmusto@juicegrape.com