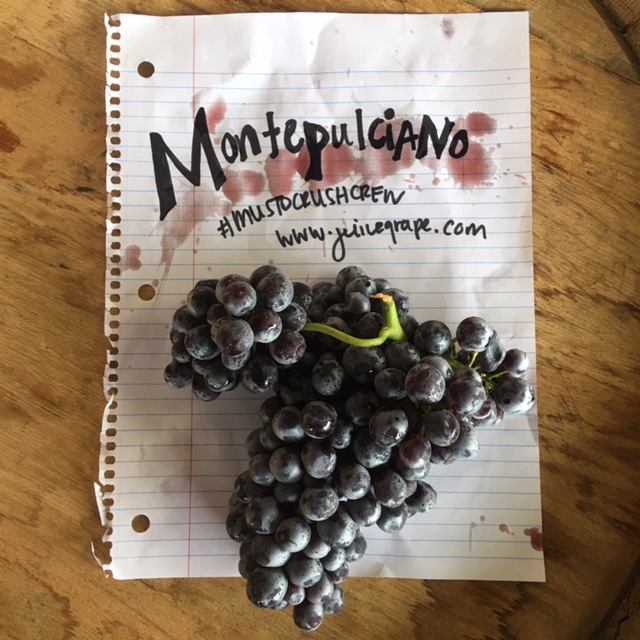 Montepulciano 2020 By Joseph A. Picone, DMD
I had the pleasure to obtain 10 (36lbs) cases of Montepulciano grapes from Musto Grapes (Frank Musto) on October 10, 2020. Making wine using the many varieties of first class Musto sourced grapes has been an Annual fall event for the Picone family and our friends for the past 30 years or so. Over the years, I have made Cabernet Sauvignon, Merlot, Old Vine Zinfandel, Sangiovese, Malbec, Reisling, Chardonnay, Sauvignon Blanc, Moscato, and White Zinfandel to name a few. Each having their own unique qualities to enjoy. Frank and his crew are great in providing all the resources and guidance needed for the first-time wine maker all the way to the seasoned-pro. I was fortunate to have taken a one semester class years ago at Naugatuck Community College on Wine Making given by Bob Herold which together with Frank's support team has allowed me to create some delicious wines over the years.
I would like to share my experience with you on making this year's Montepulciano 2020.
The grapes were outstanding. The Brix reading on the refractometer was 25. The clusters were full and the berries were a beautiful deep purple. The boxes were well packed with few if any leaves. We crushed the 360lbs of grapes and immediately added some potassium metabisulphite to kill any wild yeasts. My crusher is also a destemmer, so all the stems were separated from the must during this process. The pH of the must started at 3.70 which wasn't surprising due to the high Brix reading. I added an appropriate amount of Tartaric acid to bring the pH to a more desirable 3.41 the day of crush. 25 ml of Color Pro enzyme was added at this time as well.
At approximately 24 hours post crush, the Must was inoculated with 35 grams of yeast BM 4X4 in a solution containing GoFerm yeast nutrient. The temperature of the Must at the time of inoculation was 60 degrees F. The yeast solution was well constituted throughout the must. Periodic punching down of the "cap' was done every 6-8 hours throughout the primary fermentation time.
At 48 hours post crush, the Must temp was 66 degrees F at the Brix reading was 23.5. Fermaid O was added.
At 72 hours post crush, the Must temp was 75 degrees F and the Brix reading was 20. Fermaid K was added.
At 96 hours post crush, the Must temp was 82 degrees F and the Brix reading was 16. I added oak chips to the vat.
At 120 hours post crush, the Must temp was 78 degrees F and the Brix reading was 8.
At 144 hours post crush, the Must temp was 72 degrees F and the Brix reading was 4. 0.9mg of Malolactic culture VP41 was added to the Must and thoroughly mixed in.
At 168 hours(7 days) post crush, the Must temp was 70 degrees F and the Brix reading was 3. The Must and remnant skins were carefully pressed using a bladder press. The raw yield was approximately 27.5 gallons. The Must was placed in cleaned and sanitized demijohns utilizing airlocks to allow CO2 to escape while fermentation progresses, albeit very slowly. The residual skins were heavily consumed during the fermentation leaving behind very little structure. The color extraction was excellent and provided a deep rich purple wine. More Oak chips were added to each of the glass carboys/demijohns.
The slow fermentation in the demijohns went uneventfully and at 2 months, careful racking was accomplished and an appropriate amount of Potassium Metabisulphite was added to help kill off any more yeast cells(30ppm).
At 6 months post pressing, another racking was accomplished without the addition of any sulphites.
At 9 months, I have just begun bottling and I am very pleased with the wine. It is a crystal clear, deep purple, medium to full body, somewhat fruity flavored wine. I expect it to pair well most any dish but have enjoyed it with pasta, pork, veal, and chicken thus far.
Sincerely,
Joseph A. Picone, DMD
Thank you Joseph for sharing your Montepulciano winemaking experience! If you would like to make Montelpuciano emails sales@juicegrape.com or call 877-812-1137.
Recently named Wine Region of the Year (see video above) & voted Winery of the Year by Wine Enthusiast Magazine Lodi is certainly on the rise! Some notable wineries to check out are Mettler Family Vineyards, Zinderella Vineyards, Michael David Winery, and Lange Twins Winery just to name a few.
Our growers will have NEW Italian Wine Grape Varieties available which will be sourced from the Mettler Family. These varieties include Aglianico, Montepulciano, Nero d'Avola, and Dolcetto.
Zinderellla Vineyards will be making her debut! The Old Vine Zinfandel grapes that create this fabulous wine are over 35 years old! We are very excited to offer these prestigious and complex grapes this fall.
Make sure to contact the Musto Wine Grape Co., LLC. staff for more information on how to secure your Lodi grapes.
Please see below for some photos from the our growers in Lodi. Harvest will be here before you know it!!