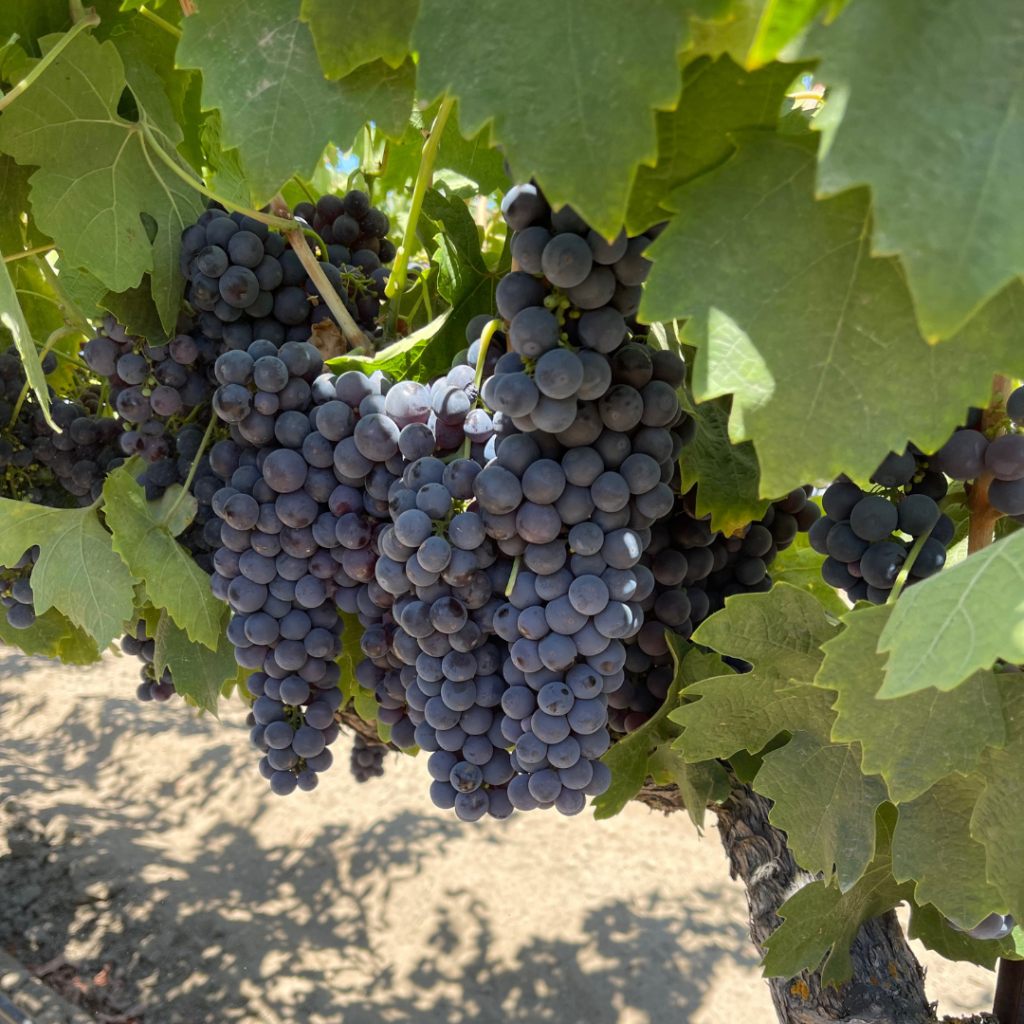 Special Primitivo coming from fifth generation farmer Berton Costamagna
There is something very special about walking through this Primitivo vineyard for fifth generation farmer Berton Costamagna. "Since 1902 my family has been here in Lodi farming these wine grapes", says Berton. "To think that my Nono (Great, Great, Great Grandfather) had the foresight to start a farming adventure back then, by planting his first vineyard of Primitivo here, and to see where it is now, is so inspiring to me." With its sandy loams, and ideal climate, farmers back then quickly saw the potential for growing wine grapes in Lodi, in the heart of California. Fast forward 120 years, and Lodi California has come to be known as the Zinfandel Capital of the World, and is now one of the top producing AVA's in the world. The Costamagna family has continued farming their family's clone of Primitivo for all these years for wineries and home winemakers to enjoy with their families. "These grapes make for a great wine, but what is truly special, is these grapes connect us to the hard work, traditions, and memories of my family before me. My hope is that folks can make as many memories drinking the wine from these grapes as our family has made farming them." 🍇🍷 We can't wait to receive these grapes from the Costamagna Family!
How to Order
We are an old school company. Give us a call at 877-812-1137 or email us at sales@juicegrape.com to get the ball rolling on your pre-order. Don't forget, we can create custom fermentation templates for you if you would like!
If you aren't local to New England and need your product shipped, please email sales@juicegrape.com for a freight quote. We will be shipping out of our Bronx, NY location – D'Arrigo. If you live in the Metro NY area and are interested in a freight quote please reach out to sales@juicegrape.com
Unfortunately, we cannot ship fresh juice. We can ship our sterile juices (Original All Juice (juicegrape.com)), they ship year-round without refrigeration. This is the best option for home winemakers who cannot pick up the fresh product from MWG's facilities.
If you have a large fresh product order (2,000lbs and up), please contact sales@juicegrape.com for a freight quote.
For more information regarding the Fall Harvest please feel free to contact us at sales@juicegrape.com  or give us a call at 877-812-1137. We are looking forward to helping you with your next great wine!
Sincerely,
Christina Musto
Musto Wine Grape Co.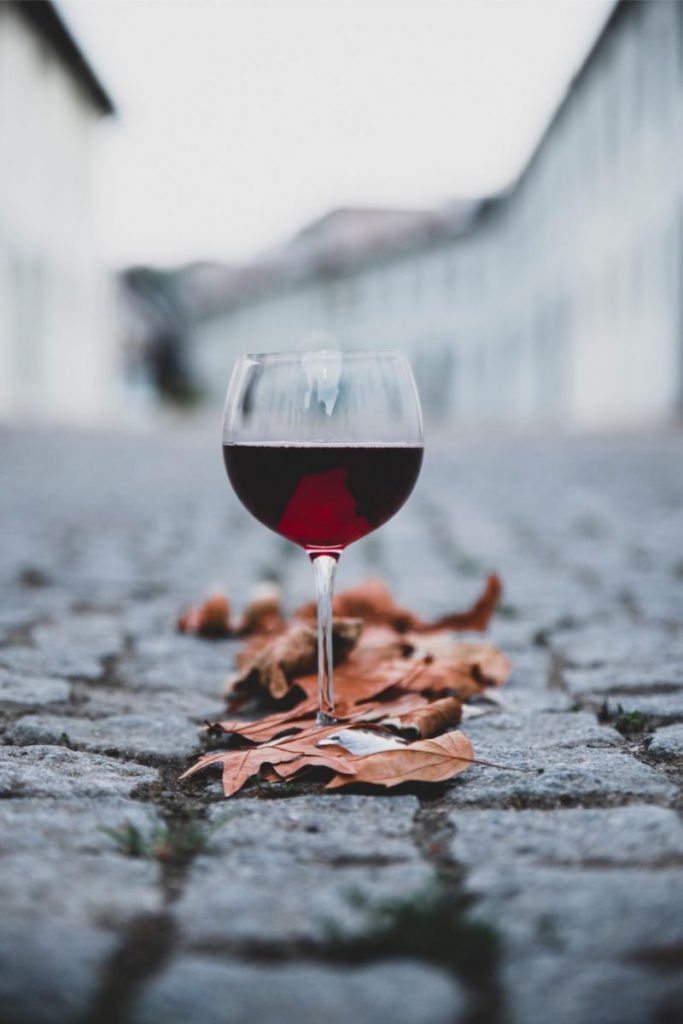 It's that season! The air is getting crisper, the leaves are starting to change color and your mind is turning to those seasonal favorites such as pumpkin EVERYTHING, apples and apple pie, turkey, roasted veggies and sweet potatoes.
But when it comes to pairing your wine with those delicious autumnal treats, where to begin?
Here are a few things to keep in mind when deciding which red wine to try with your fall favorites.
Venison, lamb or beef stew pair nicely with a Red Bordeaux, Barbaresco, or Barolo. Another favorite dish in the autumn season is sweet potatoes. Pair yours with a rich red Zinfandel or if you are having more of a mashed version, enjoy it with a red blend or a lighter Pinot Noir.
Choosing a hearty vegetable stew with mushrooms or fig and goat cheese on almost anything, especially a pizza, also taste better when they are paired with a Pinot Noir. As it is so versatile, Pinot Noir also goes well when had with pork as well.
When considering meals during colder temperatures, comforting side dishes such as butternut squash risotto go nicely with a lighter Italian Dolcetto. Or a great bowl of Sausage Bolognese goes well with Sangiovese or Barbera.
Another favorite dish to indulge in even more so when the temperatures drop is a hearty chili. Serve it with a nice Malbec that will hold up well against all the flavors of the chili.
If you make a short ribs dish braised with vegetables that are cooked in red wine or something such as cheddar mashed potatoes, you can pair these with a Pinot Noir or Merlot. These red wines are medium-bodied and will add to the earthy flavors of these items.
And don't forget desserts in the fall. That slice of pumpkin pie would be even sweeter with a glass of barrel-aged Port. Something to keep in mind, you typically want your wine to be sweeter than the dessert you are pairing it with. If a wine is too dry it will not taste as well with an overly sweet dessert.
No matter what you make in your lineup of fall favorite dishes, there is certainly a red wine to pair with it. Hopefully these gave you some ideas as you plan your autumn menu and go shopping for your wine; or better yet, see what you have in your own cellar.
Written by Michelle Griffis aka the Nutmeg Nose for MWG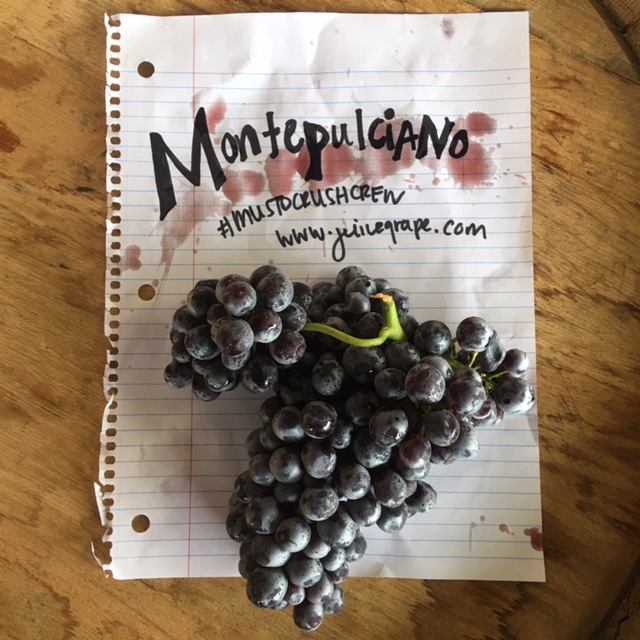 Montepulciano 2020 By Joseph A. Picone, DMD
I had the pleasure to obtain 10 (36lbs) cases of Montepulciano grapes from Musto Grapes (Frank Musto) on October 10, 2020. Making wine using the many varieties of first class Musto sourced grapes has been an Annual fall event for the Picone family and our friends for the past 30 years or so. Over the years, I have made Cabernet Sauvignon, Merlot, Old Vine Zinfandel, Sangiovese, Malbec, Reisling, Chardonnay, Sauvignon Blanc, Moscato, and White Zinfandel to name a few. Each having their own unique qualities to enjoy. Frank and his crew are great in providing all the resources and guidance needed for the first-time wine maker all the way to the seasoned-pro. I was fortunate to have taken a one semester class years ago at Naugatuck Community College on Wine Making given by Bob Herold which together with Frank's support team has allowed me to create some delicious wines over the years.
I would like to share my experience with you on making this year's Montepulciano 2020.
The grapes were outstanding. The Brix reading on the refractometer was 25. The clusters were full and the berries were a beautiful deep purple. The boxes were well packed with few if any leaves. We crushed the 360lbs of grapes and immediately added some potassium metabisulphite to kill any wild yeasts. My crusher is also a destemmer, so all the stems were separated from the must during this process. The pH of the must started at 3.70 which wasn't surprising due to the high Brix reading. I added an appropriate amount of Tartaric acid to bring the pH to a more desirable 3.41 the day of crush. 25 ml of Color Pro enzyme was added at this time as well.
At approximately 24 hours post crush, the Must was inoculated with 35 grams of yeast BM 4X4 in a solution containing GoFerm yeast nutrient. The temperature of the Must at the time of inoculation was 60 degrees F. The yeast solution was well constituted throughout the must. Periodic punching down of the "cap' was done every 6-8 hours throughout the primary fermentation time.
At 48 hours post crush, the Must temp was 66 degrees F at the Brix reading was 23.5. Fermaid O was added.
At 72 hours post crush, the Must temp was 75 degrees F and the Brix reading was 20. Fermaid K was added.
At 96 hours post crush, the Must temp was 82 degrees F and the Brix reading was 16. I added oak chips to the vat.
At 120 hours post crush, the Must temp was 78 degrees F and the Brix reading was 8.
At 144 hours post crush, the Must temp was 72 degrees F and the Brix reading was 4. 0.9mg of Malolactic culture VP41 was added to the Must and thoroughly mixed in.
At 168 hours(7 days) post crush, the Must temp was 70 degrees F and the Brix reading was 3. The Must and remnant skins were carefully pressed using a bladder press. The raw yield was approximately 27.5 gallons. The Must was placed in cleaned and sanitized demijohns utilizing airlocks to allow CO2 to escape while fermentation progresses, albeit very slowly. The residual skins were heavily consumed during the fermentation leaving behind very little structure. The color extraction was excellent and provided a deep rich purple wine. More Oak chips were added to each of the glass carboys/demijohns.
The slow fermentation in the demijohns went uneventfully and at 2 months, careful racking was accomplished and an appropriate amount of Potassium Metabisulphite was added to help kill off any more yeast cells(30ppm).
At 6 months post pressing, another racking was accomplished without the addition of any sulphites.
At 9 months, I have just begun bottling and I am very pleased with the wine. It is a crystal clear, deep purple, medium to full body, somewhat fruity flavored wine. I expect it to pair well most any dish but have enjoyed it with pasta, pork, veal, and chicken thus far.
Sincerely,
Joseph A. Picone, DMD
Thank you Joseph for sharing your Montepulciano winemaking experience! If you would like to make Montelpuciano emails sales@juicegrape.com or call 877-812-1137.