Our Ancient Vine Wine Grapes come from one of the oldest grape growing regions, Madera County, CA. The grapes were planted close to 80-100 years ago and are being farmed by the 3rd and 4th generations. These are low production and low yield vineyards. They yield 2-4 tons/acre depending on the variety. These berries are small clusters with high concentration of phenols and color. Incredibly concentrated grapes which create a very concentrated and complex wine.
To see a video of our Ancient Alicante Vineyard click the play button below.
Our Suggested Ancient Vine Blend:
60% Alicante, 20% Muscat, 20% Grenache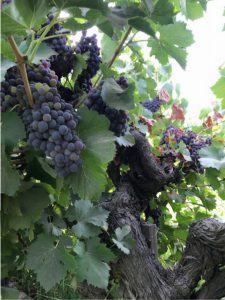 pictured above – ancient vine Grenache
Yeast Suggestions: 71B, VRB, and D254.
If you want to make a more fruit forward wine:

71B is a great yeast for fruit forward wines such as Grenache and Alicante. It helps bring out the fruity aromas Grenache and Alicante are known for.
If you want to make a make a wine with a more balanced ratio of tannin to fruit: VRB yeast is a consistent fermenter that helps bring out the tannins while enhancing varietal characteristics.
If want a wine with a balance of fruit and earth:

D254

is a yeast that helps develops ripe fruit together with mild spiciness while increasing mouthfeel.
*Please note that we always suggest using nutrients and putting your red wines through malo. Click the links below for more information on Musto Wine Grape's Fermentation Protocols.
Ancient Grapes Available:
– Alicante
– Carignane
– Grenache
– Barbera
– Muscat
Fun Fact: For a grape to be considered an Ancient Vine it must be 75+ years old. To be considered an Old Vine it must be 35+ years old.
For more information on purchasing ancient vines grapes please give us a call at 877-812-1137 or sales@juicegrape.com.