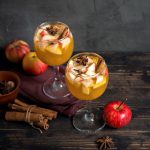 We tried Empathy's Rosé Autumn Sangria recipe and it was too good not to share!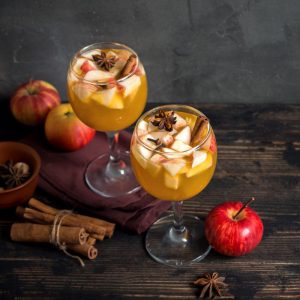 While Empathy's Rosé is a crowd pleaser pairing just by itself, there's nothing wrong with spicing things up! We've included Empathy's recipe for their Rosé Autumn Sangria, and we've included some tasty parings to go along with it.
Empathy's Rosé Autumn Sangria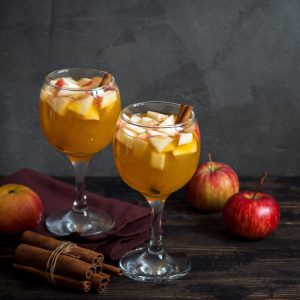 Let's start with what you'll need for ingredients
1 Red Apple
1 Green Apple
2 Oranges
1 Lemon
1 lime
2 Pomegranate
3-4 Cinnamon Sticks for garnish
2 Cups Apple Cider
1 Bottle of Empathy Rose
How to Make It
Slice up all of the fruit, dicing the apples into sticks.
Pour all of the fruit into a pitcher
Add bottle of Empathy Rosé and Apple Cider
Stir and serve over ice. Garnish with cinnamon sticks and orange peel.
Musto Wine Grape's Rosé Autumn Sangria Pairings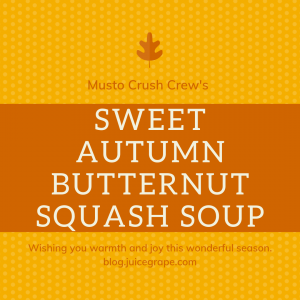 Butternut Squash Soup. The cinnamon and apple cider will go especially well with this savory autumn soup, which often times has apples and cinnamon blended in. Try Musto Crush Crew's Autumn Butternut Squash Soup!
Pear, Blue Cheese and Candied Pecan Salad. The crisp pear, the creamy and salty blue cheese, and the sweet nutty pecan flavors perfectly compliment this sangria recipe.
Shaved Brussels Sprouts Salad with Lemon and Pecorino. Brussels sprouts, like most brassica, can be a difficult food to pair with. Using this autumn sangria recipe, with all of its spicy and fresh fruit additions, is an excellent route to go.
Want to try this with your own Rosé? Musto Wine Grape Company is here to help! We are New England's largest supplier for home winemaking products and services. We can get you set up with all of your juice, grape and equipment needs and have you on track to making your own perfect pairing for next fall! Visit juicegrape.com or give us a call at (877) 812 – 1137 to learn more. We look forward to hearing from you!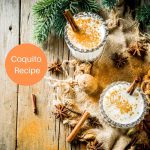 Who doesn't love a delicious holiday cocktail? Over the years the Musto Crush Crew has helped Coquito makers find the perfect bottle to display their creation. Coquito is a Puerto Rican holiday drink. It is a delicious blend of sweetness, nutmeg, and a little zing of rum.  You and your guests won't be disappointed when you try out this tasty holiday drink. For the month of November, in honor of Coquito season we are offering 10% off select wine bottles. Click HERE for more details. Below is our suggested recipe. We hope you enjoy it!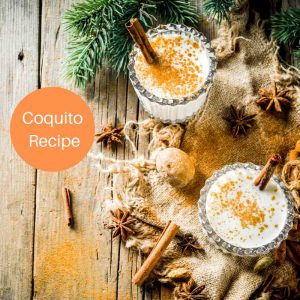 Ingredients
2 – 14 ounce cans condensed milk

2 – 14 ounce cans evaporated milk

2 – 14 ounce cans coconut milk

4 ounces pure vanilla extract

1 teaspoon ground cinnamon

½ teaspoon nutmeg

14 ounces white Puerto Rican rum
Directions
Combine all ingredients into a blender and mix until well combined.

Transfer mixture into glass bottle (1 gallon-sized or 3 liter-sized) and refrigerate overnight.

Serve in a glass of your choice and top with a sprinkle of ground cinnamon.

Once you create your delicious Coquito check out Musto's wide selection of wine bottles. Coquito looks wonderful when gifted in a Frosted Bottle, Standard Clear, Standard Green, and more!
recipe via The Latin Kitchen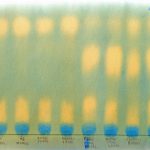 Paper chroma-whata??
Paper chromatography: the way that home winemakers (and some commercial winemakers) check to see if their wines have completed malolactic fermentation or if they are still in the process of it. This is the time of year that winemakers are staying up on at what point their wine is at in the process of malolactic fermentation, because it will dictate when they can add potassium metabisulfite for the first time to their finished wine.
Why is it important?
Some wines should go through MLF for stylistic and stability reasons, whereas others should not.
How do I do it?
You'll need to get a paper chromatography kit. This includes 3 acid standards (malic, lactic, tartaric), the solvent solution, chromatography paper, capillary tubes, and a plastic jar.
How accurate is it?
That's the thing – it's more qualitative than quantitative. Maybe it will show that there is still malic acid present, but that doesn't mean it tells you how much is present, how long it's been at this point, or if it's even still decreasing anymore. It is qualitative in the sense that it shows: yes, acid X is present, or no, acid X is not present. If you're searching for a more exact number or reference point you can send your samples in to a lab – if you're looking to get an overall picture of whether or not your wine has any malic acid or lactic acid present, then using paper chromatography is the way to go.
What does this stuff look like?
How do I do it?
Collect your wine samples
Draw a line 1-2 inches from the bottom of the paper using a pencil (pen will not work)
Mark with an X or dot where you will place the samples.
Use capillary tubes (one for each sample – don't mix them up) to draw up a very small sample of the the standards (malic, lactic, and tartaric) and then the wine samples and drop a very small amount of the liquid onto the paper. You will notice it will spread out once it hits the paper so be sure not to drop too much liquid. Less is more here.
Let the dots dry and repeat 3 times. This will make it easier to read down the road.
Roll the paper up and staple either side without the paper overlapping onto itself.
Pour a small amount of paper chromatography solvent solution into the bottom of the plastic jar. Be careful to not inhale this. Place the stapled paper, sample side touching the solution, into the jar. Screw the lid on and let sit for ~8 hours, or enough time for the solvent to reach from the bottom to the top of the paper.
Take the paper out (carefully) and let it air dry until the entire sheet turns blue and yellow dots are clearly visible.
Match up where you see specific acid dots with the wine samples and you can detect if malic and/or lactic acid is present in each sample.
Helpful hints
You will likely need to run this test at least a couple of times to see the decline in MLB and confirm its completion
Be sure not to add any potassium metabisulfite to your wine until MLF has completely finished!
Use space heaters or a warm room for wines undergoing MLF to help speed the process along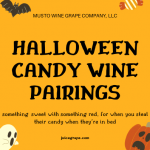 Happy Halloween from the Crush Crew!
We put together some awesome wine pairings to go with all the Halloween candy you'll be getting- Uh, I mean your kids will be getting tonight!
We hope everyone has a safe and spooky Halloween.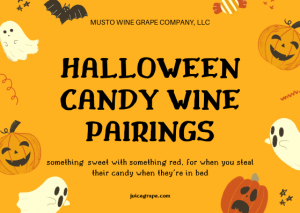 Peanut butter cups 
Ruby port. The sweet, rich flavors of ruby port will meld great with the chocolate and peanut butter combination. 
Twizzlers
Pinot Noir. Since Twizzlers are one of the less intense flavored Halloween candies you'll encounter, reach for a more delicately flavored. Bright cherry, raspberry, and earthy flavors will be a delicious compliment to Twizzlers.
Snickers
With so many flavors and textures in Snickers, you'll need a wine that can stand up to it – a high alcohol Syrah that already has aromas of chocolate, tobacco, spice, and stewed fruit is the go-to here.  
Starburst
Beaujolais Nouveau with its high acidity and low tannins, notes of bubblegum, strawberry, and banana, will pair great with the flavors of Starburst.
Skittles
Riesling. High acidity and sweetness will match perfectly with these sweet, fruity chewy candies. 
Butterfingers
Chardonnay. A luscious buttery Chardonnay will meet the rich and layered flavors of Butterfingers.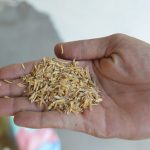 Yes – sometimes rice hulls are used for wine making!
Why, you ask?
Well, that's a great question and we're here to answer it.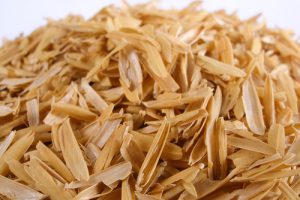 Q: First of all, what are rice hulls, anyway?
A: The husks, or hulls, of rice. It's the seed coating.
Q: What do they do?
A: They can be used during pressing your grape skins as a way to increase the ease of drainage during the pressing. By incorporating them during the pressing, the size and shape of the hull creates pathways for the otherwise very slippery grape skins to pass through, allowing the free run and the press run to escape with more ease.
Q: Do they impart any flavor or odor?
A: Nope.
Q: How do I use them?
A: Just sprinkle them throughout the grapes as you place them into your press.
Q: How much should I use?
A: 50 lbs of rice hulls can be used for 2-6 tons of grapes.
Q: Is it necessary to use them?
A: Absolutely not. However, you will hear about certain home winemakers as well as commercial winemakers who choose to use them. It's very much a personal preference. To a degree it also depends on the variety you are pressing; some "slip skin" grape varieties can create clogging issues in presses more easily than others. There's no particular downside to using them if you choose to do so – they will really just make the pressing easier.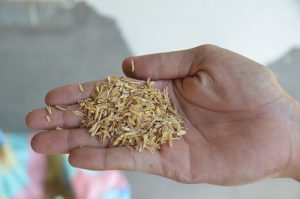 Interested in learning more about incorporating rice hulls into your pressing protocol? Stop by Musto Wine Grape or give us a call to learn more about the rice hulls we carry and our experience using them. Happy pressing!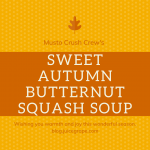 During harvest we need some tasty fuel to keep us going. This sweet autumn butternut squash soup is nourishing and fulfilling, sure to satisfy the whole family. As the temperatures drop, we wanted to share this recipe to help keep you warm!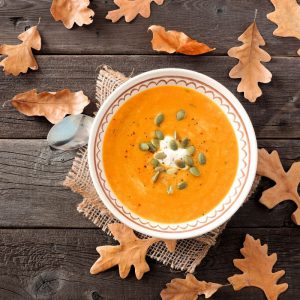 Ingredients
3 cups of diced butternut squash
1 unpeeled, diced apple
1 unpeeled, diced pear
2 tablespoons of extra-virgin olive oil
2 garlic gloves, minced
1 small onion, ½" diced
½ teaspoon of curry powder
¼ teaspoon of ground ginger
¼ teaspoon of ground cinnamon
4 cups of vegetable broth
Salt & black pepper
¼ cup chopped walnuts (toasted), 2 tablespoons roasted pumpkin seeds, chives and plain greek yogurt as optional toppings.

Instructions
Heat the oil in a large saucepan over medium heat and add the onion. Stir frequently until tender (for about 5 minutes) then stir in the garlic and continue to stir for another minute.
Add the squash, apple, pear, curry powder, cinnamon and ginger. Stir.
Stir in the broth, increase heat to high. Cover and bring to a boil.
Once boiling, reduce heat and maintain at a low boil, covered for 30 minutes.
Let cool for about 15 minutes and transfer to a blender (if you do not have an immersion blender). Puree until very smooth. Transfer back into the pot, reheat and season with salt and pepper to taste. Serve with optional toppings.
Pair with  a bottle of Gewurztraminer. This semi-sweet aromatic wine has notes of cinnamon, ginger and honey that compliment the silky and spicy characteristic of this soup.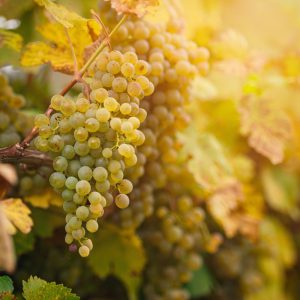 Gewurztraminer Recipe + Instructions
First choose if you want to make a sweet wine or a dry wine, as this will dictate a lot of your decisions when making your wine.
Secondly, feel confident in your pronunciation of this delicious variety, as you'll be telling all of your friends about the great wine you've made to be paired with the butternut squash soup. Let's say it together. Guh-VERTZ-truh-meen-er. That's right!
Decide if you are going to make wine from fruit, juice, or concentrate. This time of year you'll need to be making wine from juice or concentrate.
Add pectic enzyme to your juice. This will help with settling and clarifying down the road to ensure a clear and beautiful finished wine.
Pick the

yeast

of your choosing. Some great options for retaining the fruity, aromatic, perfume-like traits of Gewurztraminer include Alchemy I, Vin 13, QA23, and D47. Rehydrate your yeast using

Go-Ferm

for best results.
Time to ferment your wine! If you're using a kit, follow the directions they give you.
If fermenting fresh juice, add Booster Blanc and Opti-White to increase mouth feel and mid-palate intensity.
When you see the Brix drop by 2-3, add Fermaid O to your juice.
Continue checking the Brix each day. When you see a 1/3 drop in the starting number, add Fermaid K to ensure the fermentation remains strong and the yeast have the energy they need.
When alcoholic fermentation is over, rack off the gross lees. Add potassium metabisulfite. This is important, as this is a variety that stylistically does not benefit from malolactic fermentation.
If you want to back sweeten, you can do so. Gewurztraminer can make fantastic dry, semi-sweet, and sweet wines, so you can't go wrong with whatever you decide!
 For more information about making wine from juice click

HERE

!
Want to make your own wine for your next pairing? Musto Wine Grape Company is New England's largest supplier for home winemaking products and services. We'll get you set up with all of your juice, grape and equipment needs and have you on track to making your own perfect pairing. Visit juicegrape.com or give us a call at (877) 812 – 1137 to learn more. We look forward to hearing from you!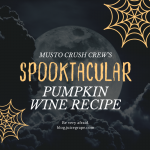 Create and serve some spooky at your next Halloween party with Musto Crush Crew's pumpkin wine recipe!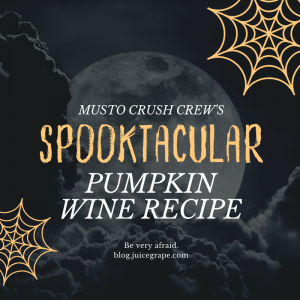 Ingredients:
24 pounds of pumpkin, canned or grated (approx. 2 medium pumpkins or 1 large pumpkin)
6 gallons of Pinot Grigio (Shop here)
12 tablespoons ground cinnamon
6 inches of fresh ginger root
4 tablespoons ground nutmeg
Fructose/Sugar – Depends on the heaviness you are aiming for. 9-18 pounds is standard range. (Shop here)
6 grams of yeast nutrient, Fermaid-K (Shop here)
3 ounces of acid blend (pumpkins are low acid, so you need to add acid to aid in proper fermentation) (Shop here)
6 grams of wine yeast, EC11-18 (Shop here)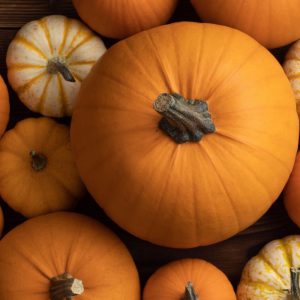 Instructions:
If using a fresh pumpkin, wash, peel, and grate/chop the pumpkin. Place pumpkin in your main fermentation vessel. Add your raisins, cinnamon, ginger, nutmeg and water (boiling). Allow to sit overnight.
Next, add the fructose/sugar, acid blend, and yeast nutrient. Stir until sugar is dissolved. Incorporate yeast into the mixture and stir. Stir daily until fermentation reaches zero (specific gravity of 1.040) – which usually takes about 3-5 days. The mixture should begin to bubble and a mild yeast smell should occur. Read more about Brix here (link)
Once the first fermentation is complete, the pumpkin should have turned into must. Strain and collect the rest of the juice from inside the must by squeezing. Use a racking cane auto siphon to siphon into your secondary fermentor and airlock. (Which airlock would be best?)
Rack at 3 weeks, and then every 3 months for a year. At one year, bottle and let age for at least a year.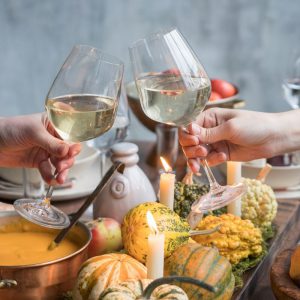 Want to make more of you own wine? Musto Wine Grape Company is New England's largest supplier for home winemaking products and services. We'll get you set up with all of your juice, grape and equipment needs and have you on track to making your own perfect pairing. Visit juicegrape.com or give us a call at (877) 812 – 1137 to learn more. We look forward to hearing from you!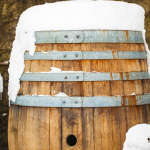 Brrr… it's starting to get cold outside! Especially here in New England.
In the Northeast we get the joy of experiencing four distinct seasons. Harvest time is filled with lots of excitement in the air during the warm days and cool nights… but when the warm days start to turn into cool days too, things can get a little more complicated if your wine isn't done fermenting.
As anyone who makes wine knows, the alcoholic fermentation process can create some serious heat. As long as it doesn't get too cold outside, the heat generated from this can pretty much sustain itself without issue.
But once the alcoholic fermentation slows down and eventually ends, if the malolactic fermentation (MLF) hasn't finished and your wine is in a pretty cold (or even cool) location, it can be difficult to get MLF to finish. A half completed MLF can pose some issues in and of itself: delayed SO2 additions, persistent fizz, and stability issues down the road.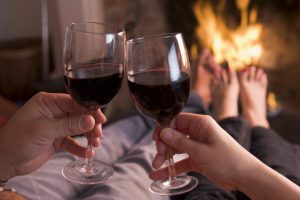 So what can you do to ensure you have as smooth a fermentation as possible that isn't TOO quick, yet doesn't drag on for too long?
Choose earlier ripening varieties if you live in cold regions and/or the place you ferment your wine is in a cold place like a basement/cellar.
Try

co-inoculation

as your method of malolactic fermentation.
Use space heaters as needed. These can be placed in small spaces with your barrels to prevent MLF from slowing down or even stopping entirely.
Choose a fast fermenting yeast strain.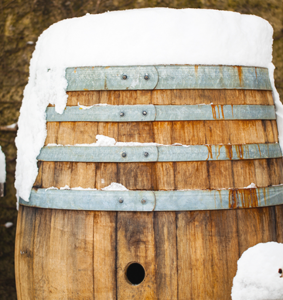 What are the potential results of making wine in cold weather?
Stuck alcoholic fermentation
Stuck malolactic fermentation
Unintentional cold stabilization (this can be positive or negative depending on the wine and style you're attempting) as it can affect the TA even when you don't want the TA to move, whether upwards or downwards.
Remember to keep a careful eye on your fermentations as they happen, because you can catch sight of a slow or sluggish fermentation caused by cold weather before it's too late. Happy fermenting, and remember to keep your aging vessels bundled up and warm enough to keep that fermentation going strong.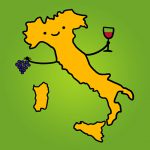 Let's make wine from Italian juice… at home!
Many winemakers wait all year for their annual Italian juice pickup at Musto. Despite the fact that they may be able to find some of these juices from California, they look forward to knowing that they will be able to make wine that hails from Italy itself.
There's so many juices to choose from:
Amarone- cooked cherries, dark plums, cherry liqueur
Barolo- tannic, rose aroma
Brunello- cherry, blackberry, tannic
Chianti- red fruit, dried herbs, herbaceous
Dolcetto- plum, blackberry, cocoa
Lambrusco- fruity, blackberry, bright red fruits
Montepulciano- red plum, thyme, baking spices
Moscato- sweet, fruity, aromatic
Nebbiolo- rose, cherry, leather
Nero D'Avola- cherry, plum, licorice, tobacco
Pinot Grigio- lemon, lime green apple, bright and crisp
Sangiovese- tart cherry, strawberry, plum
Trebbiano- peach, lemon, apple
Valpolicella- cherry, cinnamon, chocolate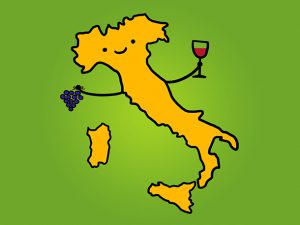 For winemakers who don't have access to a crusher, destemmer, or press, making wine from Italian juices is a great way to get the joy of making your own wine with less steps and less mess.
So how can you start making your own wine from Italian juices? Follow these steps and you'll be on your way!
Choose an Italian variety that speaks to you.
Come to Musto Wine Grape and pick up your pail of juice.
Bring it home, pop open that lid, and add 1/4 tsp potassium metabisulfite to it. Add

pectic enzyme

if you're going to (5 drops per gallon of juice). Give it a stir.
Allow it to come up to room temperature – we're talking 60 degrees or so.
Choose your fermentation vessel: will you keep it in pails or ferment in a carboy or demijohn? Make sure everything is clean and sanitized. *Be sure there is enough room to account for fermentation foaming*
If you are going to add fermentation tannins or additives (like oak dust,

Booster Rouge

,

Booster Blanc

) you can add that now. *Note: do not add tannins such as

FT Rouge

within 8 hours of adding enzyme*
Pitch the yeast once the temperature has reached at least 60F. Yeast strain choices will vary depending on the juice you choose – ask a winemaker at Musto Wine Grape for a strain recommendation for the varietal you're making. Follow the yeast starter directions explicitly. Be very careful of temperatures, never adding yeast if there is more than a 18 degree difference between the yeast starter liquid and the juice.
Carefully monitor the fermentation by checking Brix levels daily. Add yeast nutrients as needed if you choose to do so.
If you are adding

malolactic cultures

to your wine, you may also chose to do this at 1/3 Brix depletion. If using a malolactic nutrient (

Opti-Malo Plus

) with the bacterial culture, hydrate the nutrient in a separate container from the bacteria and add to the must directly before the addition of the bacteria. Follow all directions on the bacteria and nutrient packets explicitly.
When the fermentation is complete, rack off the lees and continue aging. Many Italian wines are aged with oak – if you choose to do this, you can do so in oak barrels or with

oak alternatives

(such as

chips

or staves).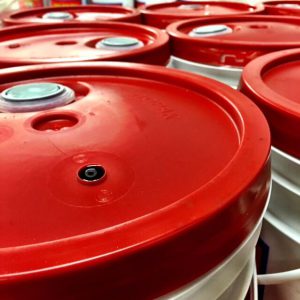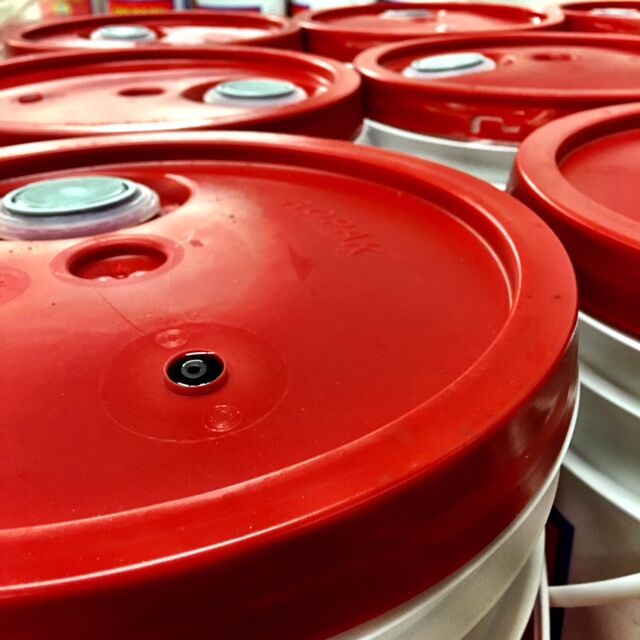 And there you have it! Delicious Italian wine that you made in your own home. There's nothing more rewarding than having a glass of wine you made with juice from a reliable source.
Feeling inspired? Come down to Musto Wine Grape and pick up some Italian juice. But don't wait too long – we are fast approaching the end of harvest time. Pick up everything you need and and be on your way to kicking back as you sip on a glass of homemade Italian wine. Who knows, maybe you'll even make Frank's Chicken Fettuccini Alfredo to accompany it!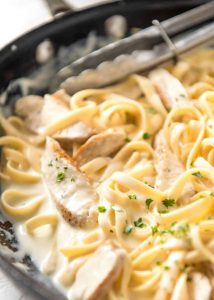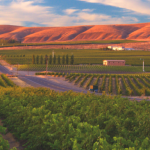 Washington state is producing some of the best wine grapes around.
A combination of a long growing season, perfect climate, and know-how on the part of the state's growers have led this region to grow world class fruit. At Musto Wine Grape we carry some delicious Washington State wine grapes, including Cabernet Sauvignon, Cabernet Franc, Merlot, and Pinot Noir.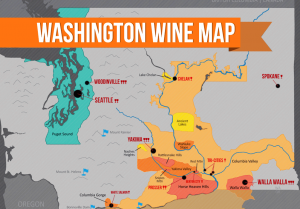 What to expect from Washington fruit
Structure, bright red fruit, great tannins, concentrated flavors.
Where is our Washington fruit from?
We source from Rattlesnake Hills (notable for its elevation, which is higher than most other WA AVAs), Wahluke Slope (ripe and full bodied wines full of varietal character hailing from one of the driest and warmed WA locations), and Red Mountain (known for growing some of the state's most highly acclaimed fruit, known less for its New World ripe fruitiness and moreso for its big, rich, terroir-driven resulting wines).
Yeast recommendations are as follows:
D80 – for big, structured reds
D254 – bring out ripe fruit, jam, and cedar notes
RP15 – to bring out red fruit and mineral notes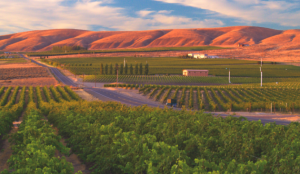 Fermenting recommendations
Consider adding FT Rouge or oak dust to function as your "sacrificial tannins."  Using tannin additives during fermentation can help the grapes themselves to retain their tannin which in turn helps to sustain the resulting wine's structure and color. Adding fermentation tannins do not add oak flavor – so if you do want to oak your wine, you would do that during the aging process.
Washington fruit is known for being lower in YAN so be sure to make some nutrient adds if need be. Try Fermaid O and/or Fermaid K
Are you excited to work on your Washington state grapes? Reach out with any questions you may have about the grapes you purchased through us at Musto Wine Grape!