Falling for Pinot Noir…All Over Again!
By Guest Blogger: Ertan Seyyar Sener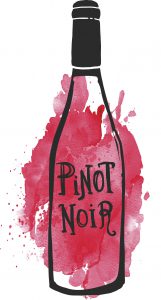 Well, it's been seven years since Pinot Noir took to the big screen and Americans began their love affair with this very attractive, although elusive grape variety.  The honeymoon has been over for a while now, so it is time we renew our vows with a wine that deserves our undivided attention. As the leaves start to turn, and there begins to be a slight chill in the air, I find the color of wine in my glass to change from white to pink to a beautiful translucent red, Pinot Noir.  I feel there is no better time of year than Autumn to enjoy this light, but luscious red wine.  A wine that begs to paired with all the fabulous flavors of Fall.  Let's take a little closer look at the personality of Pinot and try to predict that perfect pairing with my favorite fall fare.
            I'm gonna say it, sorry…terroir.  Probably one of the most debated terms in oenology, but I believe it to be very true.  What is it?  Well, it's the idea a wine, a grape can reflect flavors and even characteristics of the place, the soil that it has been growing, for what could be a very long time.  For instance, if the soil is mostly limestone, you might find the wine to have a certain minerality and precision, but as one author put it, "when was the last time you licked limestone?"  Sure, this can't be a totally literal idea, but I find Pinot Noir to be a certain conduit that can connect a person with the place.  This can't be just any place, for Pinot Noir is very particular to where it grows up.  Try to grow it in too hot of a place and it will ripen too early and never achieve the levels and layers of flavor that its' thin skin can create.  Of all the places on Earth, is the Burgundy region in France, where if all the conditions are right, Pinot Noir can reflect all the slight nuances of terroir.  The only other places that have had any success in producing our fickle friend are New Zealand, Oregon, and the cool corners of California and Chile.  So, what is so great about this grape that people find it worthy of emulating around the world?
            Pinot Noir has a duality that is pleasing to both white wine as well as red wine drinkers.  The grape has thin skins with usually light, silky smooth tannins.  Tannis are that drying feeling you get on the side of your tongue, not a bad thing, but could exhaust your palate, and we haven't even got to the food, so we don't need an exhausted palate!  The profile of Pinot Noir is a usual suspect of pleasantries; red berries, red cherry, bright and light, and with the more mature Pinots hints of leather and tobacco.  Put a little chill on the wine and it is a "cooler" version with a very bright and refreshing quality.  The greatest thing about Pinot Noir is that it can cross the spectrum of food pairings and meet the needs for red as well as white wine dishes!  Oh well, I can't take it anymore!  Let's get to the food!
            Autumn has a cornucopia of flavors, fruits and spices that beg to be paired with Pinot Noir.  As well as, a beautiful list of lighter meats that can be braised, smoked or roasted from pork to duck to turkey, Oh my!  The wine calls for earthy flavors such as: truffles, wild mushrooms, coriander.  Pinot Noir is very happy next to fruit flavors such as figs, blackberry, and pomegranates.  Duck breast and duck leg confit is one of my favorite pairings for Pinot Noir.  A wonderful balance of earthy flavors, as well as succulent flavors, that react wonderfully with the fruit and acidity to Pinot Noir.  Depending on the producer and vintage, Pinot Noir can have layers and layers of flavor that can be enjoyed on their own or paired up with some of these classic fall eats.
            Please enjoy Pinot Noir this Fall season from any and all the places that hold this grape variety sacred in the process of production.  Making this wine is a testament to the appreciation of soil, wine and tradition.  So, before the weather makes it necessary for a sweater and some flames in the fireplace, remember to pull out that bottle of Pinot Noir and let it dance with every thing Fall.  To leave you with one of my favorite quotes from Windows on the World Complete Wine Course by Kevin Zraly: "One Author trying to sum up the difference between Pinot Noir and Cabernet Sauvignon, said, 'Pinot is James Joyce, while Cabernet is Dickens.  Both sell well, but one is easier to understand.'"  The only thing to understand here is the marriage of Fall flavors and Pinot Noir is an unbreakable one, one to stand the test of time.  Cheers!
About the Blogger: Ertan Seyyar Sener has been working in the world of wine for over ten years, in restaurants, retail as well as wine education.  He has been recognized in Wine Spectator as well as in Ronn Wiegand's Sommelier Guide to Restaurants in America 5th Edition.  Ertan is the Buyer/Manager at West Side Wines and Spirits.
West Side Wine and Spirits
10 Raymond Road
West Hartford CT 06107
860.233.1241 w
860.233.1243 f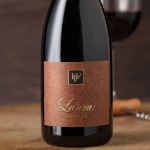 Check out Wooden Valley Winery's (aka Lanza-Musto Vineyards) WINS at the 2018 SF Chronicle Wine Judging Competition. Over 7000 wines were entered from 36 states in this wine competition. Congratulations to the Lanza Family and the Wooden Valley Crew on your much deserved awards!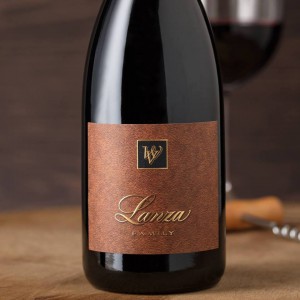 2016 Wooden Valley Barbera Suisun Valley – Gold
2015 Lanza Family Cabernet Sauvignon – Gold
2017 Wooden Valley Chardonnay – Silver
2016 Wooden Valley Malbec – Gold
2016 Wooden Valley Merlot – Bronze
2015 Lanza Family Petite Sirah – Bronze
2016 Wooden Valley Sangiovese – Double Gold
2017 Wooden Valley Sauvignon Blanc – Silver
2015 Wooden Valley Zinfandel – Silver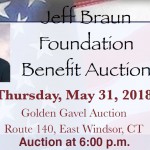 Hello Winemakers,
Thursday May 31st there is a great event going on with great prizes! You can win a Wine Class for 20 people at Total Wine & More, a Complete Winemaking Kit, and More! The silent auction will be benefiting the Jeff Braun Foundation which focuses on helping build orphanages in Honduras. For full information about the Jeff Braun Benefit please see below. Should be a great event!
Jeff Braun Foundation – Partnership with Hope Children's Home – Honduras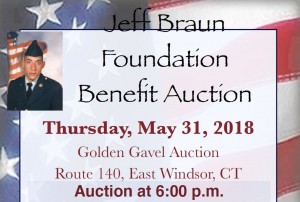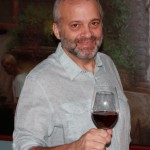 In this seminar, you will learn the intricate interplay and management of oxygen, sulfur dioxide, and polyphenols, and clarification and stabilization techniques towards making greater wines more consistently and flawlessly. The seminar will also demonstrate how to measure and control oxygen and sulfur dioxide in wine.
This seminar is intended for intermediate and advanced amateur and small-winery winemakers. Click the "HERE"  to download the complete program, including specific seminar content.
Don't miss out on this special opportunity to attend Daniel Pambianchi's seminar on advanced winemaking on September 8, 2018, 9:00 AM – 4:00 PM, at Musto Wine Grape Company in Hartford, CT. Lunch and coffee are provided. Please alert Christina of any food allergies at cmusto@juicegrape.com.
SEMINAR FEES
Until July 6 – $200
July 7 to August 10 – $225
August 11 to September 8 – $250
ADDITIONAL BENEFITS FOR PARTICIPANTS
– A non-expiring membership to Daniel Pambianchi's on-line winemaking club.
– Free analysis of one wine in the first year of membership.
– 20% off the retail price on signed copies of Daniel Pambianchi's book "Techniques in Home Winemaking."
Please email Christina Musto at cmusto@juicegrape.com with any questions.
BOOKING AND CANCELLATION POLICY:
You can register here. Payment in full is required to reserve your seat. As a minimum number of participants is required to run this seminar, you will be notified by August 17, 2018, and issued a full refund if the minimum is not reached. Paid participants can cancel up to and including August 17, 2018 and issued a full refund. No refunds or exchanges will be offered after that time under any circumstances.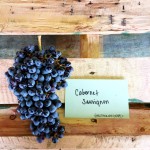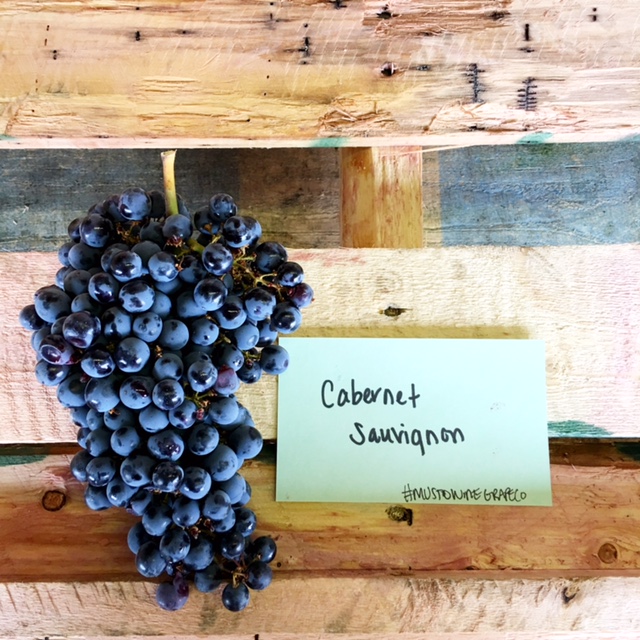 Hello Winemakers,
The time has finally come! ALL of the Chilean grapes and juices have arrived! Give us a call or shoot us an email to set up your pick-up.
Happy Winemaking!!
Sincerely,
The Musto Crush Crew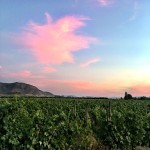 This year's growing season should produce some intense and complex wines!
We are very excited and fortunate to be sourcing our Chilean grapes and juices from the "Heart of the Chilean Wine Industry" known as the Curico Valley.  Curico has been a wine grape growing region since the 1800s. With its fertile soil, microclimates, and the ability to grow over 30 different wine grape varieties, it's no wonder this prestigious region is considered the heart of the wine industry.
Soil Content: Sand, clay, decomposed granite, and volcanic-alluvial.
The second region we will be sourcing from is the Colchagua Valley. The Colchagua Valley is known for growing bold red wines, such as Carménère, Cabernet Sauvignon, Cabernet Franc, and Syrah. It has a mediterranean climate and is located along the southern end of the Rapel Valley. This topography creates a climate that receives around 23.3 inches of rainfall per year and little to no rainfall during their summer months. This helps keep the grapes safe close to harvest and ensures that the grapes are fighting for water therefore creating a more intense fruit.
 Soil Content: Sand, decomposed granite, and clay
This year's harvest has gotten off to a great start. The white grapes are coming off the vine and will be in transit soon. Our early red grapes such as Pinot Noir and Merlot will start harvesting around March 30th.
Arrival Dates: White grapes should arrive around the last week in April and the red grapes should start to arrive around the first week in May. Get your crushers ready!
Grapes Still Available: Carmenere, Chardonnay, Pinot Grigio, Sauvignon Blanc, and Viognier
Sold Out: Cabernet Sauvignon, Cabernet Franc, Malbec, Merlot, Petite Verdot, Pinot Noir, and Syrah
Juices Available: Carmenere, Cabernet Sauvignon, Cabernet Franc, Cabernet/Merlot Blend, Malbec, Merlot, Petite Verdot, Pinot Noir, Syrah, Chardonnay, Pinot Grigio, Sauvignon Blanc, and Viognier
Fresco Juices Available: Cabernet Sauvignon, Carmenere, Merlot, Malbec, Chardonnay, Sauvignon Blanc, Viognier, Chardonnay/Semillon Blend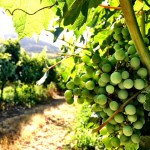 Yeast suggestions for the following grapes via Manuela Astaburuaga. Manuela is the enologist at "Correa Albano" and has studied in both France and New Zealand. Her family also owns many of the vineyards we source from.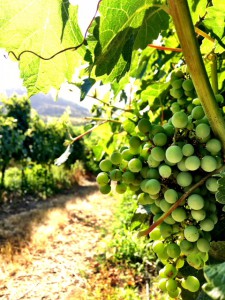 Sauvignon Blanc – For the SB the most important thing is the yeast that express the thiols aromas. Try VIN13 to bring out such thiol aromas like tropical fruits.
Carmenere & Merlot – Try a yeast that expresses the black fruits like CSM
Cabernet Sauvignon –You want the fruit and earthiness to shine. Try D254, BM4X4, or CSM. Maybe think about blending yeasts for more complexity!
Pinot noir – RC 212 is one of the best yeasts for Pinot Noir.
Manuela's Favorite Blend:  Merlot-Carmenere
Why does Sauvignon Blanc wine taste so good from Chile? (According to Manuela)
"The different temperature between day and night is very important to the aroma expression, we have that kind of climate in our Valley (Curicó) so our SB is very aromatic and with a good acidity. We ferment at 58-50ºF to preserve the aromas."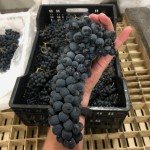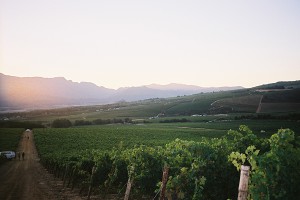 South African Shiraz is an under rated wine in the US. It is deep ruby in color with vibrant red fruit, baking spice notes, rounding out with notes of anise and black pepper. It is a complex wine with many layers of flavor. Unfortunately, there are not many distributed in the United States, so it's a great reason to make it at home.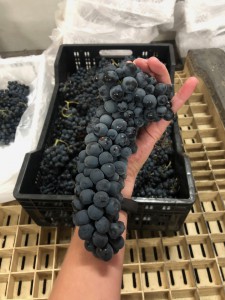 The Shiraz grapes come from a boutique wine growing region of South Africa called Devon Valley. Devon Valley is an estate vineyard that is planted on the valley slopes. It has rich soil and the benefits of warm days and cool breezes at night for optimal ripening.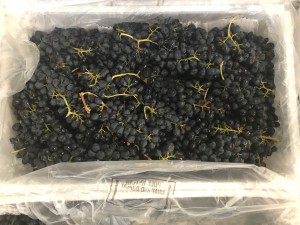 For winemaking BDX is my yeast of choice this year. It is a vigorous fermenter and can handle 16% alcohol. BDX brings out the ruby color, while increasing the mouthfeel and soft tannin extraction. Personally I love soft tannins in a Syrah, but want to keep a solid structure in the wine. BDX should help me maintain the Syrah style I like, while bringing out the South African varietal character that it is known for. As for ageing, I am thinking about exposing the Syrah to a small amount of American oak, but I am still on the fence. It can add coffee notes to the Syrah, but I am not sure if I should let the fruit shine or add a little extra dimension to the wine. What do you think?
The Syrah grapes arrive this week. Decisions, decisions….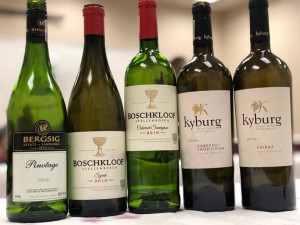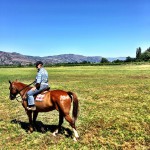 As the grapes begin to harvest we reflect back on the amazing trip that we had in Chile. Check out our Chilean itinerary below. Anyone up for a trip to Chile? Because we can't wait to go back and visit!
Day 1: Colchagua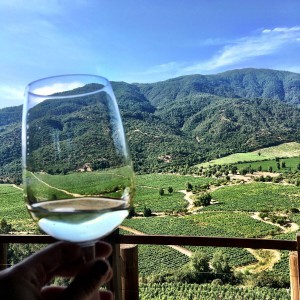 As we drove through the Colchagua Valley I couldn't help but feel like I was back in Napa driving down the Silverado Trail or HWY 29. Lush vineyards surrounded us on either side of the highway. Each winery we passed was just as majestic as or more than the next. A blissful start to our trip.
We stopped at few wineries that day before we visited our vineyards for research purposes ;). The first winery we stopped at was Lapostelle's Clos Apalta winery. This winery calls itself "French in essence, Chilean by birth". A striking winery that is 100% gravity fed. They have over six levels in the winery. Each with a specific fermentation or aging purpose. The tasting room is on the second to last floor and is so cold they offer blankets for patrons when tasting wine in their cave like room. Directly below the tasting room is the proprietor's personal cellar, with over 1000 bottles of wine. Quite the collection.  This was one of the more interesting tasting experiences we've had.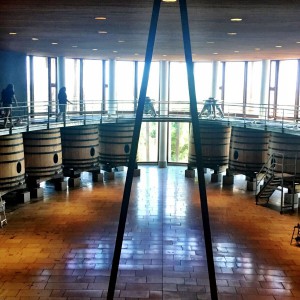 For the rest of the day we visited our Colchagua Vineyards and they were incredible! The Colchagua Valley is known for growing bold red wines, such as Carménère, Cabernet Sauvignon, Cabernet Franc, and Syrah. It has a mediterranean climate and is located along the southern end of the Rapel Valley. This topography creates a climate that receives around 23.3 inches of rainfall per year and little to no rainfall during their summer months. This helps keep the grapes safe close to harvest and ensures that the grapes are fighting for water therefore creating a more intense fruit.  The soil is made up of sand, decomposed granite, and clay. Another great indicator of quality viticulture. These soil components soak up acidity and help create a more balanced wine grape to work with.
Days 2-3: Curico Valley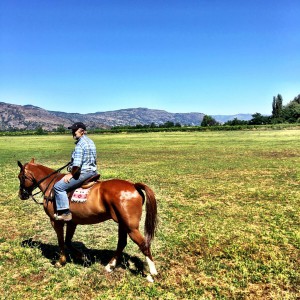 The hospitality in Chile was something we have never experienced before. The people were so kind and accommodating. First, we rode on horseback around the Chardonnay vineyard. Not being very good at horseback riding this was a little nerve wrecking, but we were able to make it around the vineyard (barely). Besides the stress of being on a horse the views were gorgeous and it was quite the way to take in the vineyard views.
Curico is place where many wineries and growers work with large producers. They have high-end equipment with state of the art technology; but at the same time there are family wineries and growers who create incredible boutique wines using a combination of old world tradition and a few new world winemaking practices. You can see the combination of new and old just by driving down the street. You not only pass fancy cars, but every once in a while you'll pass a horse and buggy. Yes that is correct. Many people ride horseback throughout the area rather than drive cars.  Curico has been a wine grape growing region since the 1800s and you can see the incredible history of the wine region as you drive down the street.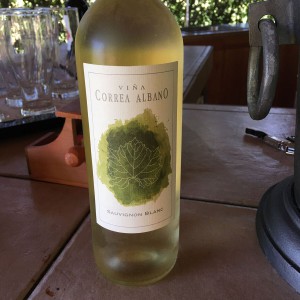 The wines from our grower's personal winery were delicious! Sebastian and Manuela make a great father/daughter team when it comes to winemaking. Their wine label is called "Correa Albano" and the Sauvignon Blanc was so fruit forward and bright. I couldn't get enough of it. Especially on such a hot summer day, it was the perfectly refreshing and complex Sauvignon Blanc. The Carmenere was unlike anything I've ever tasted. It had a "dusty" almost "napa-like" nose to it. It was full of delicious dark fruits with soft and rich tannins. This wine has inspired me to try to make Carmenere again. I am hoping the new CSM yeast will get me close to this flavor profile. One of things Manuela touched on was the importance of temperature during fermentation for both white and red wines. She said she is meticulous about monitoring temperature during her primary fermentations and it is one of the keys to her winemaking success.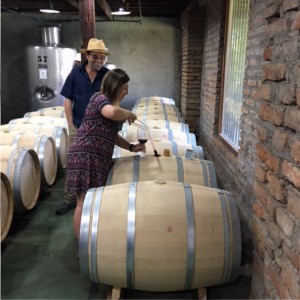 After tasting some our grower's wines we sat down for a true Chilean lunch and the food was delicious! Our growers were incredibly kind and prepared a few authentic Chilean dishes for us to enjoy (keep an eye out for some recipes to hit the blog soon). It was a feast of delicious Chilean produce, spices, and flavors, which was followed by a barrel tasting where Sebastian and Manuela let us try some of their aged red wines. They used multiple yeasts and are starting to think about blending the different oaks.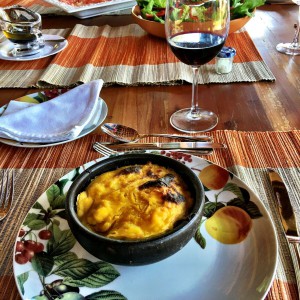 As our 5 hour lunch and tasting came to an end we went to see more of the vineyards, and let me tell you, this car ride was epic. It was to a point where we didn't think our rental car would make it over the rocks and through the brush. I felt like I was on a jungle safari in a car that was about to crumble underneath us with each bump we hit. We went from a beautiful roadside vineyard of Malbec and Merlot, up a large hill rocky hill to Cabernet Sauvignon, through a jungle forest that opened up to a gorgeous Syrah and Cabernet Sauvignon vineyards. It felt like we discovered a vineyard oasis. It was Sebastian's father's favorite vineyard. You could tell it held a special place in his heart.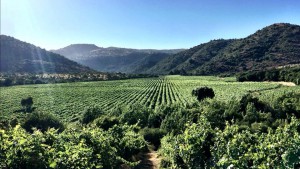 Day 4: Viña Alpatagua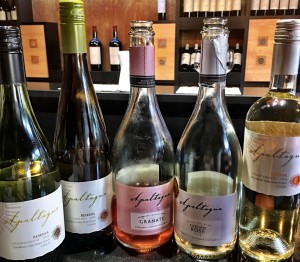 The next winery we visited was Viña Alpatagua. The winemaker gave us an insider's tour of the tank area, barrel room, and bottling line. It is a winery that is full of creativity and passion. The level of precision that is taken with each wine was very apparent, as was how creative the winemaker was. The winemaker, Pablo Barros, infused their sparkling wine with pomegranate juice from their estate pomegranate trees. It was a delicious addition to an already delicious sparkling wine.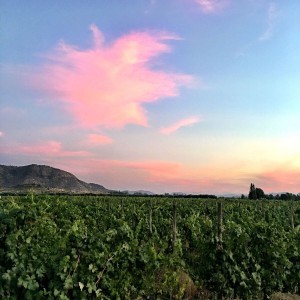 Most of their wines were appellation focused. We tried wines specifically from Curico and Colchagua. Most of the vines that they worked were very old, some up to 70 years old! My favorite wines were the Pomegranate infused sparkling, the Carmenere, their Cabernet Sauvignon, and Riesling.  This winery creates wines of great distinction. A must see if you are in Chile.
Day 5:  Santiago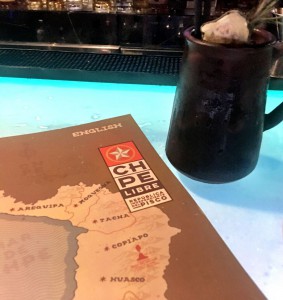 On the last day of our trip we enjoyed some delicious Pisco with some of our hosts, Alfredo and Suzanne. Alfredo and Suzanne are kind enough to take video, photos, and give us up to date harvest information. We are very lucky that they are so willing to give us information so quickly and efficiently. Alfredo and his family are a big part of why we are able to bring in such high end grapes from Chile.
Since it was our first time trying Pisco, they took us to a Pisco bar in downtown Santiago. This bar had some delicious ways to try it. They had over 30 different cocktails centered on the authentic, grape-based liquor. What a way to leave Chile! The next morning we reluctantly headed back to the US. An incredible trip with so many great memories, new knowledge, and media to share with our winemakers back home.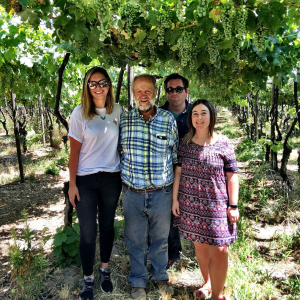 As the plane took off and I settled in for the long flight home I couldn't help but reflect back on the incredible people we met. They are kind and caring families who truly love what they do. You can see the passion they have for the wine industry, their families, and the people they work with. They said, "Wine is made in the details… If people work in a good way it takes a direct effect on the wines." I couldn't agree more. It was an incredible trip and we feel so very fortunate that we are able to work with such amazing growers and their families.