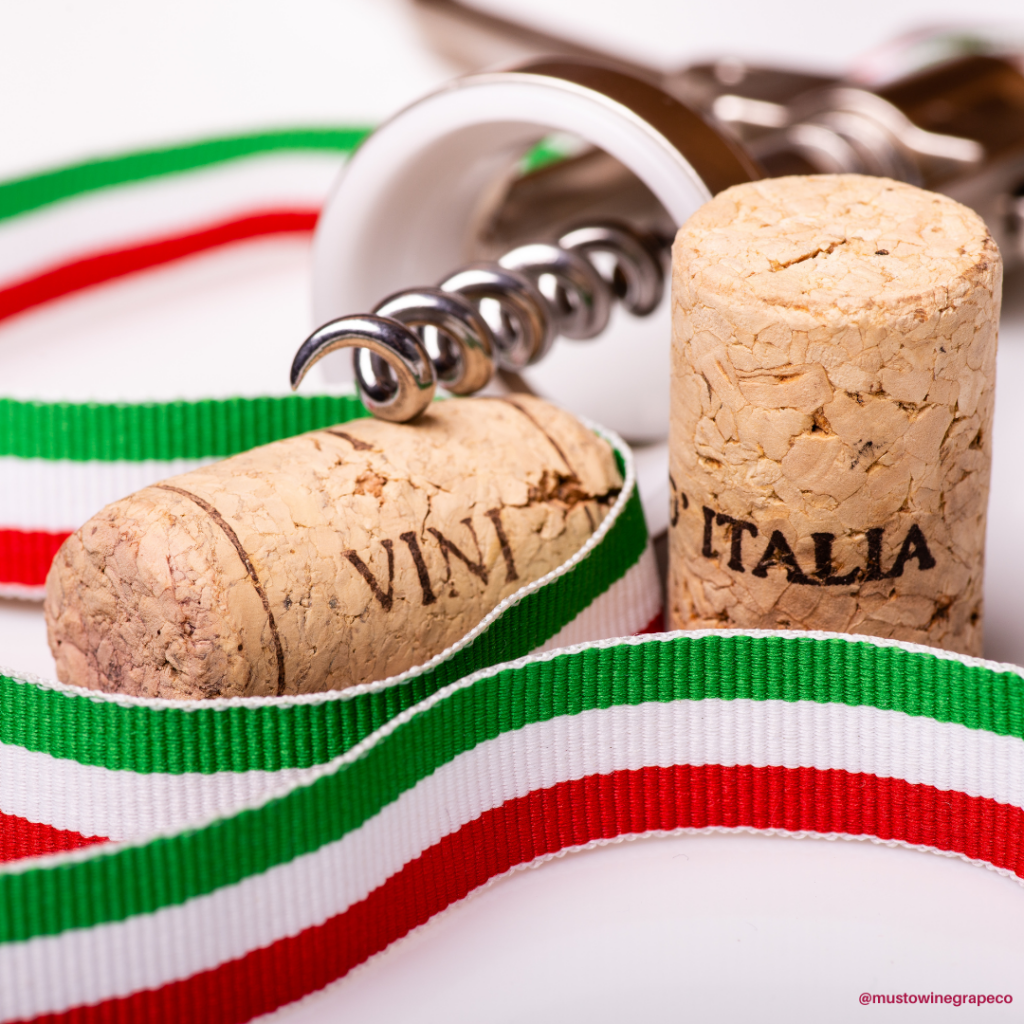 One of our all time favorite Italian wine juices will be arriving in October, the Amorrosso/Amarone Blend. Sweet and bold, this wine is popular at any table. It will be arriving in early October from Italy. The Amarone fresh juice is available for pre-order and on demand pick up. The Amorosso Fresco is pre-order only. Please call 877-812-1137 to put in your order. We have a huge list of Italian wine juices for sale. Be sure to give us a call to check out what is available.
The Blend:
Amorosso/Amarone wine is a unique and highly regarded red wine produced in the Valpolicella region of Veneto, Italy. It is known for its rich, full-bodied flavor, high alcohol content, and complex aroma. Primarily made from three grape varieties: Corvina, Corvinone, and Rondinella. The grapes are carefully selected from well-maintained vineyards, and only the ripest bunches are chosen for this blend.
Appassimento:
The key step in Amarone production is the drying process, also known as "appassimento." Instead of pressing the grapes immediately, they are spread out on wooden racks or straw mats in well-ventilated rooms, lofts, or drying chambers. During this time, they lose water content, which concentrates their sugars, flavors, and aromas. This process can reduce the weight of the grapes by 30-40%.
After the drying process, the grapes are gently crushed to release their juice. The grape skins are thick and full of flavor due to the drying process.
Winemaking Notes:
Typically, after fermentation, Amorossa/Amarone wine is aged for an extended period in oak barrels. The aging process can range from two to several years, depending on the producer's preferences. This aging helps mellow the wine's tannins, integrate its flavors, and develop its complex bouquet. For step by step instructions check out this blog post.
Flavor Profile:
Amorosso/Amarone wine is characterized by its deep ruby-red color, intense and complex aromas of dried fruits, dark cherries, spices, and a full-bodied, velvety texture. It is often enjoyed as a fine wine on its own or paired with hearty dishes like roasted meats, game, and aged cheeses. Due to its unique production method, Amorosso/Amarone tends to be more expensive than many other Italian wines but is highly regarded by wine enthusiasts for its exceptional quality and flavor profile.
Viva Italia!
To make an Italian wine juice order please contact us via sales@juicegrape.com or call us at 877-812-1137, follow us on Facebook, Instagram, and Youtube, or check out the

Harvest Tracker

and

Winemaker Blog

on our website- juicegrape.com.
Upgrade Your Winemaking Juice with the AllGrape Pack!
Making from Fresh Juice or Wine Kits produces a fantastic wine, but can sometimes be lacking in tannins, color, flavor, and mouthfeel. This isn't the winemaker's fault, this is becasue these types of product do not get ample time on the grape skins to give the wine that extra kick of complexity.
Lucky for you, We Have a Solution! Enter the AllGrape Pack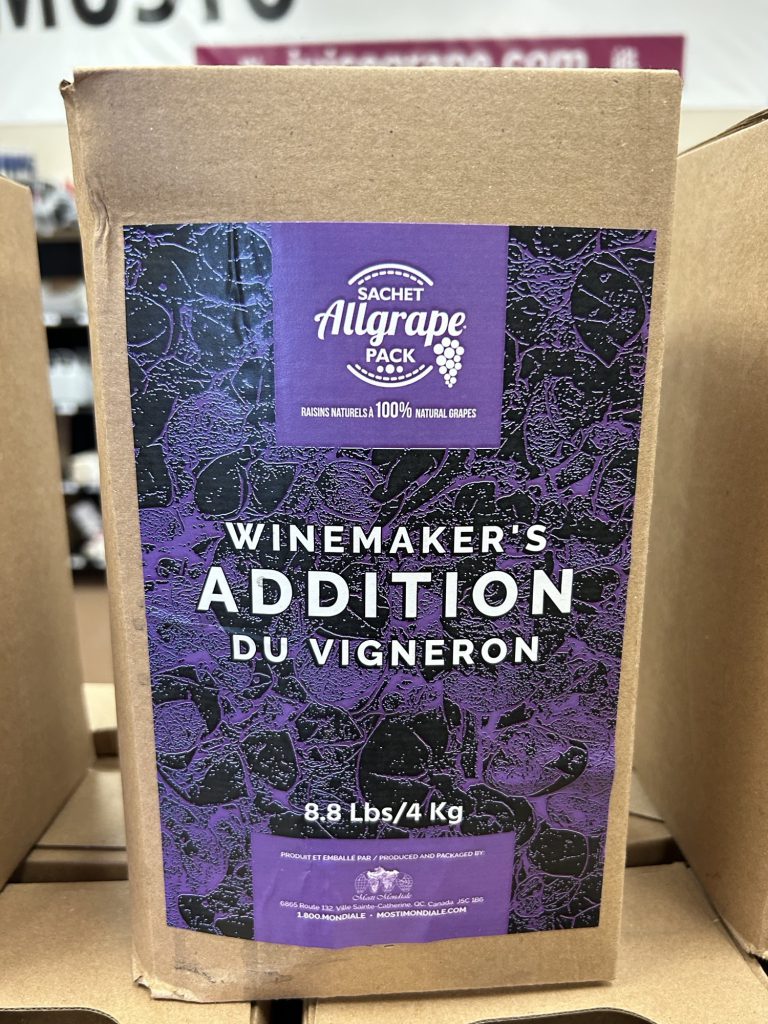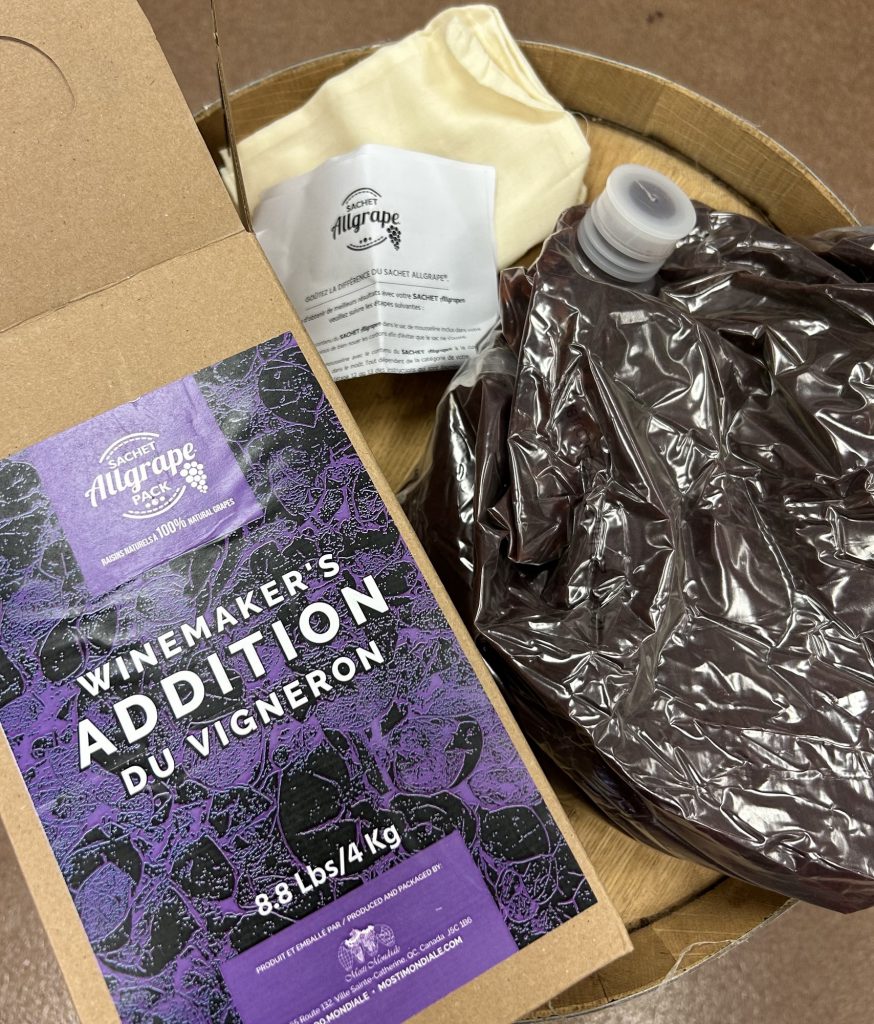 The AllGrape pack® contains 100% grapes, NO Fillers, NO sweeteners just 100% pasteurized crushed and destemmed grapes as "Mother Nature" intended!
Packed in a sterile, shelf-stable, bag in a box…taste the real Allgrape® difference.
Add it to your Fresh Wine Juice or Wine Kit and see a significant increase in the Flavor Profile, Tanninic Structure, and Mouthfeel in your Juice Wine!
It tastes as if you made wine from grapes!
Sam & Christina did an experiment with Chilean Merlot this Spring. We did one pail with the AllGrape pack and one pail without it. We couldn't believe the difference! We believe in the product so much so that we discounted it so it's easier to test out for yourselves. You won't be disapointed. But hurry because this sale will only last until Novemeber!
FALL SPECIAL!
$33.00 – NOW $25.00
To make a wine juice order or if you have any questions about the AllGrape pack please contact us via sales@juicegrape.com or call us at 877-812-1137, follow us on Facebook, Instagram, and Youtube, or check out the

Harvest Tracker

and

Winemaker Blog

on our website- juicegrape.com.

A Little About Amarone:
The Italian Amarone wine is famous for its strong, tannic character and full bodied flavors of dried fruit. Rich and complex, it is a benchmark Italian wine, often challenging to recreate until now. Amarone develops its rich and complex character from partially drying the grapes, then fermenting them, decreasing the fruit to skin ratio. The higher levels of skin contact will give the intense tannins and dried fruit character that the style is known for.
How to Make Amarone/Amorosso from Fresh Juice:
When making Amarone with fresh juice, there are certain ingredients that you may add as the winemaker to help replicate the classic style and methods. To increase the skin contact for the juice, you can purchase an All-Grape add pack to add into your bucket of juice. The All-Grape pack is simply just that, wine grape skins and juice, designed to add more tannins and complex flavors to juice. The tannins found in the grape skins will become soluble in the juice and add more of the traditional Amarone character to it.
Juice Options:
Winemaking Kit Options:
A way to increase the tannin content at fermentation and mimic the classic style is by adding supplemental tannins. Yeast naturally consume some tannins throughout their metabolic process of fermentation. Without adding additional tannins, they will consume some of the grape tannins that give Amarone its unique style. By adding some very cost effective fermentation tannins such as oak dust or FT Rouge, additional tannins will be available to the yeast for their process, therefore preserving the grape tannins for the consumer. FT Rouge is a natural oak derived tannin that will not only provide stronger tannic character, but will also help to enhance and secure color. Apply FT Rouge at 1gram/gallon. Oak dust will also supply some "sacrificial tannins" to the yeast fermentation process. The yeast will consume these tannins, leaving the more favorable, smother grape tannins for the consumer.
Winemaking Add Ons:
Another way to enhance your process of making Amarone from juice will be in your yeast and bacterial selection. Some yeasts that will enhance the rich fruit character of the Amarone juice are BM 4×4 and RP15. Both yeasts have a higher temperature tolerance and will help to secure the rich color. To recreate a traditional Amarone closely, the perception of acidity will need to be reduced. Using malo-lactic bacteria to metabolize the harsher malic acid, and turn it into lactic acid, which has a smoother, creamier mouthfeel, is a vital step in creating a traditionally styled Amarone. This bacterial fermentation can take place at the same time as the primary yeast fermentation, so that the bacteria will benefit from the available nutrients and heat generated via the yeast fermentation. For an individual bucket, we sell a pouch of bacteria that are very easy to use. Simply wipe the pack with sanitizer and stir it into the wine. The bacteria will finish up their fermentation shortly after the yeast finish their fermentation; approximately 2-3 weeks after it is inoculated.
Yeast Suggestions:
To round out the full bodied flavor and profile of Amarone, the winemaker will have to add oak to create a balanced bouquet. After fermentation, the winemaker should consider the addition of oak via a traditional barrel or a supplement, such as oak chips or staves. These will add additional tannic character, creating the Amarone most closely to its traditional style.
Aging Additions:
by the Winemakers at Musto Wine Grape
If you are interested in sourcing Italian Juices for winemaking please contact us at sales@juicegrape.com or 877-812-1137.